Morning Sports Update
'It's insane how much pressure is on her': Aly Raisman shared her support for Simone Biles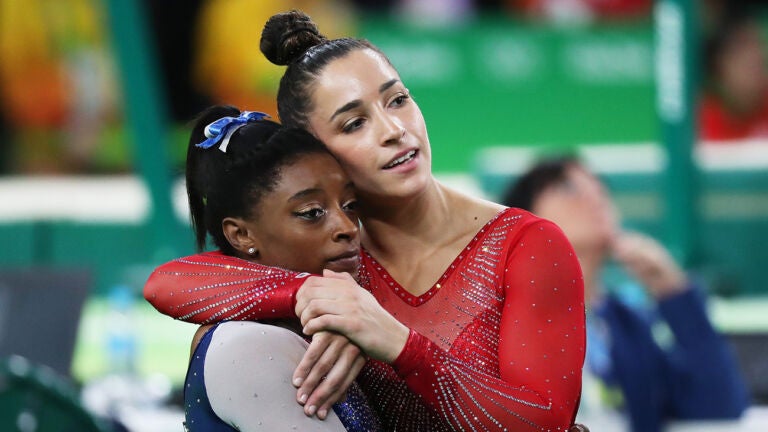 The Red Sox defeated the Blue Jays on Monday, 5-4. Boston rallied from a one-run deficit in the bottom of the eighth inning thanks to a two-run home run from Alex Verdugo.
At the Tokyo Olympics, U.S. women's gymnastics won a silver medal, with the Russian Olympic Committee taking gold.
U.S. women's soccer secured a place in the quarterfinals with a 0-0 draw against Australia. And the U.S. softball team also won a silver medal, falling to host nation Japan in the final, 2-0.
Aly Raisman's thoughts on Simone Biles: In 2016, Needham native Aly Raisman helped to lead the U.S. women's gymnastics team for the second time at an Olympics. Raisman's teammate in those Games was the star of the sport, Simone Biles.
The duo helped the U.S. win gold in the team competition, as Biles won gold in the all-round, with Raisman getting a silver.
Four years later, Raisman, 27, is now retired from the sport. She could only watch as Biles, 24, pulled out of the team competition at the Tokyo Games due to a medical issue.
Speaking to NBC's "Today," Raisman expressed her hope that Biles is alright.
"It's horrible," said Raisman. "I know that all of these athletes dream of this moment for their whole entire lives, and so I'm just completely devastated. I am obviously so worried and just hoping that Simone is OK."
"I also am just thinking about the mental impact that this has to have on Simone," Raisman added. "It's just so much pressure, and I've been watching how much pressure has been on her in the months leading up to the Games, and it's just devastating. I feel horrible."
Raisman alluded to the immense amount of focus placed on Biles, who is seen as the overwhelming favorite to win another all-around gold in the individual competition.
"When you watch the coverage of gymnastics, I think sometimes people forget she is human, she has pains like all of us, she has stress," said Raisman. "Simone has more pressure than any other gymnast I've ever seen in my lifetime. It's insane how much pressure is on her."
"I think it's also just really important to think about how much pressure has been on her, and there's only so much that someone can take," said Raisman. "She's human, and I think sometimes people forget that. And Simone, just like everyone else, is doing the best that she can."
Biles said she was unsure about further participation in the Olympics.
"We're going to see about Thursday," Biles explained after the team competition. "We're going to take it a day at a time. I know tomorrow we have a little bit of a break for training, so that'll be really nice to have a mental rest day. And then injury, no. Just my pride is hurt a little bit."
Trivia: The first modern Olympics was held in Athens, Greece. Where was the second held?
(Answer at the bottom).
Hint: The city will become the first to have hosted the Olympics three times in 2024.
More from Boston.com:
Bill Belichick's press conference ahead of the start of the training camp:
The hometown crowd's reaction: As 17-year-old Lydia Jacoby pulled off a stunning upset to win gold in the 100-meter breaststoke, her family and friends cheered her on from Seward, Alaska.
On this day: A decade ago, Neymar scored what eventually proved to be a Puskas Award-winning goal for Santos.
Daily highlight: Janie Reed prevented a home run by making a spectacular catch in the gold medal softball game against Japan.
Trivia answer: Paris, France
Get the latest Boston sports news
Receive updates on your favorite Boston teams, straight from our newsroom to your inbox.