Morning Sports Update
Rex Ryan explained why he compared Joe Burrow to Tom Brady
"I went against Tom Brady 100 times, got beat 99 times."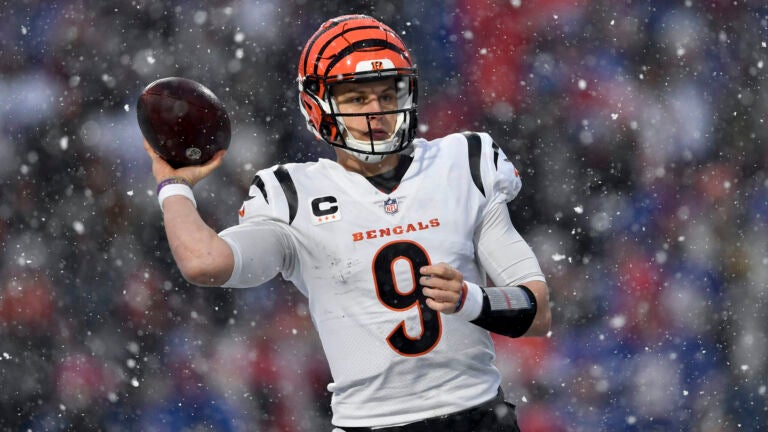 The Bruins defeated the Sharks 4-0 on Sunday night, highlighted by Charlie McAvoy's solo run through the defense:
The Celtics will be in Orlando to play the Magic this evening at 7 p.m.
In NFL news, the championship match-ups are set. The Eagles and 49ers will play in the NFC Championship on Sunday at 3 p.m., while the Bengals and Chiefs will play in the AFC Championship at 6:30 p.m.
Rex Ryan's high praise of Joe Burrow: Following the Bengals' impressive 27-10 win over the Bills in Sunday's playoff matchup, quarterback Joe Burrow was hailed for his ability to raise the level of his team.
Despite missing three starting offensive linemen, Burrow directed Cincinnati with a methodical performance even amid the snowy conditions.
Reflecting on Burrow's display, former NFL coach Rex Ryan (now an ESPN analyst) compared Burrow to Tom Brady during a "Get Up!" segment on Monday morning.
"When I look at Joe Burrow, he has the charisma of [Joe] Namath, all right?" said Ryan, as transcribed by NESN's Adam London. "And if he doesn't remind you of Tom Brady — I went against Tom Brady 100 times, got beat 99 times. That's who that sucker reminds me of."
"Great players elevate the play of all of their teammates," Ryan continued. "Well, he does that, but you know who else he elevated? Everybody else in his building. This is a once-in-a-lifetime player. He came to Cincinnati in great circumstances — a perfect player for that franchise. He's amazing. Tom Brady did the same darn thing in New England. So to me, that's who this guy is. Good luck. Everybody's going to have to face this cat for the next million years. I don't know if he'll get six Super Bowls, but he's gonna get a bunch of them."
Burrow will lead the Bengals in the AFC Championship Game against the Chiefs on Sunday for the second consecutive year.
More from Boston.com:
Joe Burrow's response: Asked after the Bengals' win on Sunday about the team's level of motivation to spoil a potential neutral-site AFC Championship matchup between the Bills and Chiefs, Burrow replied, "Better send those refunds."
The latest round of impressive stats from Linus Ullmark:
On this day: In 1981, the Red Sox traded All-Star Fred Lynn and Steve Renko to the Angels in exchange for Jim Dorsey, Joe Rudi and Frank Tanana.
It was a deal that Boston general manager Haywood Sullivan made out of desperation, as Red Sox management had made the seemingly inexplicable decision to not send new contracts to both Lynn and catcher Carlton Fisk two days after the stated Dec. 20 deadline in late 1980. As a result of misinterpreting the language of Major League Baseball's "basic agreement," Boston leadership allowed both Fisk and Lynn — through Marvin Miller and the Players Association — to challenge that they were free agents.
In order to avoid the likely possibility of Fisk being deemed a free agent by an upcoming arbitrator's ruling (and potentially leaving for nothing in exchange), Sullivan decided to simply trade Lynn.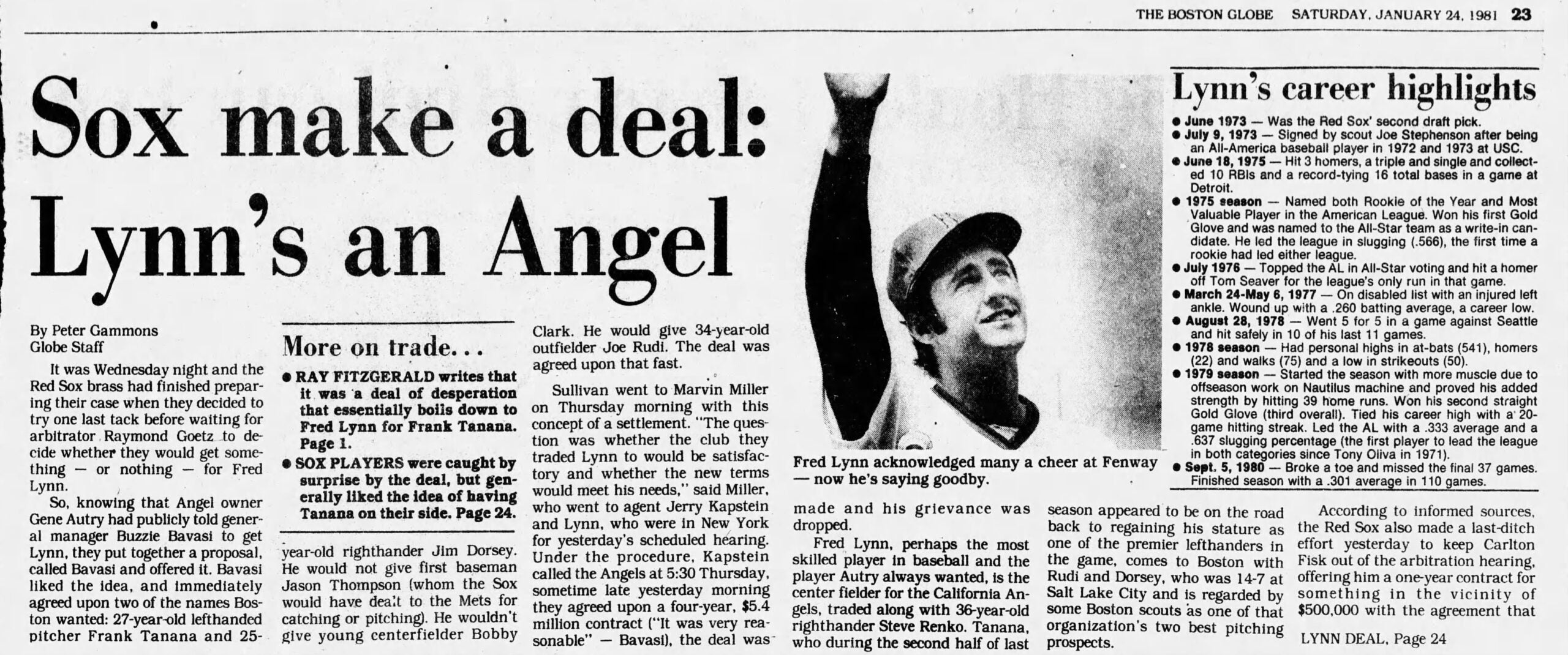 Daily highlight: Charlie McAvoy wasn't the only Bruins defenseman to score an exceptional goal on Sunday. Hampus Lindholm cut his way into the heart of the Sharks' defense before roofing the puck into the net.
Sign up for Patriots updates🏈
Get breaking news and analysis delivered to your inbox during football season.