Morning Sports Update
Here's how much salary cap space the Patriots are projected to have in 2023
The NFL is reportedly increasing the cap to a record level.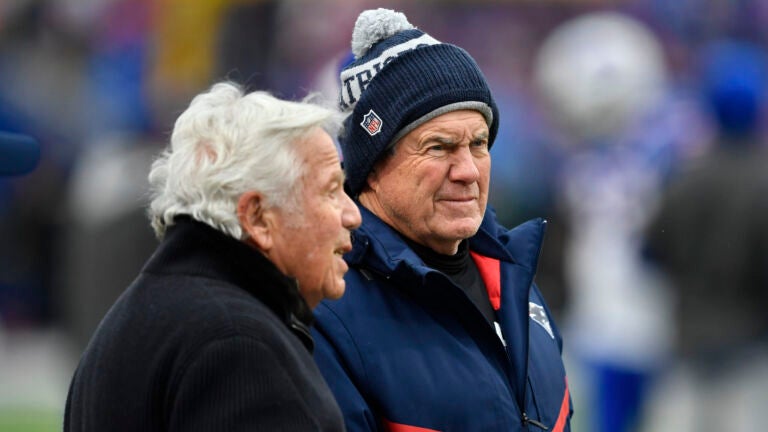 Today, legalized sports betting officially begins in Massachusetts at 10 a.m. The starting option for placing a wager is to do so at one of the three in-state casinos. Mobile sports betting will begin in March.
Both the Bruins and Celtics will be back in action tomorrow. The Celtics will host the Nets on Wednesday at 7:30 p.m., while the Bruins will face the Maple Leafs in Toronto also at 7:30 p.m.
The latest NFL salary cap update: On Monday, NFL Network's Tom Pelissero and Ian Rapoport reported that the league's salary cap will increase to a record amount of $224.8 million per team in 2023.
Exactly what that would mean for the Patriots was explained by salary cap expert Miguel Benzan:
Per Benzan, New England is projected to have more than $34 million to spend in the upcoming offseason.
Two of the major priorities could be focusing on re-signing wide receiver Jakobi Meyers or cornerback Jonathan Jones.
Beyond retaining current players, New England could also look to make a few additions when free agency begins on March 15.
More from Boston.com:
On this day: In 1997, Rick Fox scored 33 points and recorded six steals as the Celtics erased an 18-point deficit and finally secured a 10th win of the season in a 111-105 victory over the Trail Blazers.
Of course, that news — coming from a Celtics team headed towards a franchise-worst 15-67 season — was relegated well below the fold.
The bigger headline that day was that Bill Parcells concluded his eventful four-year tenure in New England — less than a week removed from a run to Super Bowl XXXI — with a memorable press conference.
"They want you to cook the dinner, at least they ought to let you shop for some of the groceries," lamented Parcells, an apparent reference to his lack of total front office control on top of head coaching responsibilities.
It was a typically descriptive quote from one of the NFL's more entertaining coaches, but Patriots owner Robert Kraft — who watched Parcells's press conference from the side of the room — had a topical response.
"I think our groceries are pretty good," Kraft countered. "They're fresh. I like the groceries. I'd like to be flooded with groceries like that next year."
Eventually, this particularly contentious episode in the ongoing "border wars" period between the two AFC East rivals was worked out in a trade. The Jets got Parcells (as well as Bill Belichick, indirectly) in exchange for third and fourth-round picks in 1997, a second-round pick in 1998, and a first-round pick in 1999.
The Patriots replaced Parcells with another consequential football figure: Pete Carroll.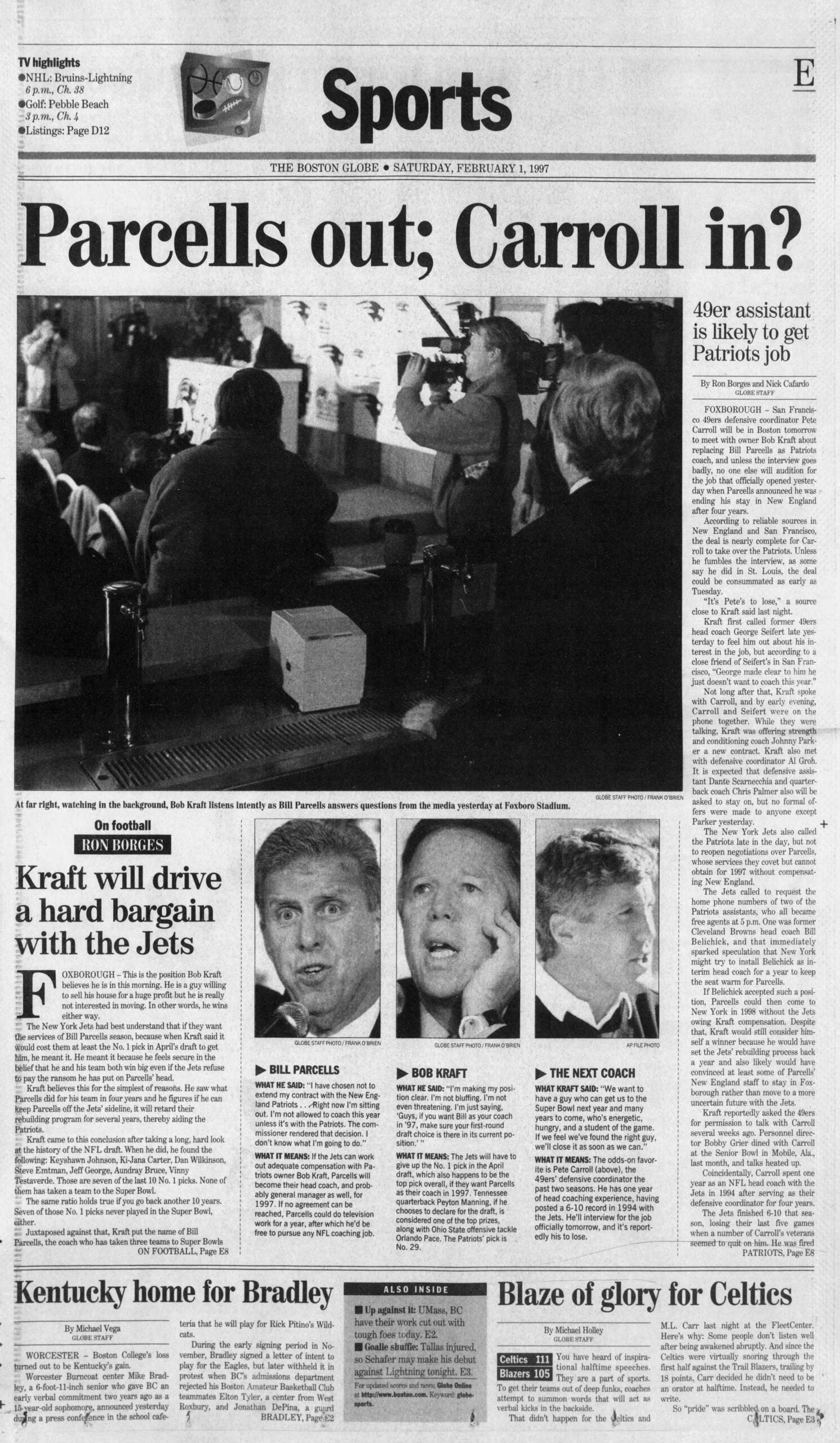 Daily highlight: Brent Davis, who transferred from The Citadel to Chicago State prior to this season, hit the game-winner against his old team on Monday in a 76-75 win.
Sign up for Patriots updates🏈
Get breaking news and analysis delivered to your inbox during football season.