Morning Sports Update
Tom Brady's retirement video was reportedly 'filmed a while ago'
"He was at an L.A. premiere last night, doing the movie premiere."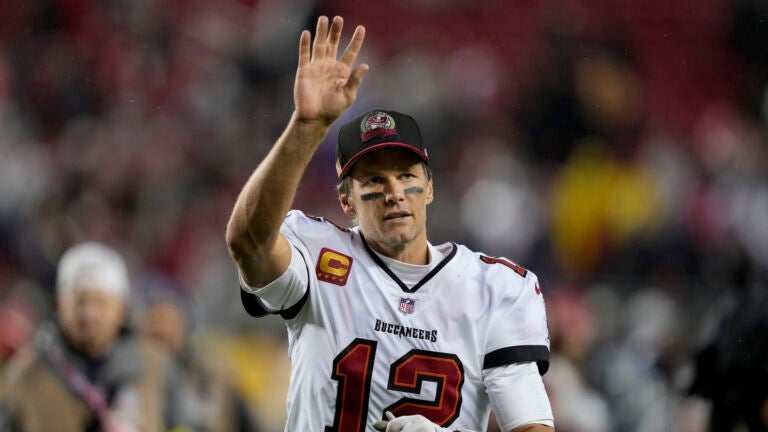 Tonight, the Celtics host the Nets at TD Garden at 7:30 p.m.
Elsewhere, the Bruins will be in Toronto to play the Maple Leafs also at 7:30 p.m.
On Tuesday, legal sports betting officially got underway in Massachusetts with the launch of in-person wagering at casinos. Mobile sports betting will begin in March according to the Mass. Gaming Commission.
And on Wednesday morning, Tom Brady shared a short video on his social media in which got right to the point.
"I'm retiring, for good," Brady said, calling time (for the second time) on his legendary career.
The timing of the retirement video: Brady's second retirement announcement was more direct and succinct than his first attempt in 2022 (from which he ultimately un-retired and returned to football for another season).
The video included specific wording which implied that Brady simply woke up and decided he would record and post the video.
"I know the process was a pretty big deal last time," Brady said of his brief 2022 retirement. "So when I woke up this morning, I figured I'd just press record and let you guys know first. I won't be long-winded. You only get one super emotional retirement essay and I used mine up last year."
According to NFL Network's Peter Schrager, Brady might not have actually recorded his retirement video on Feb. 1.
"That was filmed a while ago," Schrager claimed during a "Good Morning Football" segment later on Wednesday morning, as transcribed by MassLive's Nick O'Malley. "He was at an L.A. premiere last night, doing the movie premiere. The sun is not up in L.A. as you see there. So that is a taping, that means he has known this and has kept this quiet for at least 48 hours."
Schrager reported that Brady is "still in L.A.," and that he may have simply shared a pre-recorded video.
Of course, Brady might have just wanted to reveal his second retirement in his own way (and on his own time). A year ago, ESPN reporters Adam Schefter and Jeff Darlington broke the news that Brady was planning to retire before Brady himself had even announced it.
A year later, Brady was able to prevent any news leaks until he posted the news himself.
Trivia: Tom Brady's retirement officially means that no one drafted by the Montreal Expos is still active (as a player) in professional sports. Brady had been picked by Montreal in the 18th round of the 1995 MLB Draft (though he obviously didn't sign). Can you name the last player to retire who had actually played for the Expos?
(Answer at the bottom).
Hint: He made his MLB debut with Cleveland in 1997 and won the American League Cy Young Award with the Angels in 2005.
More from Boston.com:
Putting Tom Brady's career into perspective:
On this day: In 2015, the Patriots defeated the Seahawks 28-24 in Super Bowl XLIX. It was a dramatic championship matchup between two star-studded teams, culminating with Malcolm Butler's iconic interception of Russell Wilson at the goal-line to preserve New England's fourth Super Bowl win.
Daily highlight: Ricky Council IV went for (and pulled off) a highlight-reel dunk in Arkansas' 81-70 win over Texas A&M on Tuesday.
Trivia answer: Bartolo Colon
Sign up for Patriots updates🏈
Get breaking news and analysis delivered to your inbox during football season.