Morning Sports Update
Nets' Joe Tsai reportedly didn't want to trade Kyrie Irving to the Lakers
Los Angeles was reportedly Irving's "preferred destination."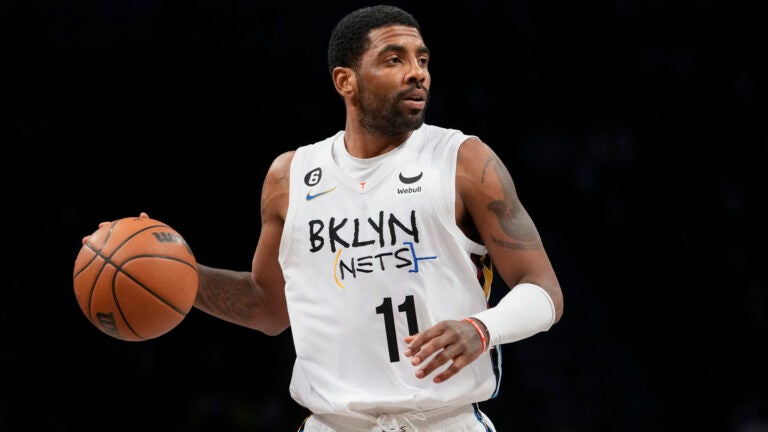 Tonight, the Celtics face the Pistons in Detroit at 7 p.m.
The Bruins, resting during the All-Star break, won't return to action until Saturday (Feb. 11) in a home matchup against the Capitals.
Over the weekend, the Pride won back-to-back home games against the Riveters (5-2) and the Whale (5-0) to carry Boston's Premier Hockey Federation record to 14-3 so far this season.
The Nets and the Kyrie Irving trade: The Nets reportedly agreed to trade Kyrie Irving and Markief Morris to the Mavericks on Sunday in exchange for Spencer Dinwiddie, Dorian Finney-Smith, an unprotected 2029 first-round pick as well as second-round picks in 2027 and 2029.
Of course, Dallas wasn't the only interested party. Unsurprisingly, the Lakers were also in the mix, according to Bleacher Report's Chris Haynes.
As for why the Nets opted for the Mavericks' offer instead of the Lakers, one explanation was provided by NBA insider Marc Stein, who said that Los Angeles was Irving's "preferred destination."
Per Stein, Brooklyn's acquisition of Dinwiddie and Finney-Smith ensured that the Nets "came away with the two Mavericks they wanted most and a better win-now duo than L.A. could offer."
In addition, the trade allowed the Nets to achieve "one of the presumed objectives held by team owner Joe Tsai by sending Irving somewhere other than the Lakers," Stein wrote.
Explanations differ on the subject, however, as ESPN's Adrian Wojnarowski took a different line on why Irving didn't end up in Los Angeles.
According to Wojnarowski — who did not mention Tsai as a specific factor — the Lakers and Nets couldn't agree to a deal because it was "harder to do one-on-one" without a third team in the deal (to provide a greater return for Brooklyn).
Trivia: When the Celtics traded for Kyrie Irving from the Cavaliers in 2018, Boston sent a first-round pick in the deal that originally belonged to the Nets. Who did Cleveland take with that pick?
(Answer at the bottom.)
Hint: It was the eighth overall pick in the 2018 draft. The Cavaliers selected a guard from the University of Alabama.
More from Boston.com:
Kendrick Perkins shared his thoughts on the Mavericks trading for Kyrie Irving:
Manchester City charged by the Premier League: One of the biggest teams in world soccer is facing serious charges regarding more than 100 alleged violations of financial rules.
On this day: In 1988, Larry Bird won his third consecutive three-point shooting contest at the NBA's All-Star Weekend. Bird, wearing his warmup jacket throughout the event, rallied late and famously celebrated before the "money-ball" shot at the end had even gone in.
Daily highlight: Kyle Juszczyk of the 49ers helped the NFC clinch a flag football win at the Pro Bowl with a diving catch.
Trivia answer: Collin Sexton
Newsletter Signup
Stay up to date on all the latest news from Boston.com