Morning Sports Update
Bill Belichick joined Tom Brady's podcast for an expansive and emotional conversation
The retired quarterback explained why he thinks the "Brady vs. Belichick" debate is a "stupid conversation."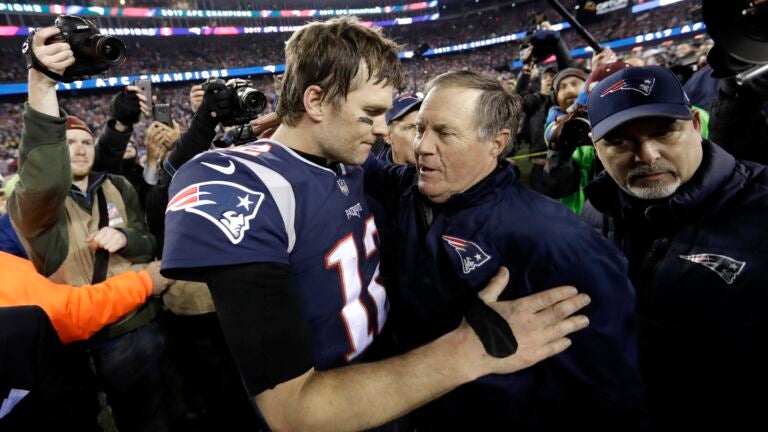 The Celtics defeated the Pistons 111-99 on Monday. Jayson Tatum led Boston with 34 points, 11 rebounds, and six assists.
In the men's edition of the Beanpot, Harvard defeated Boston College 4-3 in overtime, while Northeastern beat Boston University 3-1. As a result, Harvard will play Northeastern in the final for the first time in the competition's storied history.
The women's edition of the Beanpot begins today, with Boston University playing Northeastern at 4 p.m., followed by Harvard vs. Boston College at 7 p.m.
Bill Belichick's appearance on Tom Brady's podcast: A week after Tom Brady announced his second retirement from professional football, Patriots fans were treated to a reunion of the two foundational elements of the team's 21st century dynasty.
Bill Belichick was one of several celebrity guests that Brady had on during the most recent episode of his "Let's Go!" podcast.
Though he's not known for being especially loquacious, Belichick stayed on for an extended conversation, discussing a range of topics as the two looked back on their memorable run as head coach and quarterback.
"Tom's had just a tremendous career. It was funny, I was out at the East-West Game last weekend and of course Tom's picture is up there everywhere as a player in the game," said Belichick. "That's kind of where it all started — Michigan, the Orange Bowl, the East-West Game. The greatest player, the greatest career. A great, great person. It was such an opportunity and an honor for me to coach Tom. I guess it's gotta end at some point. But it's the greatest one ever. So, congratulations, Tom."
"Appreciate it," Brady replied.
Podcast co-host Jim Gray asked Brady what Belichick did to bring out his best.
"I think it's more what did he not do to bring out the best in me," Brady explained. "I was just very lucky. I think part of it — I came into my career and got drafted by the Patriots. I always joke I had no f****** idea where New England was when I got drafted. I flew into Providence which really confuses you coming from the West Coast.
"It was Coach Belichick's first year there," Brady continued. "We came in together. I always think, for so many young players, anybody could get drafted to a place. Who's going to be there to turn you into something? Who's going to develop you? Who's going to take you under their wing? And sometimes it's a player that does it and I definitely had a lot of players do that and obviously I had someone that really saw something in me that not a lot of other people did."
"I think Coach Belichick and I developed an amazing relationship, really from the moment I was drafted," Brady continued. "Really, we spent a lot of time together. He started to begin to teach me really what football is all about, how to study defenses when I started to play, certainly. We'd have weekly meetings, sometimes once, sometimes twice, and I couldn't imagine a better teacher to say 'Hey, this is how you're going to play quarterback in the NFL,' and 'this is the nuances of the game.' Not only that, but from his leadership, is really one of his great, great, qualities, he showed every day with a purpose. When he always joked 'no days off,' he meant it."
Brady pointed out that the two share a genuine love for working in the world of football.
"He could be retired years ago," Brady added. "The reality is he loves the sport, he loves teaching, he loves coaching, he loves competing, and nobody's done it better than him. And I think what a blessing for me — there's no way I have the success I've had personally without him, and I'm very grateful for that."
Belichick explained what he saw in Brady, and how the then-unknown backup rose through the Patriots' depth chart to become Drew Bledsoe's backup.
On his decision to make Brady the full-time starter in the 2001 season, Belichick called it "the smartest decision I ever made, maybe other than drafting him."
He then offered what Brady had taught him through the years.
"Tom talks about how much I taught him in those meetings, but I learned so much from Tom," Belichick noted. "I never played quarterback and I never saw the game through the quarterback's eyes, I saw it through a coach's eyes. What Tom would tell me that he saw and how he saw it, it was incredible how during the game he'd come off and I'd say 'what happened on that play' and he'd go through eight things that happened.
"And then you go back and look at the film and every one of those things happened in the exact sequence that he explained it to you on the field coming off. I'm like, 'this guy sees everything,'" said Belichick.
The Patriots' coach, known for his attention to detail and historical football knowledge, praised Brady's ability to recall seemingly obscure details from their discussions or film breakdowns that helped the team win.
"The memory and the capacity that Tom had to remember plays, situations, and some finer points, like hard-counts and getting out of bounds plays, things like that from years before in the exact same situation and time-frame was remarkable," added Belichick.
"We had a really good relationship, especially in the film room and talking football and all that, that I'll always treasure. And I learned so much from him, because nobody sees the game better than Tom Brady sees it or saw it, and I was so lucky to learn from him and his vision that — no other coach will get that experience. It's incredible."
Having won an unprecedented six Super Bowls together, Brady and Belichick will be tied together forever in football history. Now retired, Brady spoke adamantly against the perpetual "Brady vs. Belichick" debate.
"For me there's nobody I'd rather be associated with," Brady said of his multi-decade partnership with Belichick. "From my standpoint, I think it's always such a stupid conversation to say 'Brady vs. Belichick' because in my mind that's not what partnerships are about. Coach couldn't play quarterback and I couldn't coach.
"I think it's such a stupid — in my view it was just people always trying to pull us apart, and I don't think we ever felt that with each other," Brady explained. "We never were trying to pull each other apart, we actually were always trying to go in the same direction. I think when we were in New England for 20 years together, they get tired of writing the same story. So once they write all the nice things, championships, and this, they just start going 'Well this works, let's start trying to divide them.'"
Reflecting on their rapport, Brady tried to explain the give and take he had with Belichick.
"He and I always had a great relationship," Brady said of his former coach. "We met all the time. Did we always see everything exactly the same way? Who does in life? What close relationship can you have where everything goes like a bright, sunny day? No. There were moments that — it was never intolerable, it was always just I would say healthy debates about certain things. We always talked about them face to face. If there's one thing I appreciate about Coach Belichick in life is he's not afraid to have a hard conversation too."
"We didn't always agree but we always respected each other," Brady concluded. "I know he always respected me for the job that I did and I certainly did the same."
Brady referenced his departure from New England in 2020, though he added that it actually made him appreciate Belichick to a greater degree.
"I think that when you go away from each other you respect each other probably that much more," he said. "I certainly did, because I realized the commitment [Belichick] was trying to make to get our team to win."
Belichick closed by explaining what he thought was Brady's greatest quality: His ability to lift teammates.
"The one thing about Tom — it was always impressive — was that he was always the target every week, he had the bullseye on his back every week, and every week he came through and delivered," said Belichick.
"Tom always found a way to make his players productive. So it didn't matter who the receiver, who the tight end was. He could understand what would make Rob [Gronkowski] more successful, what would make Troy Brown more successful, what could Wes Welker do?" Belichick continued. "Not 'What did I do with Troy that I want to do with Wes Welker,' but 'How do I make Wes Welker successful?' 'How do I make Randy Moss successful?' Those players were all great players but they were all very different, and they had different skills, and Tom could always bring out the best of their skills."
"I think of all the things that Tom was great at, which is a long, long list, his ability to make players around him better and more productive was ultimately his greatest skill," Belichick declared.
Brady praised Belichick ability to adapt, and to always overcome whatever obstacles the team faced to find a path to victory.
"The process for us was the most enjoyable part," said Brady. "There was always a formula to try to win."
Trivia: Tom Brady and Bill Belichick are clearly the winningest head coach-quarterback combination in NFL history. Can you name the pairing who ranks second on that list?
(Answer at the bottom).
Hint: Their run together went from 2007-2022.
More from Boston.com:
Previewing the Nets and the NBA trade deadline: Following the decision to trade Kyrie Irving, ESPN's Brian Windhorst weighed in on where Brooklyn stands ahead of Thursday's deadline.
On this day: In 1967, the Celtics beat the Cincinnati Royals 138-123, with Bill Russell totaling 24 points and 24 rebounds (along with nine assists).
In other news from that day, Muhammad Ali (then still being referenced at Cassius Clay) defeated Ernie Terrell to retain the heavyweight championship. The Red Sox announced the installation of a video replay system, and a snowstorm was responsible for delaying the start of that year's Beanpot (along with other local sporting events), though it was a gift to New England ski areas.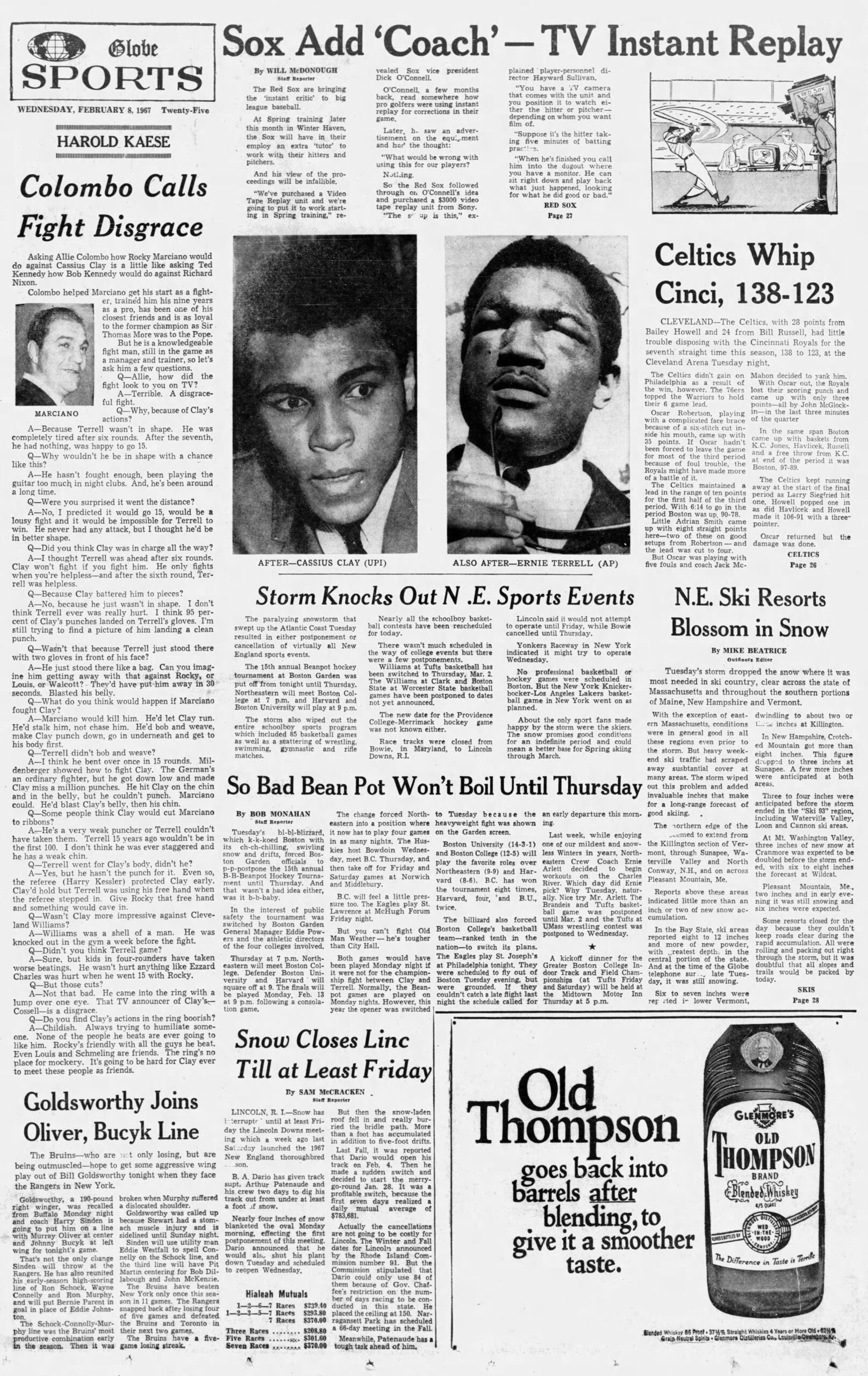 Daily highlight: Marek Hejduk, son of Milan Hejduk, sent Harvard to the Beanpot final after scoring a one-timer with 1.5 seconds remaining in overtime to defeat Boston College.
Trivia answer: Mike Tomlin, Ben Roethlisberger
Sign up for Patriots updates🏈
Get breaking news and analysis delivered to your inbox during football season.