Morning Sports Update
Bam Adebayo discussed Celtics-Heat rivalry, friendship with Jayson Tatum
"I don't like the Boston Celtics."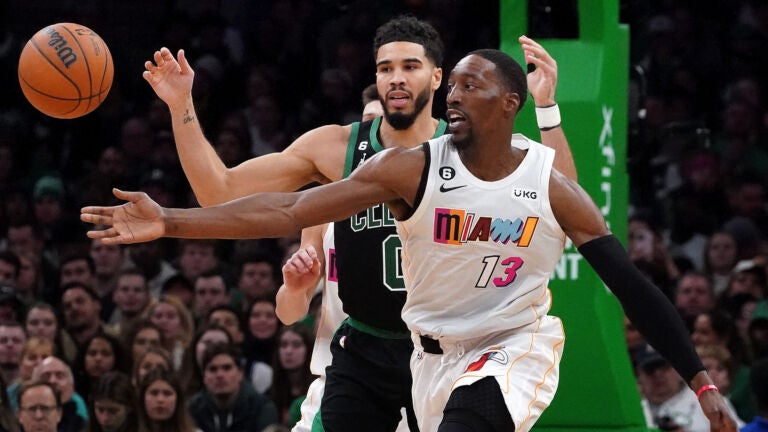 The Bruins pulled out a 4-3 overtime win over the Flames in Calgary on Tuesday. Charlie McAvoy scored the winner with less than five seconds remaining.
The Celtics host the Cavaliers tonight at 7:30 p.m.
Tomorrow, the Bruins will be back home to play the Sabres at 7 p.m.
Bam Adebayo on the Celtics: During a recent interview with Bleacher Report's Taylor Rooks, Heat center Bam Adebayo discussed a range of topics, including Miami's rivalry with the Celtics.
"I don't like the Boston Celtics," said Adebayo. Still, he acknowledged his longtime friendship with Jayson Tatum.
"JT, I've known JT since we were 12," Adebayo explained. "Obviously, when we play each other, it's a dogfight. I want to be like, dog, I have more wins than you. That's how I am. It's a personal battle right there. At the end of our careers, be like, 'Well, when we played you this many times, when we played each other, Bam had more wins.'"
Adebayo noted that while he doesn't text Tatum prior to Celtics-Heat games, it's "all love" afterward between the two friends.
Speaking about the two teams, Adebayo referenced the rivalry's past match-ups.
"It's got so much history with it," said Adebayo. "I feel like it started from the 'Big 3.' You've seen those battles. You've seen how ugly it gets. You've seen when Ray [Allen] went from Boston to Miami, and how they — I'm not going to say turned on him — but that's how it was back in the day. You're with them now; we don't f*** with you. So I feel like it's still there because we still have [Udonis Haslem]. UD went through that."
The Celtics and Heat do not play again in the regular season, though a postseason matchup is possible. While the Celtics sit second in the Eastern Conference, the Heat are seventh with 20 games to go.
Trivia: In scoring his fifth career overtime goal, Charlie McAvoy tied which retired Bruins great for the most overtime goals by a defenseman in team history?
(Answer at the bottom).
Hint: He played most of 21 seasons in Boston during his career.
More from Boston.com:
Jessie Diggins wins at the world championships: Having helped the U.S. win its first ever cross-country skiing gold medal in 2018, Diggins — who splits part of her year living in South Boston — added another American first by winning an individual world championship on Tuesday in Slovenia.
The McCourty twins' story time:
On this day: In 2000, Celtics coach Rick Pitino unleashed his infamous "Larry Bird's not walking through that door" rant. Leading a struggling rebuilding project in Boston, Pitino would continue to tenuously hold onto his position until Jan. 2001 when he decided to resign.
Daily highlight: Kristian Feierbergs won it for the University of Maine in a buzzer-beater put-back on Tuesday.
Trivia answer: Ray Bourque
Sign up for Celtics updates🏀
Get breaking news and analysis delivered to your inbox during basketball season.