Morning Sports Update
ESPN analysts took a harsh view of the Patriots' plan at wide receiver
"They've got to stop thinking Tom Brady's still there."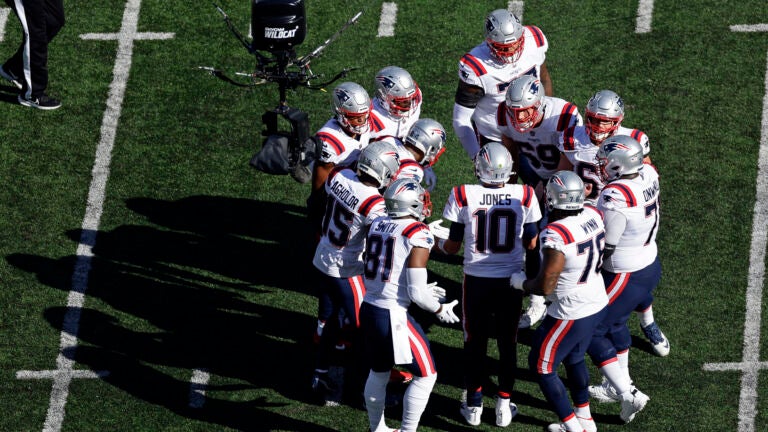 The Bruins lost to the Blackhawks 6-3 on Tuesday. Boston will be in Winnipeg on Thursday night to play the Jets at 8 p.m.
The Celtics face the Timberwolves tonight at 8 p.m. in Minnesota.
The new NFL league year officially begins at 4 p.m. today, meaning that free agents — allowed to negotiate over the last 48 hours — can begin formally signing contracts with new teams.
The current state of the Patriots wide receiver group: With the reported agreement between the Raiders and Jakobi Meyers, a position group that was already seen as thin has grown even thinner for New England.
The 26-year-old Meyers was the Patriots' leading receiver over the past two seasons, though he totaled under 1,000 yards in both years.
Examining the current New England depth chart, ESPN analyst Dan Orlovsky offered some unsparing analysis during a Tuesday edition of NFL Live.
"I think if you're New England, one, you have a bottom five skill position group in the NFL right now," said Orlovsky. "I can make the case [that it's] bottom three."
As for next steps, he implored the Patriots to pursue free agent Odell Beckham Jr., and possibly a trade for Cardinals wide receiver DeAndre Hopkins.
"So it's really [Beckham], got to go get him," said Orlovsky. "Are you going to trade for [Hopkins] if you can? Or if not, [then] then draft. Those are really the realistic choices."
Orlovsky then ran through the list of current Patriots receivers, noting that none of them had tremendous production in 2022.
"When you're going into your third year with Mac Jones going, 'Hey, we've got to see if you're the guy,' this is what right now on March 14 you're rolling out with?"
Only the Texans and Panthers have a worse receiving corps, according to Orlovsky.
Marcus Spears, another ESPN NFL Live analyst, raised a separate concern: Why would Beckham want to go to the Patriots rather than another NFL destination?
"Odell Beckham Jr. don't want to go to New England, because you ain't winning nothing, and the stage ain't big enough," Spears explained.
"I just don't believe at that at this stage in Odell Beckham Jr.'s career that he's trying to [be a part of] a building project for a football team to try to determine if your quarterback is good enough," Spears said. "He isn't even going to win his division, let alone try to make a playoff run and be in that moment that [Beckham] wants to be in. That's the only reason he went to L.A."
As the discussion continued, Spears pointed at another question.
"What makes you think that Bill Belichick is going to pay $20 million for Odell Beckham Jr?" Spears asked. "He's not going to do that."
Orlovsky replied with a harsh declaration on the Patriots' free agent strategy.
"They've got to stop thinking Tom Brady's still there."
Trivia: Marcus Spears was one of two first-round picks by the Cowboys in the 2005 NFL Draft. What other player did the Cowboys select in the first round that year?
(Answer at the bottom).
Hint: He is a member of the Pro Football Hall of Fame class of 2023.
More from Boston.com:
A Patriots salary cap update following Devin McCourty's retirement:
A rundown of some NFL moves from Tuesday:
On this day: In 1992, Larry Bird turned back the clock for a night to give fans at the Boston Garden something to remember. The 35-year-old scored 49 points with 14 rebounds, 12 assists, and four steals in a 152-148 double overtime Celtics win over the Trail Blazers.
It would be the final time in Bird's career that he crossed the 40-point threshold.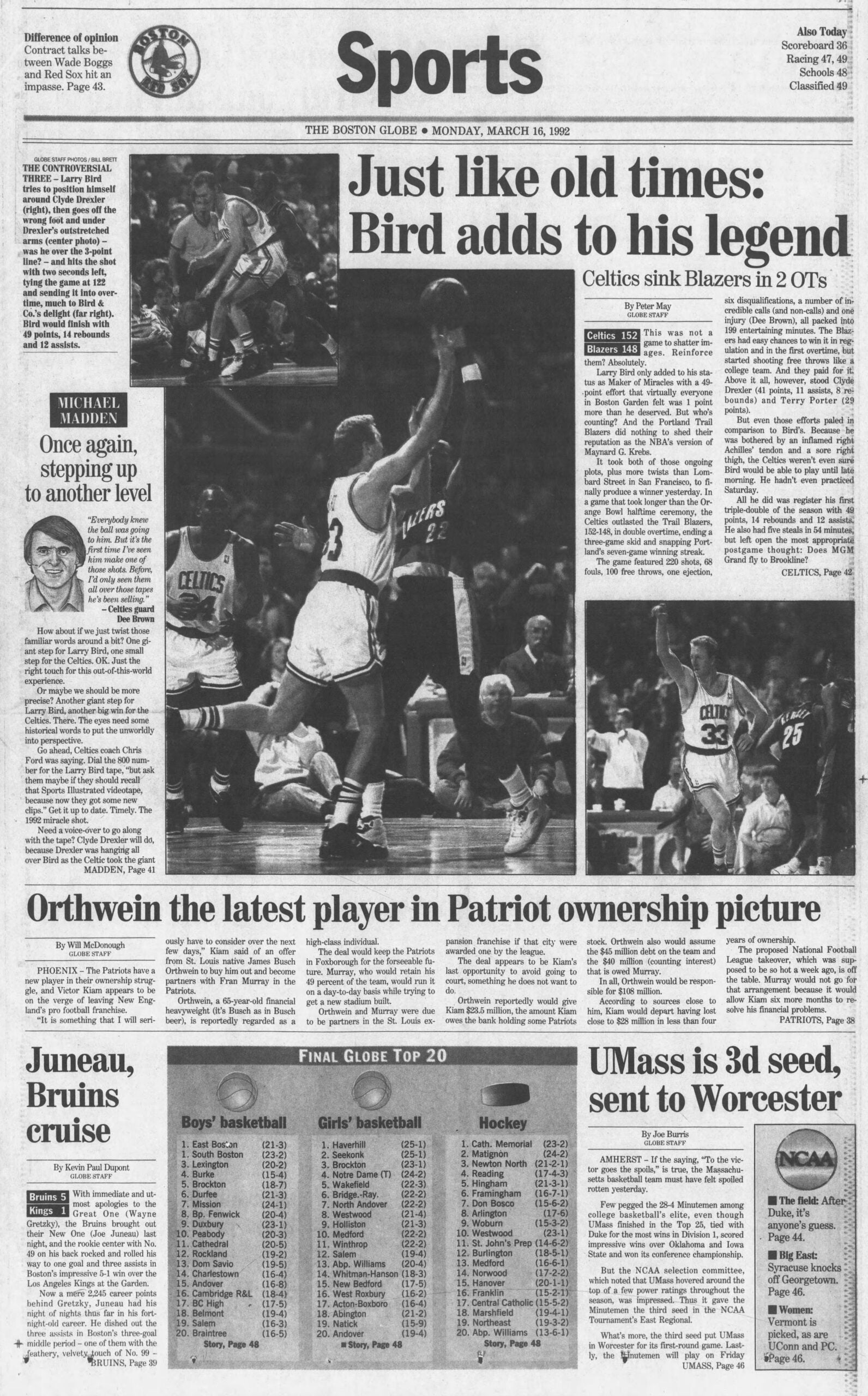 Daily highlight: Alabama softball outfielder Jenna Johnson went over the fence to make the catch for the Crimson Tide on Tuesday.
Trivia answer: DeMarcus Ware
Newsletter Signup
Stay up to date on all the latest news from Boston.com