Morning Sports Update
Bruins referenced Brad Marchand with a 'Lambo' tweet after win vs. Hurricanes
"And we left the Lambo in the garage."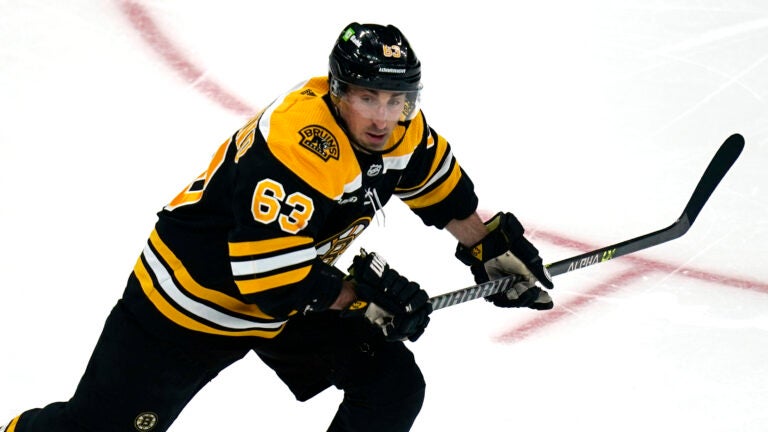 The Bruins defeated the Hurricanes in a shootout 4-3 on Sunday. David Pastrnak notched his 50th and 51st goals of the season, and Jeremy Swayman made 34 saves including this gem:
Also on Sunday, the Celtics routed the Spurs 137-93. Jaylen Brown led Boston with 41 points and 13 rebounds.
In national news, the Final Four of both the men's and women's NCAA basketball tournaments were set amid a year of surprises.
And coming up this week, the Red Sox begin the 2023 season on Thursday at Fenway Park against the Orioles at 2:10 p.m.
The Bruins' postgame tweet: Following the Bruins' Sunday win over the Hurricanes, the team posted a celebratory tweet saying, "And we left the Lambo in the garage."
It was a particular reference to a Hurricanes-related subplot involving Brad Marchand, who was one of three regular Boston players to sit out Sunday's game against Carolina due to injury.
Back in Jan. 2022, Marchand responded to a comment made by then-Hurricanes center Vincent Trocheck, who took offense to being compared with the Boston winger.
"Are you calling me a rat?" Trocheck replied. Marchand responded with a comment on his Instagram (in which he also compared the disparity in the two players' career stats).
"This is like comparing a Lambo to a Prius," wrote Marchand.
The trash-talking didn't end there between the two teams, with even North Carolina Governor Roy Cooper getting in on it.
Fast forwarding to Sunday, Boston — having rested Marchand — referenced it following the win with the "Lambo in the garage" tweet.
Of course, it's worth pointing out (as Carolina's social media team did) that Trocheck no longer plays for the Hurricanes. He's now a member of the New York Rangers.
With the win, the Bruins (57-11-5) set a team record for most road victories in a season.
More from Boston.com:
Caitlin Clark's signature performance: Clark set multiple NCAA records, scoring 41 points with 12 assists and 10 rebounds as Iowa advanced to the Final Four.
The PHF championship was decided in overtime: The Toronto Six defeated the Minnesota Whitecaps 4-3 to win the first Isobel Cup in team history.
On this day: In 1996, the Bruins rallied from a 3-1 second period deficit to eventually force overtime in a thriller against the Whalers. Tim Sweeney scored the winner for Boston, who came out on top 6-5.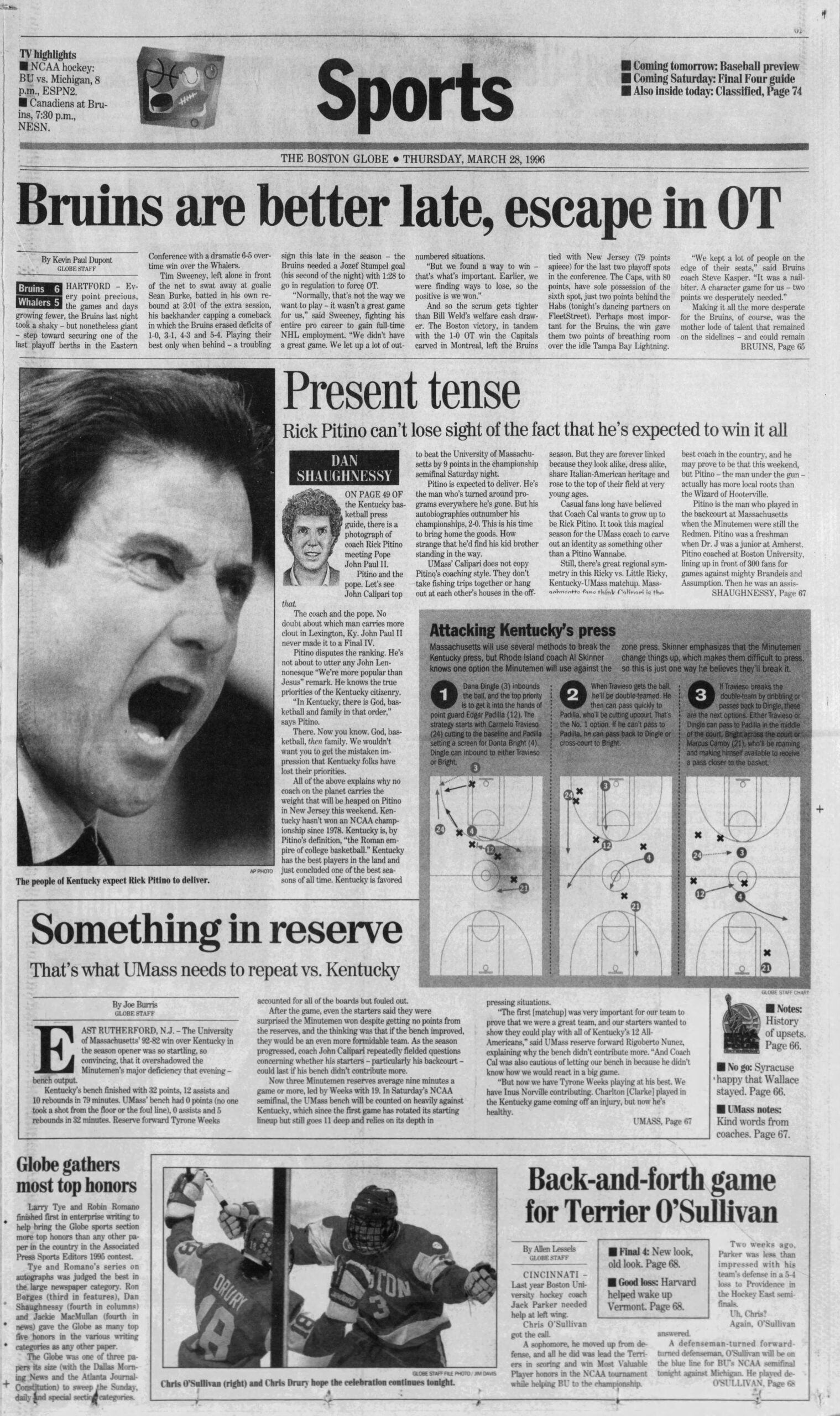 Daily highlight: Two of Jaylen Brown's 41 points in Sunday's win came on an emphatic dunk.
Bonus: Christophe Tellier batted the puck over the goaltender to himself to help send men's Quinnipiac hockey to its first Frozen Four since 2016.
Sign up for Bruins updates🏒
Get breaking news and analysis delivered to your inbox during hockey season.