Morning Sports Update
Masataka Yoshida said it's an 'honor' to play for the Red Sox
The 29-year-old has been busy over the last six months, winning multiple championships.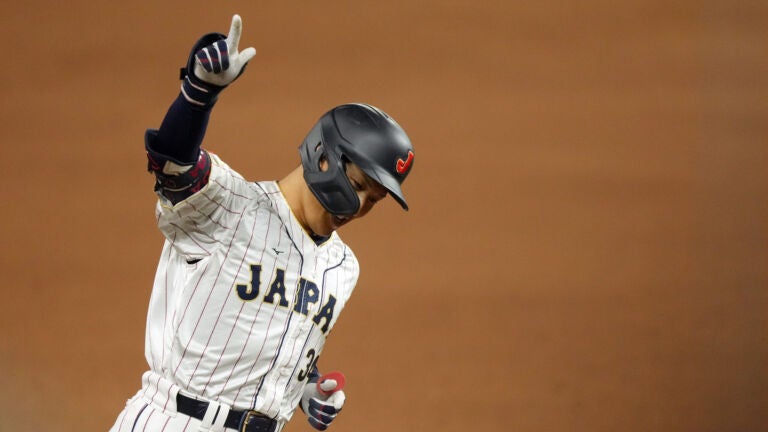 The Celtics lost to the Wizards on Tuesday, 130-111. The Bruins also lost, falling 2-1 to the Predators.
Tomorrow, the Bruins will be home to face the Blue Jackets at 7 p.m. The Celtics will be on the road in Milwaukee to play the Bucks at 7:30 p.m.
Also on Thursday, the Red Sox begin the 2023 season at Fenway Park against the Orioles at 2:10 p.m.
Masataka Yoshida on the Red Sox: It's been a whirlwind six months for Masataka Yoshida.
The 29-year-old outfielder helped Orix Buffaloes win the 2022 Japan Series in October, smashing a walk-off home run in Game 5. He then chose to pursue a career in Major League Baseball, opting to sign with the Red Sox in December on a five-year deal.
Having gone through most of spring training, Yoshida then joined his Japanese teammates for the World Baseball Classic. He helped Japan to victory in a thrilling tournament, setting a WBC record with 13 RBIs in the process.
Ahead of the Red Sox season opener (which gets underway against the Orioles at Fenway Park on Thursday at 2:10 p.m.), Yoshida spoke about what it means to play for Boston.
"It's a real honor to play for the Boston Red Sox because they are a really traditional team, and a lot of times [have ended the season as] World Series champions," Yoshida explained through translator Keiichiro Wakabayashi, according to MLB.com's C.J. Haddad on Tuesday. "The only thing I'm focusing on is [trying] to play hard every day and contribute to the team winning."
His recent performance in the WBC could be a boost for Yoshida. While it can be tough to get off to a good start with a new team, the veteran outfielder has already proven in 2023 that he can hit against quality pitching.
"[The WBC] was a really great experience," said Yoshida. "I was really happy to represent my team."
On Tuesday, he swatted a towering home run in the Red Sox spring training finale, seemingly a strong sign that he's ready for the regular season.
"I'm always thinking about hitting a line drive to center field, so what I did was really good, I think," Yoshida concluded.
In seven seasons at Japan's highest level, Yoshida held a combined .327 average with 133 home runs and a .960 OPS.
Trivia: Only two players have hit home runs on the first pitch of the season in MLB history. One was a member of the Red Sox (the other was Ian Happ in 2018). Can you name the Red Sox player to do it?
(Answer at the bottom).
Hint: It happened in 1986 off of future Hall of Famer Jack Morris.
More from Boston.com:
An update on a Boston Marathon contender: Eluid Kipchoge, world record holder in the marathon and a two-time Olympic gold medalist, is coming to run Boston in 2023 for the first time in his career. Here's an update from the 38-year-old ahead of April 17.
Zero in the NFL: The league will now allow players to wear zero as their number. Wide receiver Calvin Ridley has already claimed it for the Jaguars.
On this day: In 1999, UConn won its first men's national championship in basketball, upsetting favored Duke 77-74. Richard Hamilton led the Huskies with 27 points, topping a Blue Devils team that included Elton Brand, Shane Battier, and Corey Maggette.
Daily highlight: Rafael Santos Borre scored on a beautifully executed bicycle kick to help Colombia top Japan 2-1 in an international friendly on Tuesday.
Trivia answer: Dwight Evans
Sign up for Red Sox updates⚾
Get breaking news and analysis delivered to your inbox during baseball season.