Morning Sports Update
'I was mesmerized': Sonny Vaccaro's reaction to being played by Matt Damon in 'Air'
Damon portrays Vaccaro in the story of how Nike first signed Michael Jordan in 1984.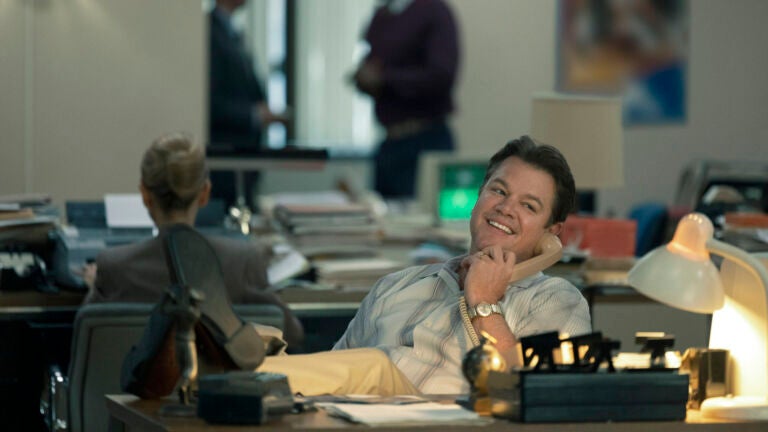 The Red Sox lost to the Pirates 7-6 on Monday. One small bright spot amid the defeat was Masataka Yoshida's first MLB home run.
Also on Monday, UConn defeated San Diego State in the men's NCAA basketball tournament championship game, 76-59.
Tonight, the Celtics are in Philadelphia to play the 76ers at 8 p.m.
Sonny Vaccaro's take on Matt Damon: Though he's a legendary figure in college basketball, Sonny Vaccaro's story has remained relatively unknown to the wider public until the recent release of the movie "Air."
Starring Matt Damon (playing Vaccaro) and Ben Affleck (as Nike founder Phil Knight), "Air" is the story of how Vaccaro, Knight, and other Nike figureheads (including Jason Bateman playing Rob Strasser) got Michael Jordan to sign with the company over rival shoe makers Adidas and Converse.
The movie has received positive reviews, but what exactly does Vaccaro think of Damon's portrayal? The 83-year-old recently spoke about it to WEEI's Meghan Ottolini.
"When Pam [Vaccaro's wife] and I sat down at the premiere, I was like a child," he told Ottolini. "I didn't move, I was mesmerized from the first scene to the last scene to the credits. Going through it, scene-by-scene, it was as close as I can remember. I was enraptured."
Vaccaro noted that Affleck, who directed the film, was "grateful" that he was involved with the project.
"Matt and I first spent an hour and a half on zoom," said Vaccaro. "He's a big basketball fan, first, and that continued. My wife and I spent a whole day on set, I watched him through scenes. We collaborated and then became friends. It was easy for me, because Matt is a great basketball fan."
The duo also connected over Patrick Ewing, the Hall of Fame center who grew up in Cambridge and attended Cambridge Rindge and Latin (the same school Damon later attended). Vaccaro, heavily involved in college basketball recruiting throughout the era, knew Ewing personally.
In a separate interview with Arizona's Sports 360, Vaccaro was asked if he "imagined" that his story would be made into a movie?
"I never imagined anything would happen in my life the way it happened," Vaccaro joked. "But this is the most outrageous thing, if outrageous can be classified as great."
Trivia: Can you name the four Hall of Fame players selected in the first 16 picks of the 1984 NBA Draft?
(Answer at the bottom).
Hint: They were all mentioned in the film, as Nike considered pursuing each of them.
More from Boston.com:
One shining moment:
Rafael Devers making a defensive contribution: On top of hitting his first home run of the season, Devers also made a nice catch in foul territory.
A UConn tradition: The Huskies added to a proud history of overachieving in the NCAA tournament.
On this day: Hideo Nomo threw a no-hitter in his first start with the Red Sox in 2001. Boston defeated the Orioles 3-0, with Nomo recording 11 strikeouts (scattering three walks) across nine no-hit innings.
Daily highlight: Pirates outfielder Jack Suwinski made an amazing diving catch during the game against the Red Sox on Monday.
Trivia answer: Hakeem Olajuwon, Michael Jordan, Charles Barkley, John Stockton
Get the latest Boston sports news
Receive updates on your favorite Boston teams, straight from our newsroom to your inbox.