Morning Sports Update
Paul Pierce offered more background on getting fired from ESPN
Pierce remains unapologetic, saying that he was "fired for having some entertainment."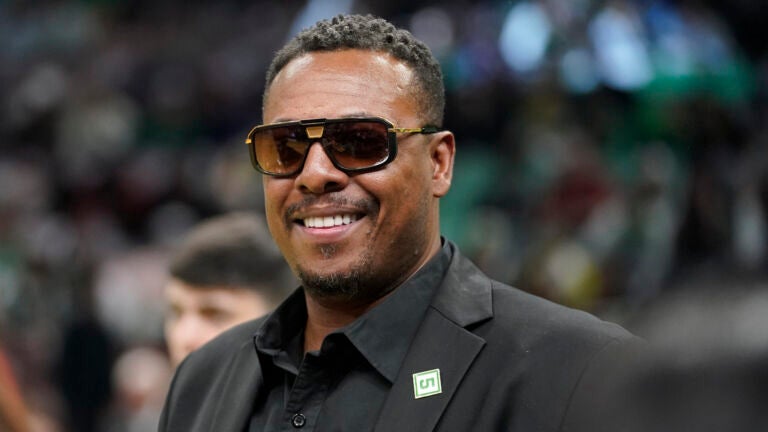 The Red Sox lost to the Rays 1-0 on Monday night, as Tampa extended its perfect start to the season to 10-0. The two teams play again today at 6:40 p.m.
The Bruins also play today, hosting the Capitals at 7 p.m. With two games to go in the regular season, the Bruins need only two more points to set a new NHL single-season record.
The Celtics will begin the playoffs on Saturday, awaiting the results of the NBA Play-In Tournament (which starts tonight) to find out their first-round opponent.
Paul Pierce on getting fired from ESPN: Former Celtic Paul Pierce recently spoke on the "I Am Athlete" podcast, discussing a range of subjects that also included his 2021 firing from ESPN.
Pierce, 45, was dismissed from ESPN after footage from his Instagram Live showed he was smoking, drinking and partying with dancers.
Since then, Pierce has commented on the firing, saying that it "wasn't a great fit" with ESPN.
During the recent podcast, he offered a few more details as he recalled the incident.
"I got fired for what? I got fired for having some entertainment," said Pierce. "I'm playing cards, [it's] my boy's birthday, there's girls dancing, and we're blowing some trees. What did I do wrong?"
Eventually, he explained, a representative of ESPN management called him about the video.
"She's like 'Yeah, we're doing an investigation. Could you tell us what happened?' And I'm like 'you didn't see it?'" Pierce joked. "I was just hanging out, playing cards. It wasn't my house. It was self-explanatory, you know what I'm saying? There were some girls dancing, and I had some [marijuana]. It's legal. I didn't do nothing illegal.
"But you know, at the end of the day, it's Disney, and they have a morals clause, and they just said it was immoral," he explained.
Trivia: Paul Pierce was picked 10th overall by the Celtics in the 1998 NBA Draft. He finished second among all draft picks in that class in points scored during his Hall of Fame career. What player, picked one spot ahead of him, finished first?
(Answer at the bottom).
Hint: He played his entire 21-year NBA career with one team.
More from Boston.com:
Former Worcester Academy star Aliyah Boston was selected No. 1 overall in the WNBA Draft: Boston, who starred at South Carolina in a college career that included the 2022 national championship, will play for the Indiana Fever.
On this day: In 2018, Joe Kelly was in the middle of a Red Sox-Yankees brawl. The scuffle eventually led to Kelly being suspended for five games, though he earned admiration from teammates and Boston fans.
The Red Sox lost the game 10-7, but bounced back afterward with an eight-game winning streak (amid a 17-2 start to an eventual World Series-winning season).
Daily highlight: In a crucial match between Wrexham and Notts County — both teams fighting for one automatic promotion spot to the Football League — a dramatic, back-and-forth contest came down to a penalty kick in stoppage time.
Leading 3-2, Wrexham turned to goalkeeper Ben Foster to make a save. Foster, 40, had retired in 2022 after a lengthy career in the Premier League (including some time spent at Manchester United). He chose to come out of retirement to help Wrexham in its bid to return to the Football League after 15 years.
With the drama at its apex — and with Wrexham co-owners Ryan Reynolds and Robert McElhenney watching — Foster made a world class save to preserve the win.
Trivia answer: Dirk Nowitzki
Get the latest Boston sports news
Receive updates on your favorite Boston teams, straight from our newsroom to your inbox.