Morning Sports Update
Eddie House thinks the Celtics have 'quit' on Joe Mazzulla
"To me, it looks like a team that's already defeated."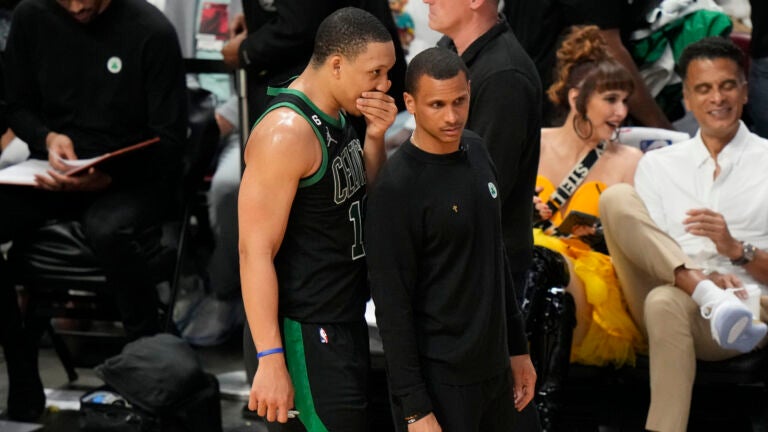 The Celtics were thoroughly beaten by the Heat 128-102 in Game 3 of the Eastern Conference Finals on Sunday. Boston now trails 3-0 in the series ahead of Game 4 on Tuesday in Miami.
The Red Sox also lost, falling 7-0 to the Padres in San Diego. Starting tonight, the Red Sox will face the Angles in a three-game series.
Eddie House's take on Joe Mazzulla and the Celtics: Following the debacle of the Celtics' performance in Game 3 of the Eastern Conference Finals, reactions to the lackluster performance centered on the team's effort, and the impact of Boston coach Joe Mazzulla.
One of the strongest came from former Celtic Eddie House, now an analyst for NBC Sports Boston.
Speaking in a postgame segment, House was asked for his biggest takeaway from the fiasco of Game 3.
After beginning by noting that "the Miami Heat are just more prepared," House quickly pivoted to a more blunt assessment.
"Let me say this: I feel like the Celtics have quit on their coach," said House. "Let's call it what we really see. I feel that those guys out there don't believe in what their coach is doing. We've seen that done in many other places. I don't believe that they really believe in Joe Mazzulla.
"If you believe [that] whoever's out there is the leader of your team, whether it be a coach, that message is passed down through the superstars," House added. "Lackluster efforts, not getting out in transition, not getting back in transition defense. To me, it looks like a team that's already defeated.
Trivia: While at Arizona State in college, Eddie House was named Pac-10 Player of the Year (the conference now known as the Pac-12) in 2000. What other future Celtic won the award the year before House in 1999?
(Answer at the bottom).
Hint: He played for the Celtics for one season before being sent to the Nets as part of a blockbuster trade.
More from Boston.com:
Assessing the Patriots' offseason moves so far:
On this day: In 1942, Ted Williams enlisted in the U.S. Navy, officially being sworn in at the Flight Selection Board at 150 Causeway Street.
Though he would later be revered for his military service (in multiple conflicts), Williams was initially maligned for successfully appealing the military's decision to reclassify him as 1-A eligible for the draft. The Red Sox star had committed himself to paying for his mother's annuities, and wanted to complete the task before considering military service.
"The quickest route to a solution of this whole matter is to earn some big dough this year," Williams said at the time, "then just as soon as I lay down my bat in September or October, I'm in the Navy. And quick too."
His mistake was not mentioning his reason for wanting to "earn some big dough," resulting in a level of backlash. Quaker Oats canceled a $4,000 endorsement deal (Williams later quipped that he hadn't "eaten a Quaker Oat since"), and sports columnists cast doubt on the legitimacy of his reasoning while questioning his patriotism.
Eventually, Williams decided to secretly enlist to become a naval aviator. He was not called to service until after the 1942 season. Having scuffled early in the year — his average had fallen to an unthinkably low .283 earlier in May — Williams responded to his enlistment by hitting .400 for the rest of the month (slugging .850 with a 1.389 OPS).
He finished the year by winning the American League triple crown (batting .356 with 36 home runs and 136 RBIs), but would sacrifice the next three seasons — prime years of his Hall of Fame career — to earn his commission as a second lieutenant in the U.S. Marine Corps.
Daily highlight: Jennifer Allen split the trees to somehow nail an ace in Sunday's Disc Golf Pro Tour event.
Trivia answer: Jason Terry
Sign up for Celtics updates🏀
Get breaking news and analysis delivered to your inbox during basketball season.