Morning Sports Update
David Ortiz reflected on 2004 Red Sox comeback, shared advice for Celtics trailing 3-0
"Every single thought has to be in a positive way, every single one, so you can bounce out of it."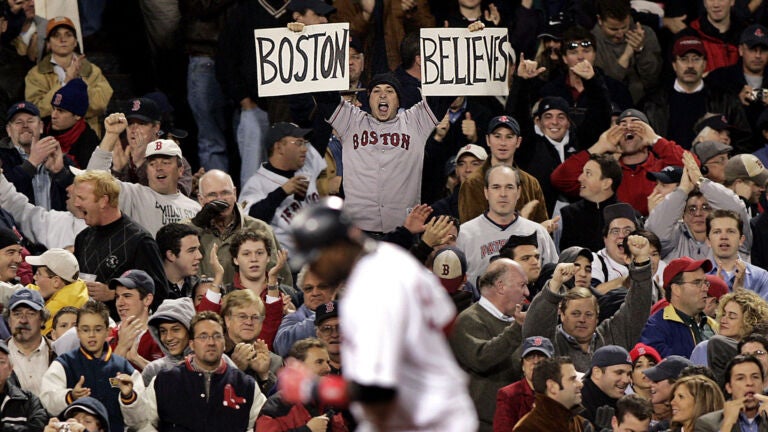 Tonight, the Celtics face the Heat in Miami in Game 4 of the Eastern Conference Finals. Trailing 3-0 in the series, Boston faces elimination. Tip-off is set for 8:30 p.m.
On Monday night, the Red Sox lost 2-1 to the Angels. The two teams meet again tonight at 9:38 p.m.
David Ortiz's thoughts on the Celtics: Despite entering the series as overwhelming favorites to advance, the Celtics trail the Heat 3-0 in the Eastern Conference Finals.
Grappling with the possibility of elimination heading into Tuesday's Game 4, Boston fans have been left scrambling for hope following the lopsided loss in Game 3 (which Miami won 128-102).
Of course, there is one prominent example of a 3-0 series comeback that remains dear to the heart of any New England sports fan of a certain age: The 2004 Red Sox rally against the Yankees in the American League Championship Series.
It remains the only non-NHL example of a team in a major North American sports league winning a playoff series after trailing 3-0.
Comparing the Celtics' current circumstances to the Red Sox appears flimsy at best, but one central member from that famous moment in Boston sports history isn't quite ready to write it off.
"There'd be no better time than this one for that happen," said David Ortiz in a recent interview with the Associated Press. "If you do it in basketball, it's got to be the same city. You know what I'm saying."
Ortiz, 47, offered some advice for the current Celtics team.
"Being 3-0, you've got two choices," Ortiz explained. "You either quit or you go back out, and in professional sports, once you get to that point, there's no way to quit. Once you get there — even if you're 3-0 — you're not thinking about quitting, you're thinking about 'OK, I hit bottom. I've got to go step-by-step now.'
"'I cannot try to win three games at once,'" he added.
The mentality of "one game at a time" seems sound, but even winning one against Miami feels like a near-impossible task given the most recent defeat. Following two seemingly winnable games, Boston was blown out in Game 3.
Yet in Ortiz's eyes, it helps draw a clearer comparison with 2004. In that series, the Red Sox responded to two competitive defeats with a fiasco at Fenway Park in the third game: losing 19-8 as New York hammered 22 hits.
It left Boston with a similarly deflated attitude, with Ortiz noting that the team was "pretty quiet" in the clubhouse afterward.
The response, he said, needs to from within. And in Ortiz's view, changing the tone doesn't necessarily need to come from the team's superstars.
"They've got to have somebody like we had with Kevin Millar, to step up and say, 'Don't let us win tonight,'" Ortiz said. "That actually changed our whole demeanor. When we walked into the clubhouse for Game 4, we thought we were done."
"I think that there's no room for negativity once you get there," Ortiz said of the 3-0 series predicament. "Every single thought has to be in a positive way, every single one, so you can bounce out of it."
Trivia: Can you remember who started Game 4 of the 2004 ALCS for the Red Sox?
(Answer at the bottom).
Hint: He began the postseason that year in the bullpen, but eventually returned to the starting rotation, winning the clinching game in each round of that memorable playoff run.
More from Boston.com:
Here's the final three minutes from Game 4: The Nuggets defeated the Lakers 113-111 to advance to the NBA Finals in a 4-0 series sweep. The final few minutes of Monday's game included several dramatic moments, culminating with Denver finding a way to stop LeBron James to close it out.
On this day: In 1976, the Celtics took Game 1 of the NBA Finals from the Suns in a 98-87 win. Dave Cowens powered Boston with a triple-double (25 points, 21 rebounds, and 10 assists). The Celtics went on to defeat Phoenix in six games.
Daily highlight: Nikola Jokić's has made a habit out of nailing ridiculous shots. This one just happened to be in the final minutes of the game that sent Denver to its first NBA Finals.
Trivia answer: Derek Lowe
Sign up for Red Sox updates⚾
Get breaking news and analysis delivered to your inbox during baseball season.