Morning Sports Update
Bruce Cassidy offered a humorous comparison between his current Stanley Cup run and the 2019 Bruins
Cassidy led Las Vegas to the Stanley Cup Final in his first season as head coach.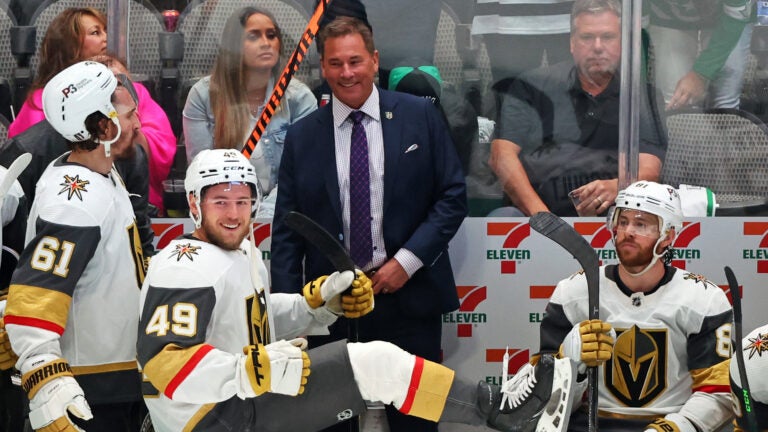 The Red Sox lost to the Reds 9-8 on Tuesday, with a five-run ninth inning rally falling just short of a dramatic comeback. The two teams play again at Fenway Park this evening at 7:10 p.m.
The Revolution are also in action tonight, traveling to face Atlanta United at 7 p.m.
Bruce Cassidy on comparing the 2023 Golden Knights and the 2019 Bruins: While the Bruins' dream of a Stanley Cup run abruptly ended in the first round of the playoffs, Boston's former coach has been a bit more successful.
Bruce Cassidy, who was fired by the Bruins in 2022, quickly caught on as new coach of the Las Vegas Golden Knights.
Las Vegas topped the Pacific Division in the regular season, and has fought hard to win the Western Conference. The Golden Knights now face the Florida Panthers in the Stanley Cup Final (Game 1 begins on June 3).
Cassidy was recently asked to compare his team's current run to the one he coached in Boston in 2019 (when the Bruins eventually lost to the Blues in seven games).
"We had a difficult first series, that would be different," Cassidy recalled of his Boston team. "We had to go seven I think with Toronto, then we picked up steam from there. I honestly can't answer that right now. I'm stumped, can I say that?"
The 2019 Bruins indeed went seven games against the Maple Leafs before emerging victorious, whereas Cassidy's current Golden Knights team defeated the Jets in five games.
"They're both so satisfying but to compare them I'd have to think back a little bit," Cassidy said, contrasting the two teams' runs. He added some characteristic humor.
"I had less of a bald spot, I know that for a fact," he joked. "Two great locker rooms. That's usually what happens when you get to the final four."
Las Vegas, which has had an NHL team since the 2017-2018 season, is already notching its second Stanley Cup Final appearance as a team (having miraculously achieved the feat in its inaugural season).
Trivia: Bruce Cassidy is coaching his second team to a Stanley Cup Finals appearance. Who is the only coach in NHL history to win the cup with three different teams?
(Answer at the bottom).
Hint: He won the Jack Adams Award in 1977 and again in 1996.
More from Boston.com:
Yoshida making plays: The Red Sox outfielder made a tricky play look easy in Tuesday night's game.
On this day: In 2008, Usain Bolt broke the world record in the 100-meter dash for the first time in his career (though it would not be the last). His time was 9.72 seconds, topping the previous mark (9.74) set in 2007 by fellow Jamaican Asafa Powell.
Bolt would go on to eclipse his own mark later that year at the Beijing Summer Olympics, winning gold (the first of three consecutive Olympic wins in the 100 meter) with a time of 9.69. His career best (and still the current world record) would be set in 2009, when he topped out at 9.58.
Daily highlight: Jack Lopez fully committed to (and made) a leaping catch into the netting during a minor league game on Tuesday for the Salt Lake Bees.
Trivia answer: Scotty Bowman
Sign up for Bruins updates🏒
Get breaking news and analysis delivered to your inbox during hockey season.