Morning Sports Update
Behind-the-scenes NFL Draft footage shows how Patriots discussed another trade offer
The footage offers a glimpse at draft-day trade discussions.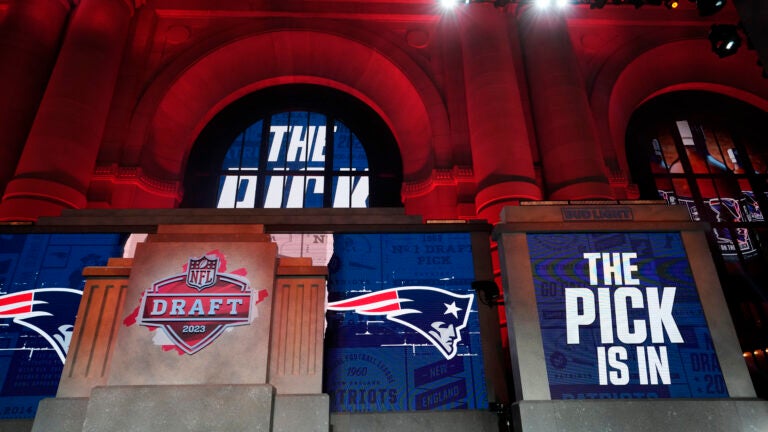 The Red Sox defeated the Reds 8-2 on Thursday, though Chris Sale exited in the fourth inning with a sore left shoulder. He's schedule for an MRI on Friday.
Tonight, the Red Sox begin a four-game series against the Rays at Fenway Park. First pitch is set for 7:10 p.m.
The Patriots considered another draft-day trade: One of the more interesting subplots of the 2023 NFL Draft was Bill Belichick's decision to trade down in the first round from 14th pick to 17th (in an exchange with the Steelers).
In doing so, New England acquired a fourth-round pick, and was still able to select highly-rated cornerback Christian Gonzalez.
As more background information and video footage from the event becomes available, fans have been able see some of the behind-the-scenes activity, such as Jets general manager Joe Douglas correctly predicting the Patriots' trade (which reportedly had a negative impact on New York's position).
Another tidbit was revealed by the Washington Commanders, who released a video showing trade discussions with the Patriots. Washington entered the draft holding the 16th pick, two behind New England's original spot.
Commanders general manager Martin Mayhew called Eliot Wolf, the Patriots' director of scouting.
"Would you guys consider moving back from there to 16?" Mayhew asked. After apparently getting an affirmative answer, Mayhew followed up by asking, "What are you looking for?"
After being told that the Patriots wanted a third-round pick, Washington's executive was skeptical, telling Wolf that "I don't think we want to give that up."
"We might do a fourth, I'll talk to Coach [Ron Rivera," Mayhew countered. "He might be willing to do our fourth."
As the draft developed, more footage shows how Washington evaluated the proceedings. The Commanders, like the Patriots, were eyeing a cornerback, though not Gonzalez. Instead it was Emmanuel Forbes from Mississippi State.
"I don't think [Forbes] gets past the Patriots," Washington executive Marty Hurney can be heard telling Rivera as Mayhew talked again with Wolf on the phone mid-draft.
In the later phone call, Wolf told Mayhew that the Patriots would throw in a sixth-round pick if it would help Washington sign-off on trading back while sending a third-rounder to New England. Again, however, Washington leadership demurred.
"I don't think we want to give up that third rounder," Mayhew told Rivera.
"No we don't," agreed the Commanders' head coach.
Having rejected New England's offer, Washington held firm at the 16th pick. The Commanders went with Forbes, leaving Gonzalez for the Patriots.
Though it was ultimately a non-event, the series of events offered a glimpse at how draft-day trade discussions begin and evolve, but often fizzle. The Patriots, of course, eventually found a willing trade partner in Pittsburgh, though it was for the deal Washington had originally sought.
Trivia: Which left-handed pitcher ranks highest on the Red Sox all-time career wins list?
(Answer at the bottom).
Hint: His best season came in 1949, when he led the league in wins (25), ERA (2.77), and innings pitched (295.1), and complete games (27).
More from Boston.com:
Highlights from Game 1 of the NBA Finals: The Nuggets took an early 1-0 series lead against the Heat with a 104-93 win in Denver.
On this day: In 1995, John Valentin went 5-for-5 and smashed a trio of home runs in a 6-5 Red Sox win over the Mariners.
Daily highlight: Anderson Duarte sent Uruguay through to the quarterfinals of the U-20 men's World Cup on Thursday with a piece of individual brilliance. Duarte and his teammates will face the United States on Sunday for a place in the semifinals.
Trivia answer: Mel Parnell
Sign up for Patriots updates🏈
Get breaking news and analysis delivered to your inbox during football season.