Morning Sports Update
Jeff Green credited Kevin Garnett for helping him develop during his time with the Celtics
"He used to tell me all the time, 'You've got to speak up.'"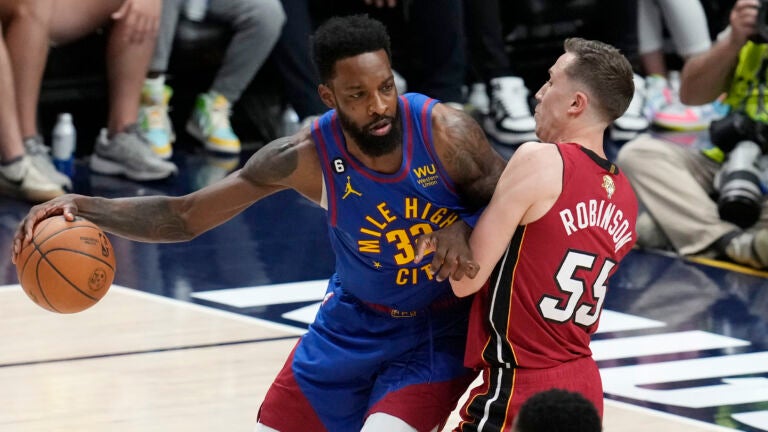 The Red Sox were defeated by the Rays on Sunday, 6-2. Boston concludes the series with Tampa Bay this afternoon at Fenway Park at 4:05 p.m.
In national news, the Heat evened up the NBA Finals at 1-1 by defeating the Nuggets 111-108 in Sunday's Game 2.
Jeff Green recalls the influence of Kevin Garnett: One of the more vocal members of the Western Conference champion Nuggets this season is none other than 36-year-old former Celtic Jeff Green.
Now in his 15th NBA season, Green has become a leader for Denver. But as he explained to reporters prior to Game 2 of the NBA Finals over the weekend, Green was once a fairly quiet teammate. That was until he took some advice from Kevin Garnett.
"When I was with Boston, I didn't talk much. I was very quiet," Green said, according to Tomer Azarly of Clutch Points. "But now, I can't stop talking. So, I guess to a small extent I'm like KG. I think being vocal is big. I think that's something a player should get comfortable with when they're younger. Unfortunately, I didn't get comfortable with that until I was older, of letting my voice be heard on things that I see.
"He used to tell me all the time," Green recalled of Garnett. "'You've got to speak up. You've got to talk, you've got to talk continually. You've got to talk.' I hear him, but being comfortable in that situation of doing it is tough to step out your comfort zone. I didn't realize that until late. I wish that was something I did earlier. He's one that sticks out because that's something I should have started earlier. I think it would have helped me out along the way to this point."
Green was originally drafted by the Celtics fifth overall in 2007, but was almost immediately traded to the then-Seattle Supersonics in a deal that involved Ray Allen heading back to Boston.
Eventually, Green's career path led him back to Boston in 2011, where he played until 2015 (missing the 2011-2012 season due to a heart condition).
Trivia: Nikola Jokić joined Larry Bird and what other player as the only ones in NBA history to record at least 500 points, 200 rebounds, and 150 assists in a single postseason.
(Answer at the bottom).
Hint: Four NBA championships in total, won with three different teams.
More from Boston.com:
Marcelo Mayer breaks out: After starting his Double-A career 0-for-16, top Red Sox prospect Marcelo Mayer slashed a trio of hits in a 5-4 loss to the Somerset Patriots on Sunday.
From around the world: Belgian center back Toby Alderweireld, having returned to his hometown team in 2022 (fulfilling a career-long dream), clinched Royal Antwerp's first league title in 66 years on Sunday with a stunning goal in stoppage time.
On this day: In 1991, Michael Jordan pulled a "spectacular move" (in the words of Marv Albert) to help the Bulls defeat the Lakers in Game 2 of the NBA Finals. It would become a signature moment for Jordan, who went on to win the first of his six NBA titles.
Daily highlight: Kiki Milloy, daughter of former Patriots safety Lawyer Milloy, made an incredible catch to rob a home run during Tennessee's (ongoing) College World Series journey over the weekend. Milloy also currently leads the NCAA in home runs (25) and is top 10 in stolen bases (40). The Volunteers face Florida State in the semifinals, starting Monday at 7 p.m.
Trivia answer: LeBron James
Sign up for Celtics updates🏀
Get breaking news and analysis delivered to your inbox during basketball season.