Morning Sports Update
Tedy Bruschi cautioned Patriots players about Bill O'Brien's intensity
"They call him 'Teapot' for a reason," Bruschi said of O'Brien.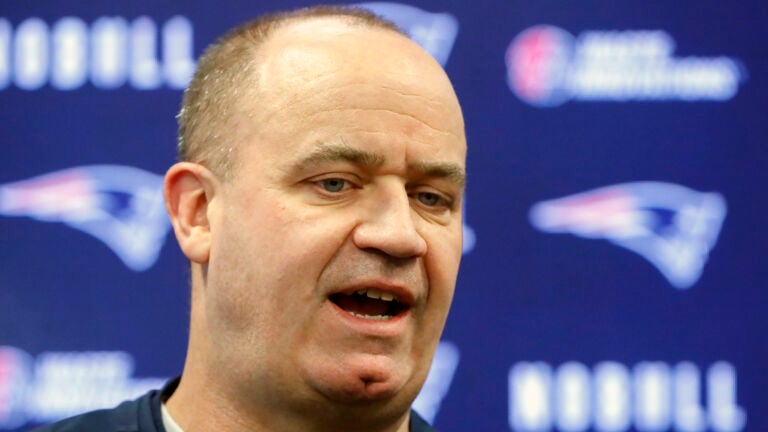 The Red Sox lost to the Guardians 5-2 on Wednesday night. Boston will conclude the series in Cleveland tonight at 7:10 p.m.
In the NBA Finals, the Nuggets defeated the Heat 109-94 in Game 3 to take a 2-1 series lead.
And in international news, Argentinian soccer star Lionel Messi has said that he plans to sign with MLS team Inter Miami. He could make his debut as early as July, though the details of his deal are still being finalized.
Tedy Bruschi on Bill O'Brien: Following a recent OTA session, Patriots tight end Mike Gesicki (who signed with New England in March on a one-year deal) praised newly-installed offensive coordinator Bill O'Brien.
"Coach O'Brien has done a really good job bringing everybody along with him," Gesicki told reporters, per Mike Reiss. "Everybody has bought into how he coaches. He has a lot of energy. The guys are excited to come out here and a lot of that is credited to him."
O'Brien was brought back to the role he last occupied in 2011. This was due to the team's disastrous performance on offense last season, and O'Brien has a difficult task ahead of him if he wants to develop a resurgent Patriots attack.
Tedy Bruschi, former Patriot and current ESPN analyst, knows that O'Brien's traditionally harsh style will likely return when the stakes begin to escalate as the season gets going. He shared his thoughts during a Wednesday edition of NFL Live.
"Everything's roses right now," Bruschi began, "because in the mini-camps it's all about friendships and relationships and developing rapport. That's what he's doing right now."
O'Brien, Bruschi pointed out, is not usually a coach known for taking a rosy approach.
"They call him 'Teapot' for a reason, because that teapot will simmer and simmer and simmer, and pretty soon that's going to whistle off," Bruschi explained. "Bill O'Brien is a little bit of a hot-head. He wants things done a certain way, and eventually when the pressure starts ramping up, that's when all of these players will know this is business.
"I understand what Gesick's saying there, but these young players on offense have to know who they're dealing with, and Billy-O is serious."
The Patriots conclude OTAs on June 9, and will begin mandatory mini-camp on June 12 (running through the 14th). New England will then open training camp in late July.
Trivia: Tedy Bruschi's first career NFL sack came on Oct. 6, 1996 in a 46-38 Patriots win over the Ravens. Who was the quarterback he recorded the sack against?
(Answer at the bottom).
Hint: He was 44 when he played in his last career NFL game in Dec. 2007.
More from Boston.com:
An NBA record: Jamal Murray and Nikola Jokic became the first teammates in league history — not simply playoff or NBA Finals history — to notch 30-point triple-doubles in the same game. Jokic in particular finished with 32 points, 21 rebounds, and 10 assists.
Marcelo Mayer's first home run at Double-A: The top Red Sox prospect made it look easy with a relaxed swing as the ball sailed far over the fence.
Elly De La Cruz's impressive day: Speaking of top MLB prospects, 6-foot-5 Reds rookie Elly De La Cruz smashed a deep home run (and later an impressive triple) in just his second career game at the big league level.
On this day: In 1950, the Red Sox set a record for most runs scored by one team in a Major League game (in the modern era), topping the St. Louis Browns by a whopping 29-4 margin.
Bobby Doerrr went 4-for-6, hitting three home runs and driving in eight runs. Ted Williams and Walt Droppo also added two home runs each, as four Boston batters collected four or more hits. Even starting pitcher Chuck Stobbs had a great day at the plate, swatting a pair of hits and drawing four walks (he also pitched a complete game for the win).
The record was toppled decades later, when the Rangers routed the Orioles 30-3 in 2007.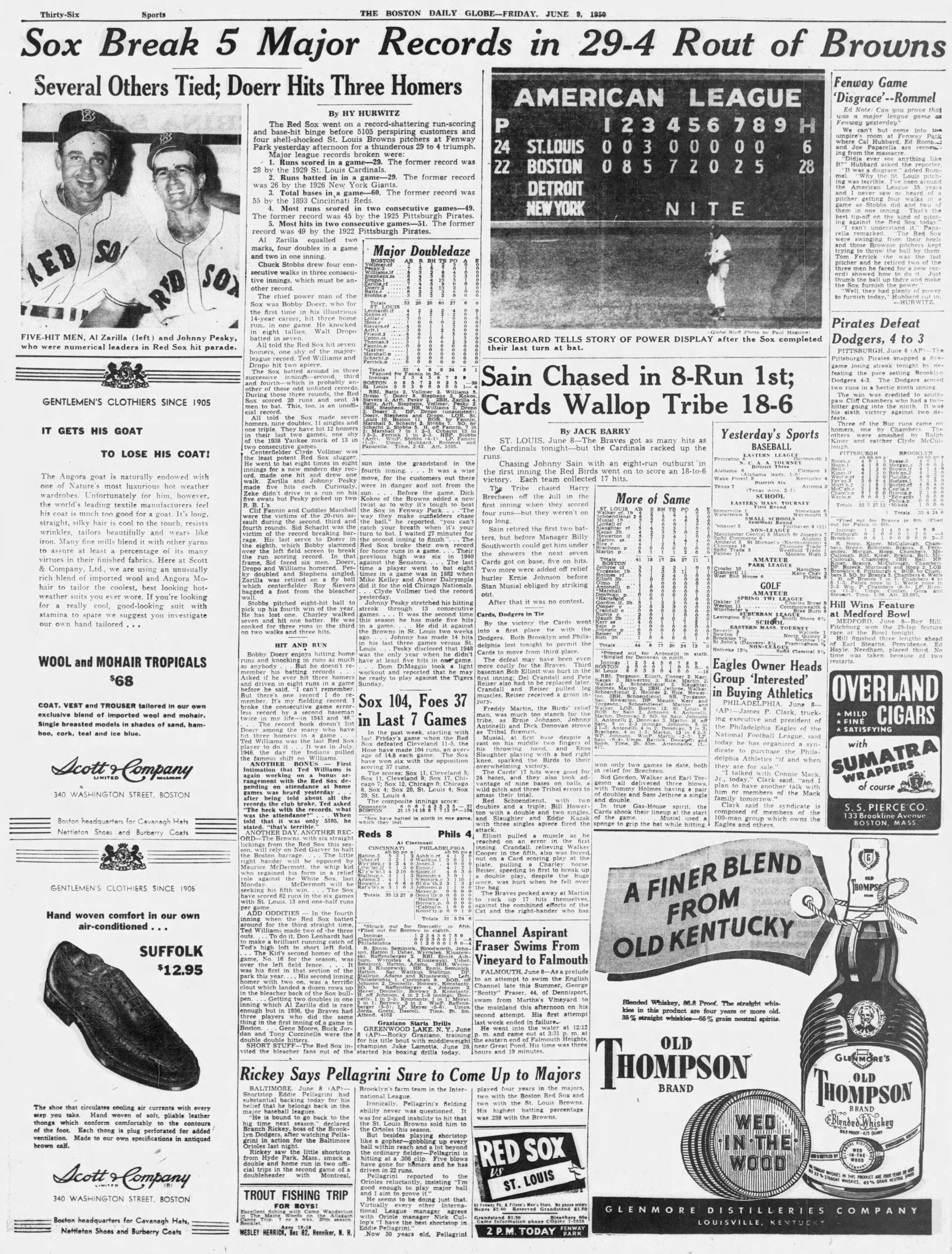 Daily highlight: Kaley Mudge reached over the wall to pull back a home run in the College World Series on Wednesday, though Florida State was unable to rally in a Game 1 defeat to two-time defending champion Oklahoma.
Trivia answer: Vinny Testaverde
Sign up for Patriots updates🏈
Get breaking news and analysis delivered to your inbox during football season.