Morning Sports Update
Mac Jones reportedly 'isn't expected to be suspended' for incident with Sauce Gardner
Jones could face a fine after an NFL review.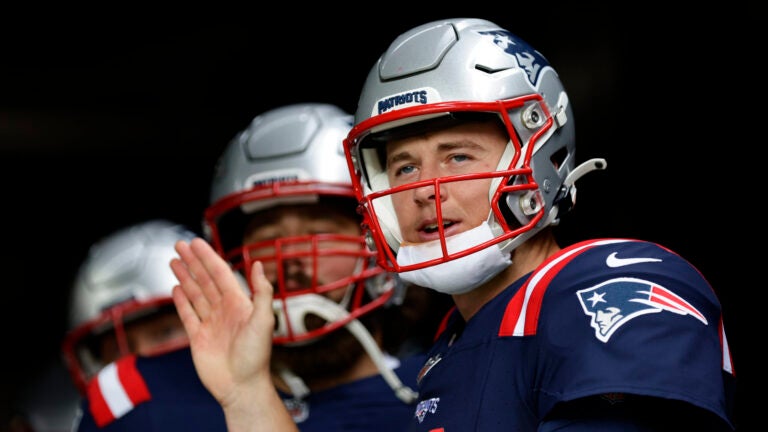 The latest on Mac Jones and Sauce Gardner: One of the more bizarre subplots to emerge from the Patriots' 15-10 win over the Jets in Week 3 was the situation between Mac Jones and Jets cornerback Sauce Gardner.
According to Gardner, who first mentioned the subject after the game in a conversation with reporters, Jones hit the New York defender in his "private parts" after getting up from a tackle.
"I definitely wasn't expecting that," Gardner explained. He posted a video the next day in which he claimed it showed the incident, though it was difficult to decipher due to the poor quality of the footage.
A closer view of the video was later posted by Athletic reporter Dianna Russini:
Jones, who has received criticism for his apparent action (and who has been labeled a dirty player by former Patriot Chris Long), responded by denying he had done anything wrong.
"Sauce is one of the best corners in the NFL," said Jones in a Monday interview with "Jones & Mego" on WEEI. " I have a lot of respect for him. On that play, nothing was intentional. I just got up and went back to the huddle and that's it."
On Tuesday morning, Tom Pelissero of NFL Network reported that the Patriots' quarterback "isn't expected to be suspended" for his alleged actions.
"The NFL reviews all plays and it's possible, though not certain, that Jones could be fined," Pelissero added.
Jones has been accused of dirty play before. In his rookie season, while playing the Panthers, he was sacked by Carolina defensive end Brian Burns, and then pulled at Burns's ankle to prevent him from recovering a fumble. Burns was hurt during the play, but later returned to the game (saying afterward that he thought Jones's action was "some bull.")
In Oct. 2022, Jones kicked Bears defender Jaquan Brisker on two occasions as he slid to avoid tackles during a regular season game. It even drew the attention of Peyton Manning.
And in Dec. 2022, Jones was fined for making a dangerously low (and unnecessary) block on Bengals cornerback Eli Apple during an interception return).
The Patriots face the Cowboys in Week 4 on Sunday in Dallas at 4:25 p.m.
Trivia: Mac Jones joined an exclusive list when he became an Alabama quarterback selected in the first round of the NFL Draft in 2021. In modern NFL history, only five Crimson Tide quarterbacks have been picked that early. Can you name the other four?
(Answer at the bottom).
Hint: One was drafted in the first round by an NFL team, but opted to play for a then-AFL team instead. One was picked sixth overall by the Jets in 1976. The other two are currently in the league, both as starters.
Scores and schedule:
Tonight, the Connecticut Sun take on the New York Liberty in Game 2 of the WNBA Semifinal. Connecticut has a 1-0 lead, and will try to take a second game on the road. Tipoff is set for 8 p.m.
Also tonight, the Red Sox open a two-game series against the Rays at Fenway Park starting at 7:10 p.m.
More from Boston.com:
Inside the Patriots' locker room: Here are some soundbites from the Patriots following the Week 3 win over the Jets.
On this day: In 1976, the Patriots "stunned" the two-time defending Super Bowl champion Steelers in a Week 3 regular season game, 30-27. Steve Grogan threw for a pair of touchdowns and ran for another, but it was Russ Francis (six catches for 139 yards and a touchdown) who stole the show.
"He's a special tight end," said Steelers coach Chuck Noll of Francis. "Not many tight ends can go deep like Francis can. He presents a different problem than most of them because he's special."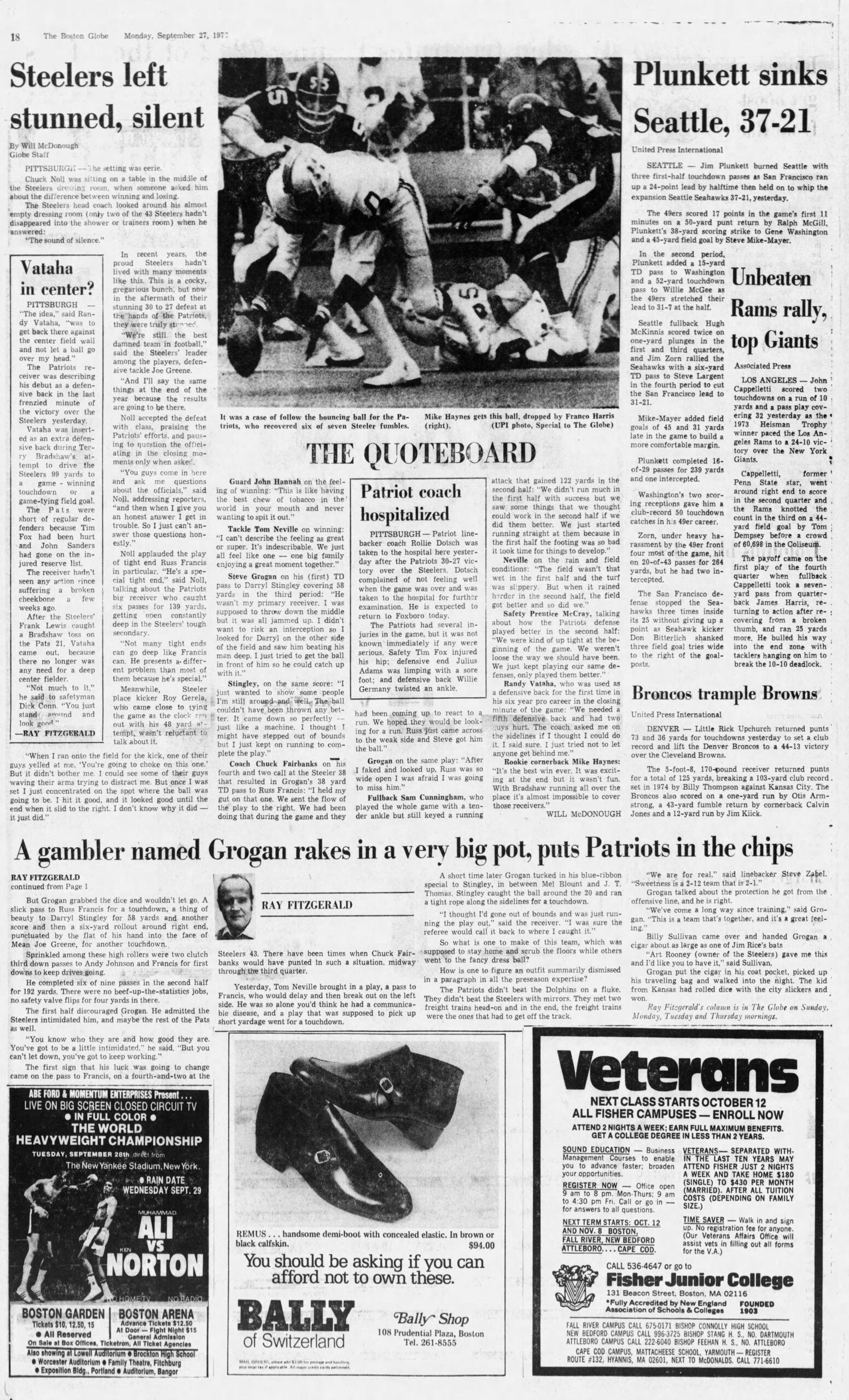 Daily highlight: Mike Evans made a wild one-handed catch during Monday night's loss to the Eagles.
Trivia answer: Joe Namath, Richard Todd, Tua Tagovailoa, Bryce Young
Sign up for Patriots updates🏈
Get breaking news and analysis delivered to your inbox during football season.