Morning Sports Update
Tom Brady was reportedly paid $55 million by Sam Bankman-Fried for FTX advertising
Author Michael Lewis discussed Brady's role in the cryptocurrency exchange prior to its downfall. Bankman-Fried is now on trial for fraud and money laundering.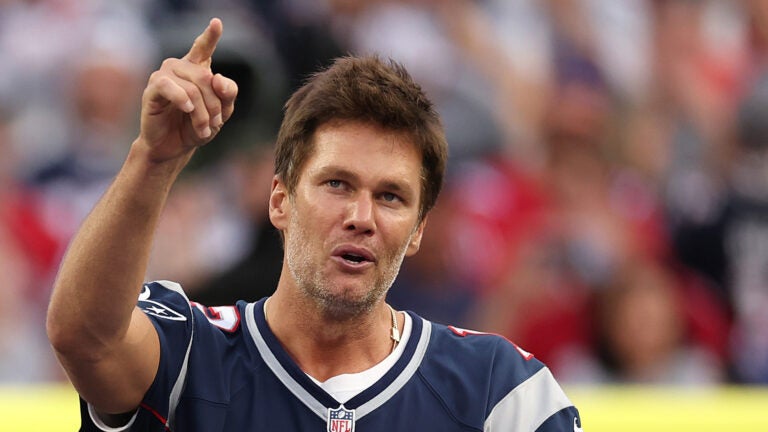 Tom Brady, Sam Bankman-Fried, and FTX: Ahead of the trial of former FTX founder and CEO Sam Bankman-Fried — who faces seven federal indictments pertaining to fraud and money laundering — Tom Brady's name was once again front and center in the multibillion-dollar cryptocurrency scandal that first emerged in late 2022.
During Sunday's episode of "60 Minutes" on CBS, author Michael Lewis discussed his book about Bankman-Fried, "Going Infinite: The Rise and Fall of a New Tycoon."
According to Lewis, Bankman-Fried paid athletes extraordinary sums of money in return for advertising and endorsements. Brady, who appeared in multiple commercials pitching FTX between 2021 and 2022, received the largest share.
"He paid Tom Brady $55 million for 20 hours [of work] a year for three years," Lewis told "60 Minutes."
Lewis noted that Warriors guard Stephen Curry was paid $35 million for a similar arrangement.
"It's breathtaking, what's on that list," Lewis said of the FTX internal marketing document he says he saw.
Lewis speculated that Brady had a good relationship with Bankman-Fried, despite their apparent differences.
"Tom Brady I think adored him," Lewis said of Brady's view of the now-disgraced FTX founder. "I think Tom Brady thought he was a really interesting person. I think he liked to hear what he had to say."
"It was funny to watch that interaction," Lewis said of Brady and Bankman-Fried, who he described as not being a "big sports person."
After Bankman-Fried was accused of being a fraud (and FTX collapsed), Lewis said that Brady was "crushed" by the news.
"I think as time has gone by," Lewis added, "and [Brady's] ceased to get a really good explanation about what's happened — I think he's just like, 'He tricked me. I'm angry. I don't wanna have anything to do with it anymore.'"
Brady is among several celebrities who are the subject of a class-action lawsuit filed in Florida in Dec. 2022, accusing the group — a list that includes Brady, his now ex-wife Gisele Bündchen, Curry, Shaquille O'Neal, Larry David, and others — of not performing "any due diligence prior to marketing these FTX products to the public," per a New York Times report in July.
The earlier Times report also differed from Lewis's account, noting that FTX paid Brady $30 million, "a deal that consisted almost entirely of FTX stock." Bündchen reportedly received $18 million in FTX stock, a commodity that is now essentially worthless following the revelations about the cryptocurrency exchange.
Bankman-Fried's trial gets underway in a Manhattan federal courtroom on Tuesday, in which the 31-year-old could face a maximum sentence of 110 years in prison.
Scores and schedule:
The Bruins lost to the Flyers 3-1 in Monday's preseason game. Boston plays two more preseason contests (including one tonight against the Rangers at 7 p.m.) before beginning the regular season on Oct. 11 against Chicago at TD Garden.
On Wednesday, the Revolution will host Columbus Crew in a game that will help determine Eastern Conference playoff seeding. It's set to kick off at 7:30 p.m.
More from Boston.com:
Red Sox tributes to Tim Wakefield: The team added his number 49 to the scoreboard, one of many, many tributes paid to Wakefield across Red Sox nation.
On this day: In 1990, the Red Sox were one out away from clinching the American League East title on the final day of the season. Standing in their way was a potential ninth inning rally from the White Sox.
With Chicago outfielder Sammy Sosa standing on second base (and pinch runner Rodney McCray on first), shortstop Ozzie Guillen turned on a Jeff Reardon fastball, sending it ominously towards fair territory near Fenway Park's "Pesky Pole" in right field.
Luckily for the Red Sox (and the thousands of anxious fans watching), Boston outfielder Tom Brunansky made a great read on the ball as it jumped off of Guillen's bat. He sprinted into the corner before making a sliding catch to get the last out.
Just like that, the Red Sox were champions of the AL East for the third time in five years (winning the game 3-1), with Sean McDonough making a great call on the television broadcast.
Daily highlight: Seahawks rookie cornerback Devon Witherspoon took a Daniel Jones interception 97 yards for a touchdown during Seattle's win on Monday Night Football.
Sign up for Patriots updates🏈
Get breaking news and analysis delivered to your inbox during football season.