Morning Sports Update
Ty Law shared his thoughts on 'pathetic' Patriots, futures of Bill Belichick and Mac Jones
Law maintained that Belichick is "a phenomenal coach, the best coach to ever do it," but that it might be "time to start letting somebody else pick the players."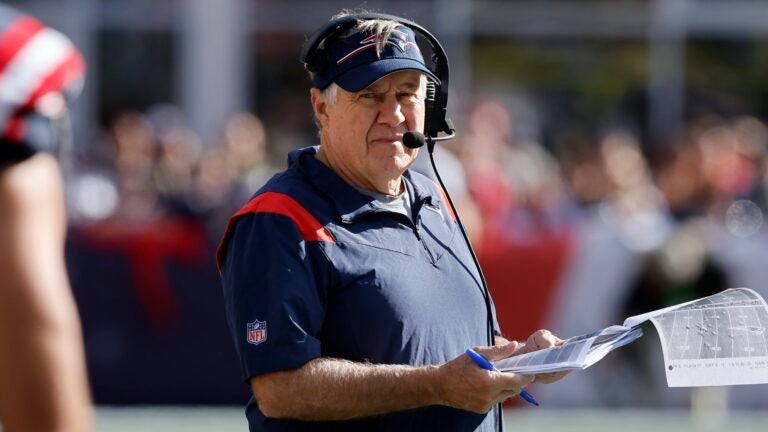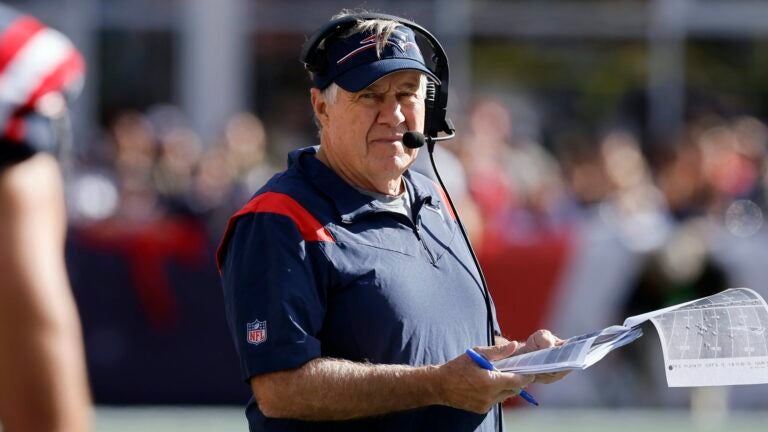 Ty Law's thoughts on the Patriots and Mac Jones: As the fallout continues from the latest Patriots' loss, Ty Law isn't quite ready to call time on Bill Belichick's career, but he's seen enough from Mac Jones.
Speaking during an interview with WEEI's "The Greg Hill Show" on Tuesday morning, Law — a Hall of Fame cornerback who helped the Patriots win multiple Super Bowls — began the interview by giving a harsh summary of his former team.
"I'm still reeling from that damn game. That was pathetic," Law said of New England's 34-0 loss at home against the Saints on Sunday.
At 1-4, the Patriots' season already appears to be tracking toward another finish outside of the playoff picture.
It's been cause for some fans to question the future of Bill Belichick as the team's coach. Law wasn't quite ready to go that far.
"They're not going to fire Bill Belichick. Let's put it out there. I don't think Mr. Kraft would do that," Law said.
"People tend to forget the history and what that man has done for the organization," he later added of Belichick, "so they're not going to do that."
But, Law did say that the Patriots could take away Belichick's authority over personnel decisions, and possibly install a new general manager.
"We all get a little older, but I still believe that he is a phenomenal coach, the best coach to ever do it," he maintained. "But it's time to start letting somebody else pick the players. Like Parcells said, let somebody else pick the damn groceries now. "
On the topic of Jones, Law was much less sympathetic. After he was reminded of recent comments from the Patriots' quarterback in which Jones said he wants to be a leader and to "bring guys along with me," Law laughed.
"Bring them with you where? To another team?" he joked. "Where? To dinner? I mean let's try that first. Take the team out to dinner. Do the Tom Brady. Take them out after an offseason workout, but you're going to lead them to another team."
Beyond the jokes, Law noted that the Patriots are facing a fundamental problem in the NFL.
"He's just not showing the leadership, especially for the position," Law said of Jones. "You're going to go as far as your quarterback is going to go in most cases unless you have an absolutely strong-[expletive] defense.
"We've seen those types of teams too, but the Patriots have neither," Law concluded. "They don't have a strong offense. They don't have a strong defense. We can talk about some of the injuries that play a part in that as far as the defense, but overall that offense is not going to get you anywhere."
Trivia: Ty Law's first career NFL interception came in a Patriots win on Nov. 26, 1995. Which quarterback did he intercept?
(Answer at the bottom).
Hint: This player, a Hall of Fame quarterback, didn't play for the NFL team that originally drafted him for three years due to a short-lived USFL career with the Houston Gamblers.
Scores and schedule:
The Celtics lost to the Knicks 114-107 in a preseason matchup on Monday. Boston will play another preseason contest on Wednesday in Philadelphia against the 76ers.
Also on Wednesday, the Bruins begin the regular season against Chicago at TD Garden (puck drops at 7:30 p.m.)
More from Boston.com:
Jordan Walsh showing his defensive ability: The rookie second-round pick could become a useful option for Boston this season.
Atlanta's wild comeback: The Braves tied the series against the Phillies at 1-1 with a crazy game-ending 8-5-3 double play (the first of its kind in MLB postseason history).
On this day: In 1999, the Red Sox won Game 4 of the American League Division Series over Cleveland by a football score: 23-7. Boston slugged 24 hits, with third baseman John Valentin tagging two home runs and totaling seven RBIs.
The Red Sox, having rallied from an 0-2 series deficit, went on to win the decisive Game 5 the next night.
Daily highlight: The overhead view of Falcons running back Bijan Robinson's game-winning touchdown is cinematic.
Trivia answer: Jim Kelly
Sign up for Patriots updates🏈
Get breaking news and analysis delivered to your inbox during football season.