Morning Sports Update
Connor Bedard commented on playing against 'slippery' Brad Marchand
Bedard, who scored his first NHL goal, called the TD Garden atmosphere a "pretty, pretty cool place."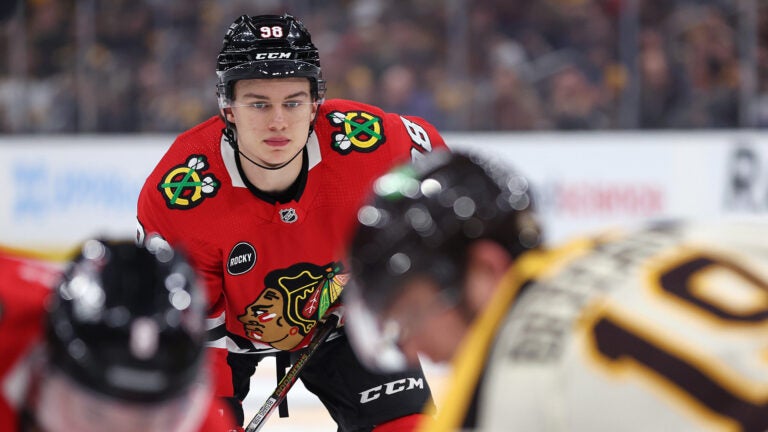 Connor Bedard's reaction to Brad Marchand: In just his second NHL game, Connor Bedard — the number one overall pick from the 2023 NHL Draft — may have gotten his "welcome to the NHL moment" going up against Brad Marchand.
Facing the Bruins in TD Garden, Chicago's Bedard showed his resilience, but only after he took a penalty while trying to defend the 35-year-old Bruins winger. And in another sequence, Marchand pulled the rookie into the Boston bench.
Still, the 18-year-old Bedard didn't seem to think it was a notable moment in his young career when asked about battling Marchand.
"No, I don't think so," Bedard said after the game, according to MassLive's Lauren Campbell. "It was a pretty brief moment. Obviously, I took a penalty out of it.
"That's what makes him so good is how slippery he is, and obviously, I kind of tripped him, I guess," Bedard acknowledged. "But I don't know. It's just part of the game and I don't know if that was kind of the moment I would say it was the 'welcome to the NHL.'"
Though Chicago lost to the Bruins, Bedard managed to tally his first career NHL goal in the process.
"It was definitely a relief," he admitted. "I mean, something you dream of your whole life. And to have it happen, like I was saying before, in this building and it's a pretty, pretty cool place. Another 'Original Six' team to get it [against]. It was a cool moment for sure."
Trivia: Who was the most recent player the Bruins picked number one overall in an NHL Draft?
(Answer at the bottom).
Hint: It happened in 1997.
Scores and schedule:
The Bruins got off to a winning start with a 3-1 victory over Chicago in the 2023-2024 opener on Wednesday night. David Pastrnak scored twice (including one that was assisted by newly-returned Milan Lucic) and Trent Frederic also added a goal.
On Saturday, the Revolution will be away to play Nashville SC at 8:30 p.m.
And on Sunday, the Patriots will play the Raiders in Las Vegas at 4:05 p.m.
More from Boston.com:
A moment from opening night: Number Four connected with a young Bruins fan.
The stare-down game: After Atlanta shortstop Orlando Arcia mocked Bryce Harper following his failed base-running gamble in Game 2 of the NLDS, Harper came back with two home runs in a 10-2 Phillies win in Game 3. He stared down Arcia as he rounded the bases each time.
"It's just a game. It's fun," Harper said in a TBS interview afterward. "Everybody played a really good game. That's what it's all about."
On this day: In 1979, Celtics guard Chris Ford hit the first three-point shot in NBA history. Viewing it in the replay below, it's an anticlimax (being just a seemingly regular-looking play). But it was the first moment of what has become an inexorable evolution in the game.
The Celtics, meanwhile, defeated the Rockets that day, 114-106.
Daily highlight: Lucic to Pastrnak, simple as that.
Trivia answer: Joe Thornton
Sign up for Bruins updates🏒
Get breaking news and analysis delivered to your inbox during hockey season.