Morning Sports Update
Kristaps Porzingis said it's 'still cool' playing in MSG despite boos, is excited about Celtics' future
"I really liked that and enjoyed that, but most importantly we won the game."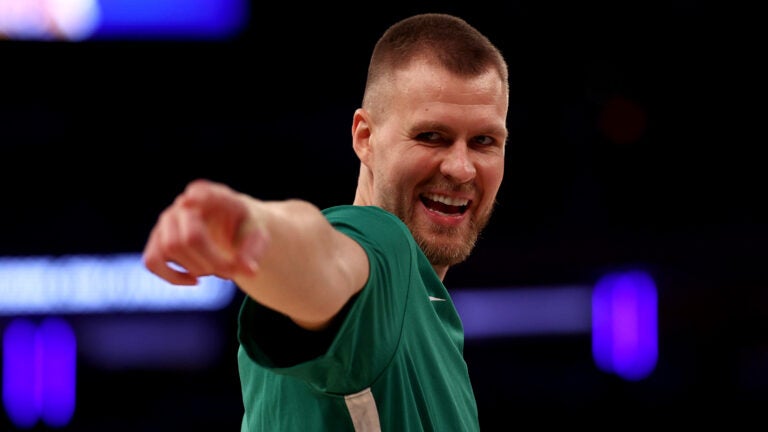 Kristaps Porzingis on Knicks fans' booing: He was booed when he was drafted by the Knicks in 2015, and again upon his return to Madison Square Garden on Wednesday night as a member of the Celtics, but Kristaps Porzingis still wishes his former team and its fans well.
"It's honestly it's an awesome feeling to come back now being a Celtic and play here. Even getting booed and all that, it's still cool," Porzingis said after the game. "I really liked that and enjoyed that, but most importantly we won the game."
Porzingis, who was traded to the Celtics in the offseason, was on the receiving end of some not-so-subtle taunts from New York fans in the fourth quarter, who chanted "F*** Porzingis" following his elbow to the face of Knicks center Isaiah Hartenstein while trying to claim a rebound.
Still, he maintained no ill will towards his former team, and is enthused about what he saw from his new teammates in the 108-104 win.
"I'm very excited about what we have ahead of us," he said. "And I wish the Knicks and this city and the organization nothing but the best."
Adding 30 points, eight rebounds, and four blocks, Porzingis seemed to thrive on the heightened intensity. His clutch three-pointer with 1:29 remaining gave Boston the lead for good.
"That was awesome. Playing here at the Garden is always special as a home team, obviously, but also the road it's really fun," he explained. "At one point it got really crazy when the fans got into it, they made a comeback. But we stayed poised, we stayed calm, and we were able to finish out the game making some big plays, hitting some free throws. Overall, a fun game to play in."
Looking ahead, Porzingis added that it was good for him to start well as a means of gaining the confidence of his new teammates.
"It's important to show what my mindset is in tight games like this, and [to show] them that I'll be there and do what I can on both ends. Today was a good step for us to build that trust."
Trivia: Kristaps Porzingis set a Celtics record for most points in his team debut with 30 in Wednesday's opener. What player previously held that record for Boston?
(Answer at the bottom).
Hint: Like Porzingis, he was born outside of the United States (in Paris, though he is an American citizen as his father was a U.S. serviceman stationed abroad). He averaged more than 30 points a game in an NBA season twice.
Scores and schedule:
The Celtics got off to a winning start in Wednesday's season opener, defeating the Knicks 108-104. Boston's home opener is set for Friday night (7:30 p.m.) against the Heat.
Tonight, the Bruins host the Ducks at 7 p.m.
More from Boston.com:
ESPN NBA analyst Tim Legler on the Celtics: Legler explained why the Celtics' new additions make them stronger title contenders.
On this day: In 2004, the Red Sox defeated the Cardinals 4-1 in Game 3 of the World Series, putting Boston one game away from its first championship in 86 years.
Pedro Martinez, in what turned out to be his final start with the Red Sox, pitched seven scoreless innings, notching six strikeouts. Manny Ramirez, who would go on to win World Series MVP, hit a first inning home run and (in the bottom of the inning) made a perfect throw from left field to catch Larry Walker out at home.
The Cardinals, despite being the National League team supposedly more familiar to having pitchers in the lineup, continued base-running blunders in the third when starter Jeff Suppan was caught advancing too far off of third base on a throw from (of all people) David Ortiz.
Daily highlight: Kerwin Vargas gave Charlotte FC brief hope with a fantastic bicycle kick finish during the MLS Wild Card matchup. Unfortunately for Charlotte, it failed to stem the tide of New York Red Bulls goals. New York won in the end 5-2.
Trivia answer: Dominique Wilkins
Sign up for Celtics updates🏀
Get breaking news and analysis delivered to your inbox during basketball season.