Morning Sports Update
Matthew Slater explained what the Patriots will miss without Kendrick Bourne
"He brings a contagious energy that I think is unmatched in this building."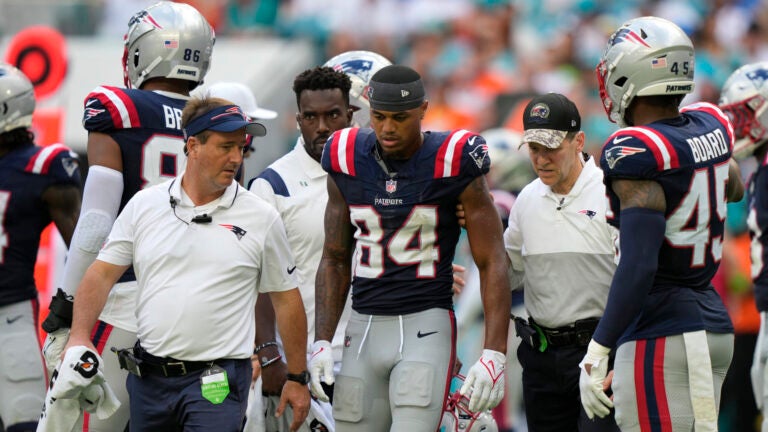 Matthew Slater spoke about Kendrick Bourne's injury: The Patriots lost wide receiver Kendrick Bourne for the season on Sunday when the 28-year-old reportedly tore his ACL in the 31-17 loss to the Dolphins.
On top of the on-field production that is now lost with Bourne's absence, his personality and optimism is something that teammates have already said they will miss.
One example came from Matthew Slater, who responded on Monday to WBZ's Dan Roche when asked what Bourne's absence will mean.
"Heartbroken for Kendrick, honestly" said Slater. "You never want to see one of your teammates go through that, but especially him. I think he's been through so much the last couple years, and he's really grown tremendously in his faith and who he is as a man, and that's been so fun to watch.
"I think more than anyone in our entire building, Kendrick brings authenticity," Slater continued. "He is true to himself. He's the same person each and every day. He brings a contagious energy that I think is unmatched in this building. His positivity is unmatched, and we'll certainly miss that. I don't know that I've played with someone whose had the type of joy that Kendrick has. So your heart's broken for him. You hate that that's a part of the game, and certainly will be praying for a speedy and full recovery."
Trivia: Matthew Slater is the son of a Hall of Fame NFL player (Jackie Slater, who played 20 seasons with the Rams as an offensive tackle). There is only one other player currently in the NFL whose father is also a Hall of Famer.
(Answer at the bottom).
Hint: Plays for the Falcons, and is actually a third generation NFL player.
Scores and schedule:
The Bruins defeated the Panthers 3-2 in overtime on Monday night, improving to 8-0-1 on the season.
The Celtics also won on Monday, beating the Wizards 126-107. Jaylen Brown led Boston with 36 points.
More from Boston.com:
Charlie Coyle making a difference: An emotional and heartfelt moment from the Bruins game on Monday.
James Harden reportedly traded: In a story that broke in the early hours on Tuesday, James Harden has reportedly been traded from the 76ers to the Clippers. The full terms of the deal, per Adrian Wojnarowski, include Los Angeles sending Philadelphia "Marcus Morris, Robert Covington, Nic Batum, KJ Martin, a 2028 unprotected first-round pick, two second-round picks, a 2029 pick swap and an additional first-round pick that will be routed from a third team."
In return, the Clippers get Harden, P.J. Tucker, and Filip Petrusev.
On this day: In 1997, the Celtics defeated the defending champion Bulls 92-85 in the season opener. The game was Rick Pitino's first in charge of Boston, and heralded the potential of a grand new era.
Unfortunately for the Celtics, Pitino's magic was short-lived. His team would stagger to a 36-46 record in the first year. By the middle of the 2000-2001 season, he would leave the team with a 102-146 overall record and no playoff appearances.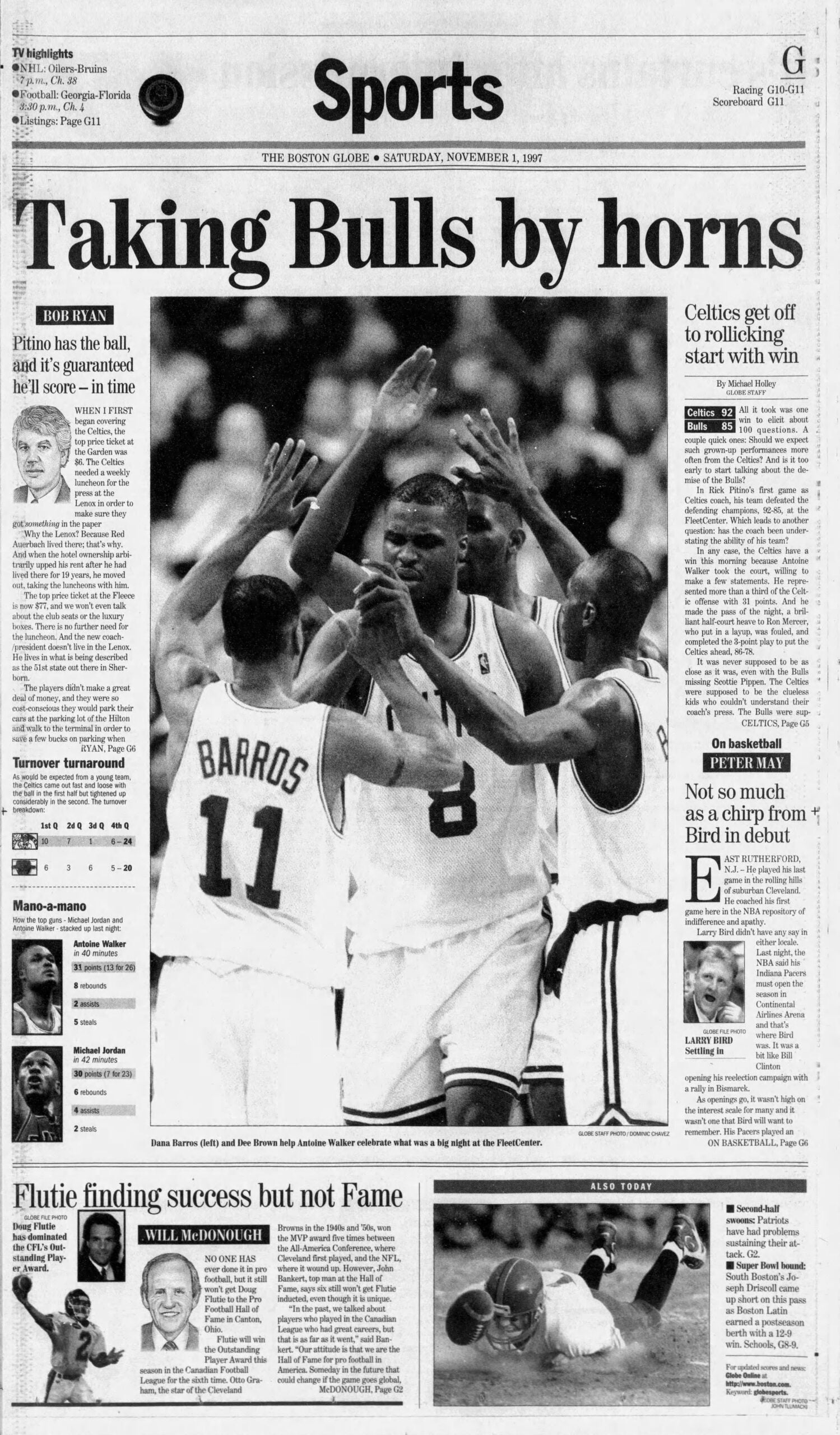 Daily highlight: Wilder Cartagena curled his shot in the top corner for an opening goal worthy of the playoffs in Orlando City's 1-0 win over Nashville in the opening game of a best-of-three first round series.
Trivia answer: Jake Matthews
Get the latest Boston sports news
Receive updates on your favorite Boston teams, straight from our newsroom to your inbox.