Morning Sports Update
Bill O'Brien stressed patience in development of rookie Kayshon Boutte
"I believe in him and I believe he's got a good future."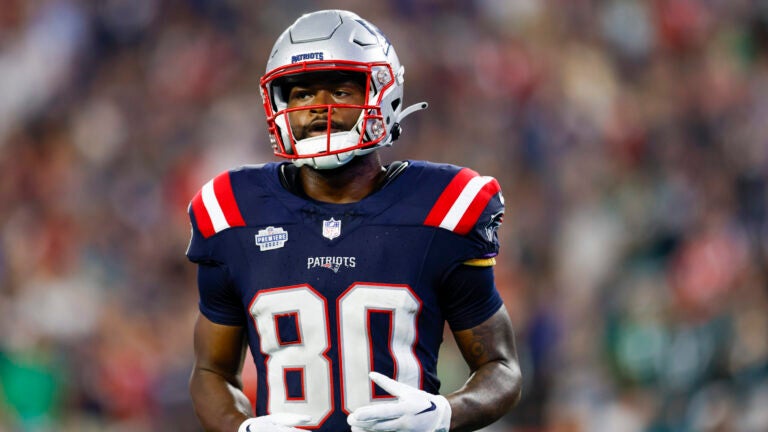 Bill O'Brien discussed Kayshon Boutte: During his Tuesday press conference, Patriots offensive coordinator Bill O'Brien was asked about the absence of rookie wide receiver Kayshon Boutte in recent weeks.
Boutte, 21, was the Patriots' sixth-round pick in 2023, and flashed potential in preseason. But after playing in the season opening loss to the Eagles, he hasn't made an appearance in a game since.
"I've always said that that, a rookie receiver, it's a very difficult transition," O'Brien told reporters, as transcribed by MassLive's Nick O'Malley. "Especially on the perimeter, because in college football, you're not always seeing the same type of coverages that you see in professional football. It's just the way it is. Sometimes, the transition to pro football is a little bit tougher. It takes a little bit longer."
O'Brien rejected any notion that Boutte hasn't been active on game-days because he isn't responsive to coaching.
"He's coachable. He's out there every day."
With several Patriots wide receivers either hurt or out with injuries, the path could once again clear for Boutte to get more playing time.
Though it might not show in the short term, O'Brien said he has faith in the rookie.
"Kayshon's worked very hard and he's showed glimpses of what he can be," O'Brien explained. "I believe in him and I believe he's got a good future."
Trivia: In a 2020 win over Ole Miss, Boutte led LSU with 14 catches for 308 yards (a school and SEC record). What player holds the SEC record for most receiving yards during the entirety of their college career?
(Answer at the bottom).
Hint: He attended an LSU rival, and now plays for the Eagles.
Scores and schedule:
Tonight, the Celtics host the Pacers at 7:30 p.m.
Tomorrow, the Bruins will face the Maple Leafs at TD Garden, also starting at 7:30 p.m.
More from Boston.com:
The Rangers are up 3-1: After emerging victorious in Game 4 of the World Series 11-7 over the Diamondbacks on Tuesday, the Rangers are one win away from a first championship in team history.
The Spurs' comeback: After trailing for the virtually the entire game, San Antonio staged a miraculous rally in the final seconds to steal a win from the Suns.
On this day: In 1987, the Patriots blew a 23-6 fourth quarter lead, but still managed to find a way to defeat the Raiders, 26-23. It was a wild game.
New England's starting quarterback, Tony Eason, was injured early, forcing backup Steve Grogan to enter the fray (called off the bench so suddenly that he still had his chewing tobacco in his mouth, according to the account from Boston Globe columnist Leigh Montville).
The Patriots amassed a multi-score lead (including a first half touchdown pass from running back Mosi Tatupu), culminating with Grogan's 25-yard touchdown pass to Irving Fryar early in the fourth quarter. But the Raiders ripped off 17 unanswered points to tie the score, leaving only 46 seconds remaining.
Grogan proceeded to orchestrate a drive into field goal territory, highlighted by a 40-yard catch from Stanley Morgan, who finished the day with six catches in total for 146 yards. With one second remaining, kicker Tony Franklin initially appeared to have missed the 34-yard field goal, but a Raider penalty gave him a second chance.
Handed another opportunity, Franklin nailed it and the Patriots walked away with a win.
The game was also notable for the NFL debut of multi-sport star Bo Jackson, playing for the Raiders. Jackson carried eight times for 37 yards, adding a catch for six yards.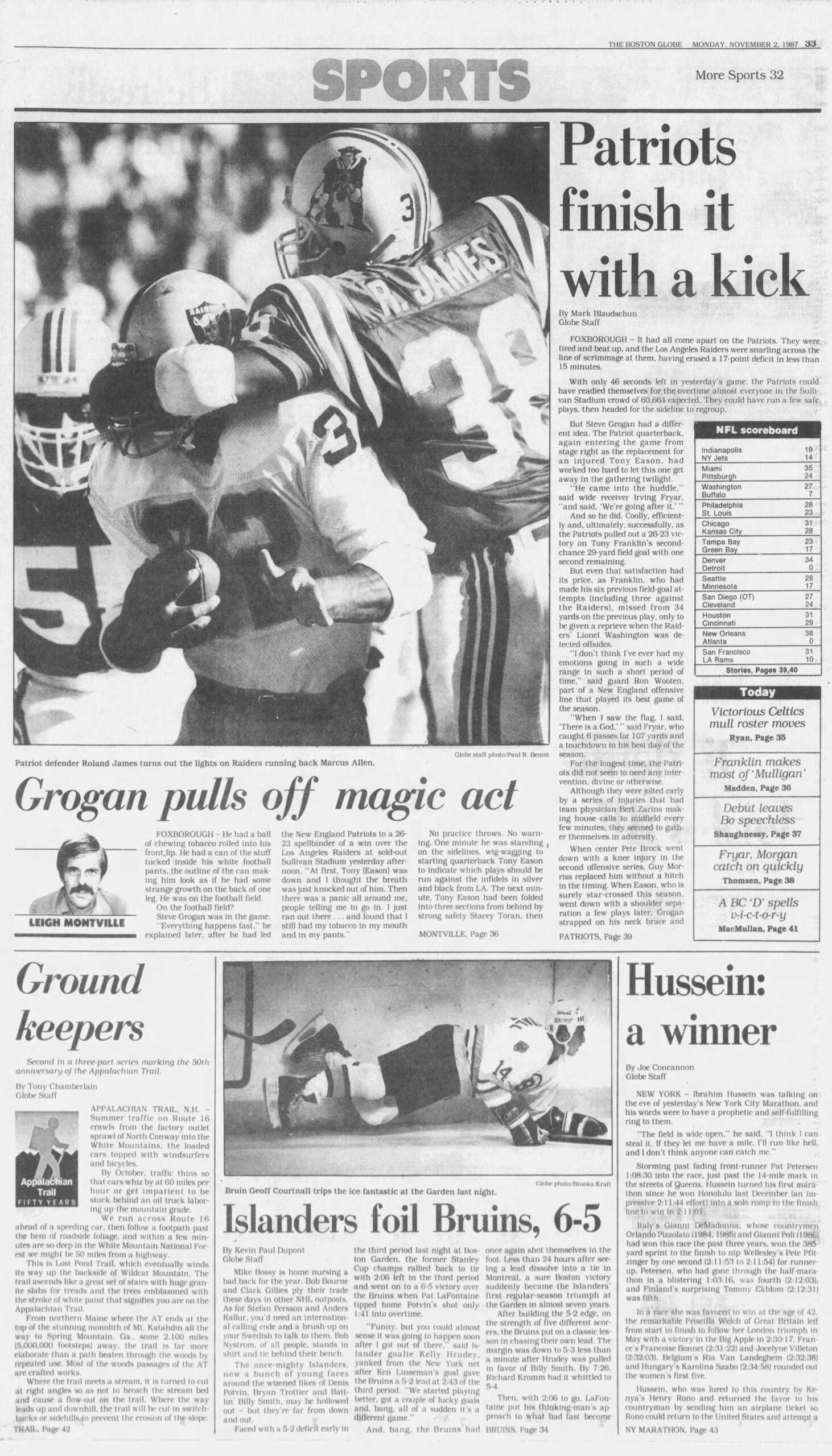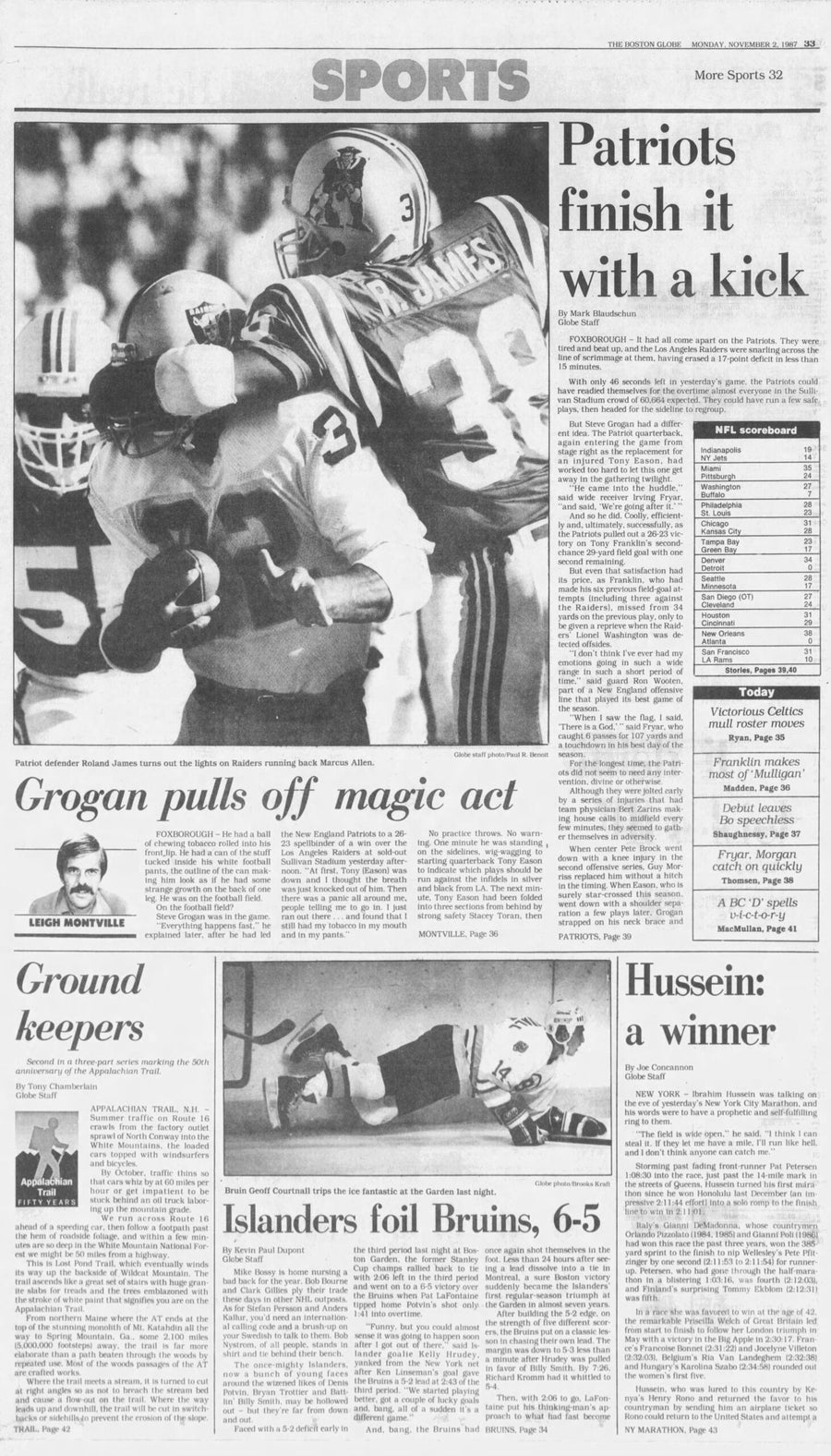 Daily highlight: The rare double-highlight, featuring Kevin Durant and Victor Wembanyama.
Trivia answer: DeVonta Smith
Sign up for Patriots updates🏈
Get breaking news and analysis delivered to your inbox during football season.