Morning Sports Update
Clint Peay says 'all is good' with Carles Gil ahead of crucial playoff matchup
Gil's return would be a boost for the Revolution ahead of a home playoff matchup on Nov. 8 with the season on the line.
The latest on Carles Gil: The Revolution sustained a double hit in the opening game of the playoff matchup with the Philadelphia Union on Saturday after not only taking a 3-1 loss, but also an injury to team captain and playmaker Carles Gil.
Gil, 30, was subbed off with a right leg injury shortly after Philadelphia scored its opening goal. Given that the Spaniard led New England in both goals (11) and assists (eight) in the 2023 regular season, his presence is critical to the team's chances of avoiding elimination in the second game of the best-of-three series at Gillette Stadium on Nov. 8.
During his weekly radio interview with "Zolak & Bertrand" on 98.5 The Sports Hub, interim Revolution head coach Clint Peay provided clarity on Gil's status.
"I think he's fine," said Peay. "He's back with the team in training. I think he just had a little bit of a scare there with the injury he took in the game, but all is good."
The complexion of the game changed after Gil was subbed off, with the Revolution becoming less able to work the ball through midfield and keep possession. The cause or nature of Gil's injury was not specifically revealed, but hard tackles from Union defenders played a role.
Peay said that he will do what he can to avoid a repeat of Game 1.
"I think it's a word with the officials before the game, that they're aware of how the first game went and just how [Philadelphia] plays in general, they're a very physical team," he said when asked what could be done to protect Gil.
"When they can take a shot on Carles or any other of our influential attacking players, they want to do that," Peay said "It's going to be important that we make the refs aware."
Peay also said that New England players would have to make their own adjustments.
"For Carles and for those guys, it's finding ways to avoid those challenges when you can. Maybe getting the ball off your feet a little quicker at times and finding pockets where [Philadelphia] can't set you up for a bad shot."
If New England can win the second game at home, it would force a decisive third matchup back in Philadelphia on Sunday, Nov. 12. The winner of the first round series will face the winner of FC Cincinnati vs. New York Red Bulls.
Trivia: In 2020, the Revolution knocked out the No. 1 seeded Union 2-0 in a playoff upset. Who scored for New England that day?
(Answer at the bottom).
Hint: One player is Polish, the other is Canadian. Neither still play for the Revolution.
Scores and schedule:
The Celtics crushed the Pacers 155-104 on Wednesday. Eight Boston players reached double-digits in what proved to be a comfortable win.
Tonight, the Bruins host the Maple Leafs at 7:30 p.m.
More from Boston.com:
Highlights from the Rangers' World Series win: Texas defeated Arizona 5-0 in Game 5 to win the series, 4-1. It's the first title in the team's history.
Also, an interview with Nathan Eovaldi: The former Red Sox pitcher became the first player to win five games as a starter in postseason history. He pitched six scoreless innings in Game 5, improving his numbers in potential clinching playoff games in his career to 4-0 with a 1.03 ERA.
On this day: In 2014, the Patriots defeated the Broncos 43-21. It was a convincing win for Tom Brady against his rival, Peyton Manning. Brady threw for 333 yards and four touchdowns, while Manning — despite throwing for 438 yards — tossed two interceptions.
Julian Edelman caught nine passes for 89 yards and a touchdown, adding another on special teams with an 84-yard punt return for a score in the second quarter.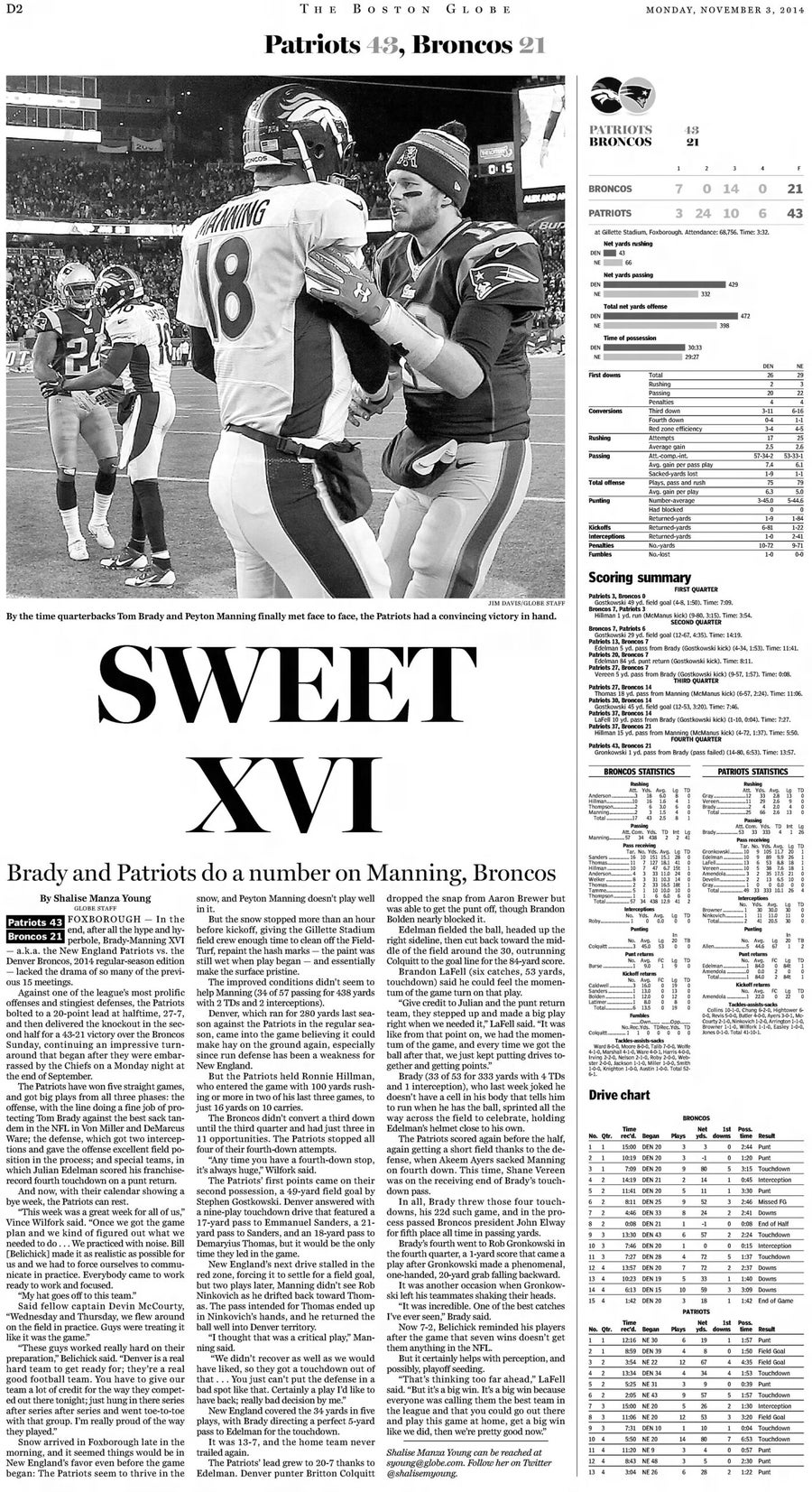 Daily highlight: Third division Saarbrücken staged a historic upset in the German Cup on Wednesday, defeating powerhouse Bayern Munich 2-1 with a goal in the final seconds of the game. It was a moment their fans will never forget.
Trivia answer: Adam Buksa, Tajon Buchanan
Sign up for Bruins updates🏒
Get breaking news and analysis delivered to your inbox during hockey season.