Morning Sports Update
Joe Mazzulla explained why he thought the Celtics were 'lucky to win that game' against the Grizzlies
"So I understand why a game is going to go like this. It's not going to be the only time, but I don't have to be happy about it."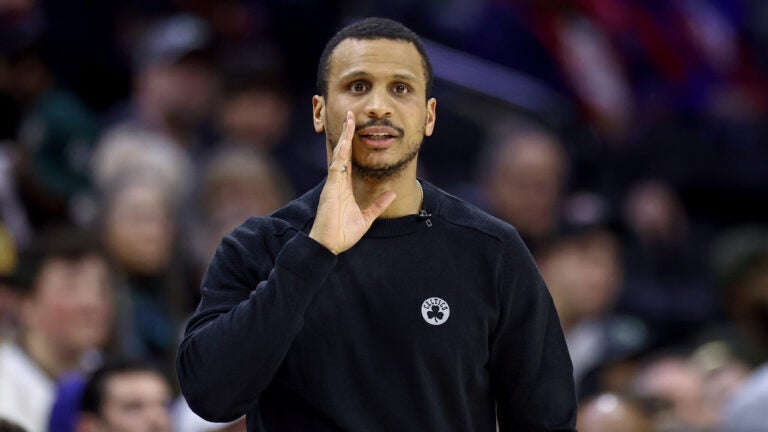 Joe Mazzulla's take on the Celtics' fortunate win: Following the Celtics' 102-100 win over the Grizzlies on Sunday, Boston head coach Joe Mazzulla offered some unvarnished analysis of his 11-2 team.
Following a chaotic final minute — in which the game could've swung in either direction multiple times — Mazzulla acknowledged that his team delivered an "undisciplined" performance in Memphis.
"We got lucky to win that game," Mazzulla told reporters.
"We talk about it a lot. You can learn from losses, [and] you can learn from wins," he continued. "Sometimes you're okay with a loss because you did some right things, and sometimes you're pissed because you didn't deserve to win, and I didn't think we deserved to win the game because of a lot of stuff that we did."
On the end-of-game sequence, the second-year Celtics coach put it in simple terms.
"At the end of the game, you either have to make the layup or you have to get fouled," said Mazzulla. "That's just how it is. So you either have to make it or you dribble the clock out, you get fouled, and you make your free throws and the game's over."
"Credit to the Grizzlies for the way they played," he added. "I thought they just outplayed us at times."
Still, the Celtics managed to escape with yet another win.
Mazzulla also explained that he knows his team won't always play its best basketball.
"You have to go through stuff. I can't have the expectation of perfection," he said, "that we're always going to play well. It's just not reality. There are 82 of these things."
Looking at the long-term picture, Mazzulla said he's patient about Boston's development, but continues to stress accountability.
"Every team needs to learn different things and go through different stuff," he outlined. "It's easy to say you want to be a certain type of team, and then it just gets harder and harder to live that way. The standard is very high for us, the guys in the locker set a high standard for us, and we're not always going to meet it.
"So I understand why a game is going to go like this. It's not going to be the only time, but I don't have to be happy about it."
Trivia: In 2010, Joe Mazzulla (then a redshirt junior) helped West Virginia reach the Final Four of the NCAA Tournament. In that run, the Mountaineers defeated Kentucky in an Elite Eight upset. What two future top-five NBA draft picks played for Kentucky that season?
(Answer at the bottom).
Hint: One was picked by the Wizards, the other by the Kings.
Scores and schedule:
The Celtics emerged with a 102-100 win over the Grizzlies on Sunday. Boston will take on the Hornets tonight at 7 p.m.
The Bruins also play tonight at 7 p.m., facing the Lightning on the road at Amalie Arena.
More from Boston.com:
A Marcus Smart reunion: Though he didn't play against the Celtics on Sunday (out with an injury), Marcus Smart was still able to enjoy some happy pregame moments with his former teammates.
On this day: In 1982, the band was on the field as Cal's Kevin Moen miraculously completed an improbable kickoff return back for a touchdown to stun Stanford. It created an iconic college football moment.
Daily highlight: Lonnie Walker took on all five 76ers and still managed to throw down a vicious dunk in an eventual Nets loss on Sunday. The overhead replay is also worth a watch.
Trivia answer: John Wall, DeMarcus Cousins
Sign up for Celtics updates🏀
Get breaking news and analysis delivered to your inbox during basketball season.