Morning Sports Update
Tom Brady explained why he thinks 'there's a lot of mediocrity in today's NFL'
"I don't see the excellence that I saw in the past."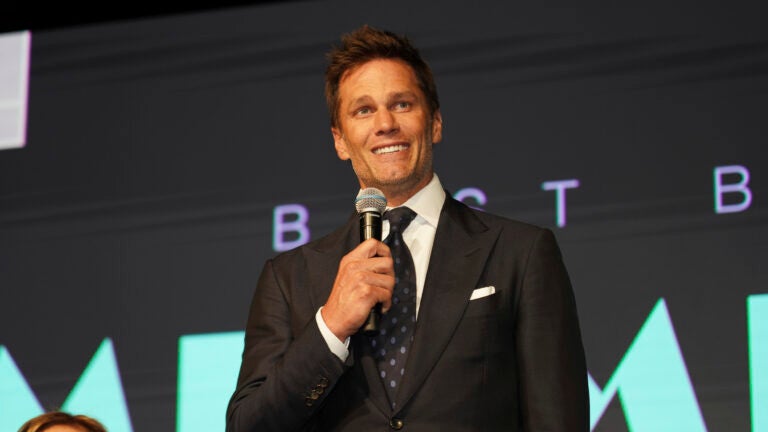 Tom Brady on the state of the NFL: Though he largely avoided making controversial comments during his legendary career, a retired Tom Brady is already showing he isn't afraid to make bold claims.
During a recent interview with ESPN's Stephen A. Smith, Brady — who also shared his thoughts on the possibility of the Patriots without Bill Belichick — unleashed a bold take about the current state of the league.
"I think there's a lot of mediocrity in today's NFL," Brady claimed. "I don't see the excellence that I saw in the past."
Asked why he thinks that, Brady began by listing a few factors.
"I don't think the coaching is as good as it was," he explained. "I don't think the development of the young players is as good as it was. The rules have allowed a lot of bad habits to get into the actual performance of the game. I just think the product, in my opinion, is less than what it's been."
Ironically, considering that Brady played quarterback — a position the NFL has increasingly tried to protect from overly physical defenders — Brady cited the diminished intimidation factor from defenders.
"I look at a lot of players like Ray Lewis and Rodney Harrison and Ronnie Lott, guys that impacted the game in a certain way," he told Smith. "Every hit they would have made would have been a penalty. You hear coaches complaining about their own player being tackled."
The 46-year-old suggested coaches focus on their own team more than trying to get favorable calls.
"Why don't they talk to their player about how to protect themselves?" he asked. "We used to work on the fundamentals of those things all the time. Now they're trying to be regulated all the time. Offensive players need to protect themselves. It's not up to a defensive player to protect an offensive player. A defensive player needs to protect himself. I didn't throw the ball to certain areas because I was afraid players were gonna get knocked out. That's the reality."
To make his point, Brady again cited Lewis, the former Ravens linebacker.
"I didn't throw it to the middle when I played Ray Lewis because he'd knock them out of the game and I couldn't afford to lose a good player."
Trivia: Who is the only Patriots player to have played more NFL seasons than Tom Brady?
(Answer at the bottom).
Hint: He played in New England for the first 10 years of his career. He played for his second team for the other 14 seasons.
Scores and schedule:
The Celtics lost to the Hornets in overtime on Monday, 121-118. This came despite Jayson Tatum scoring 45 points and notching 13 rebounds.
Tomorrow, the Celtics will be back at home to play the Bucks at 7:30 p.m.
The Bruins also lost in overtime on Monday, falling to the Lightning 5-4. Boston will be back to play the Panthers in Florida tomorrow at 7 p.m.
More from Boston.com:
A review of Jayson Tatum's night: After averaging more than 40 points per game against the Hornets a season ago, Tatum picked up where he left off by scoring 45 on Monday.
On this day: In 1986, the Celtics dominated the Warriors, 135-120. Larry Bird led Boston with 32 points, seven rebounds, and 13 assists. Kevin McHale added 23 points and 17 rebounds, while Robert Parish tallied 19 points along with six steals.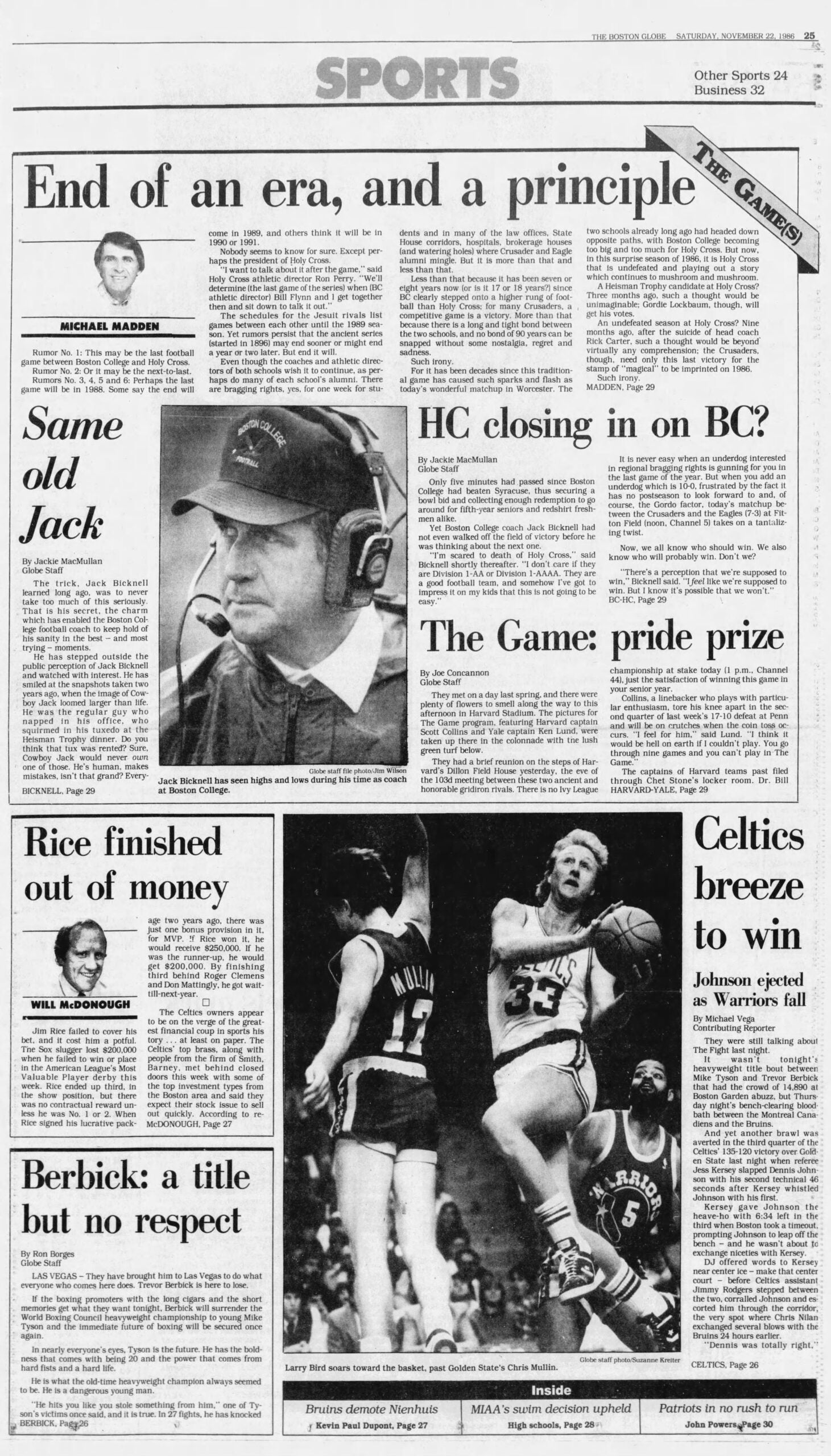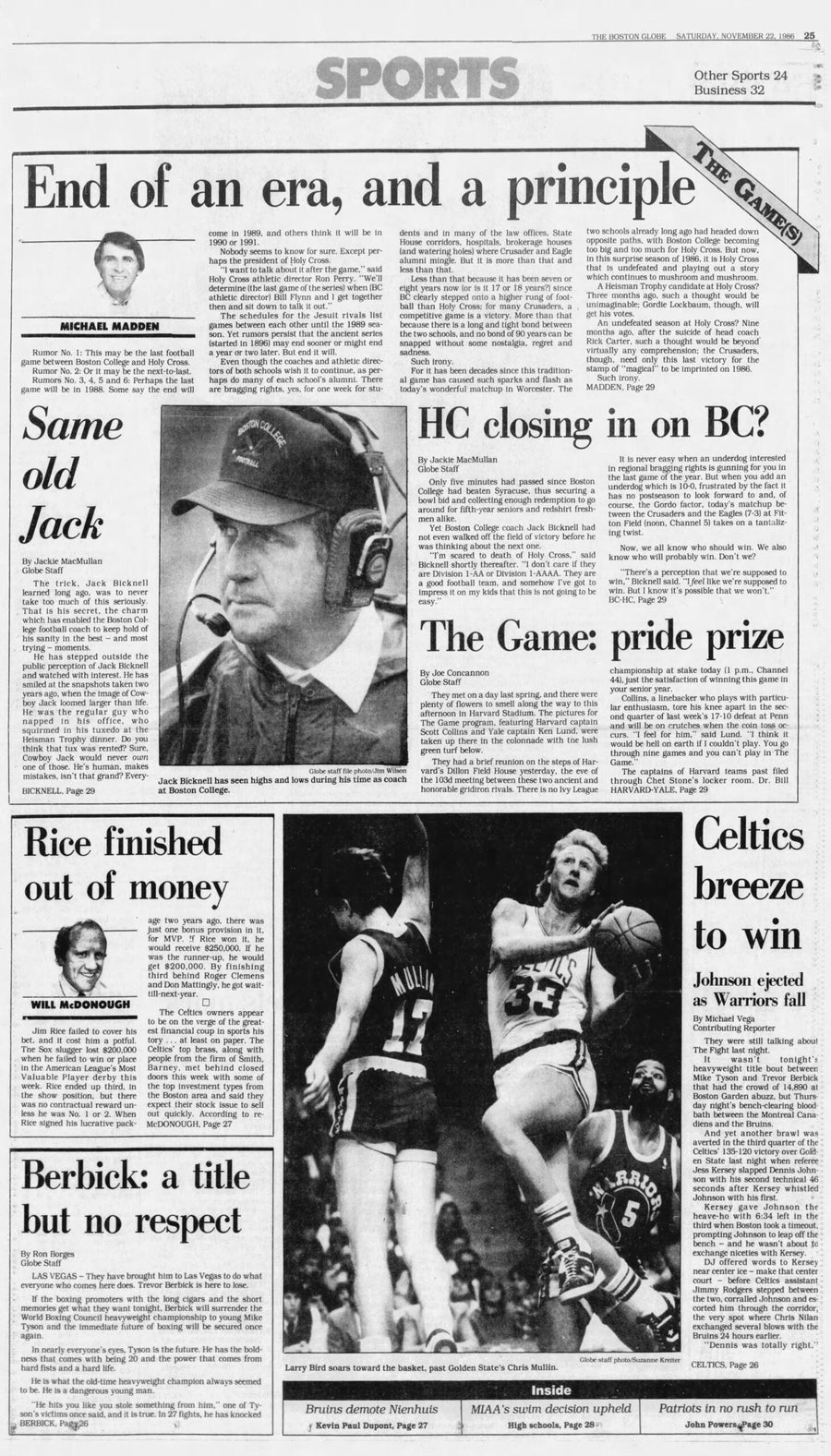 Daily highlight: While it may not technically be a "highlight" in the traditional sense, defensive lineman Jalen Carter almost pulled off what would've been one of the most creative ways to create a turnover.
Trivia answer: Adam Vinatieri
Sign up for Patriots updates🏈
Get breaking news and analysis delivered to your inbox during football season.