National
Jim Dietz's trip to the first Head of the Charles in 1965 led him to Olympics and Hall of Fame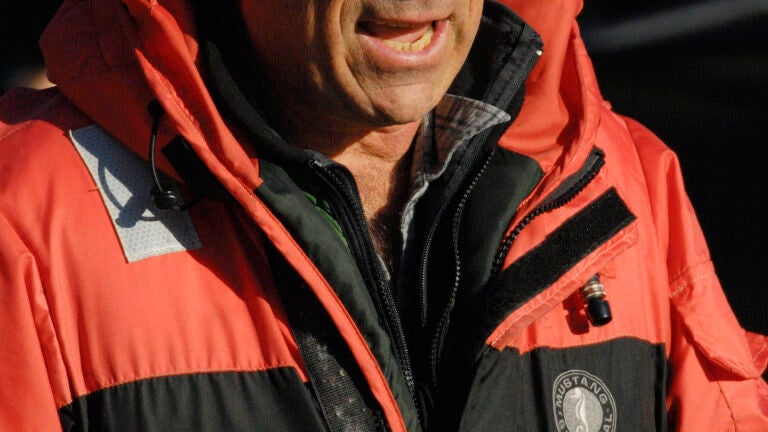 The first time that Jim Dietz rowed in the Head of the Charles was in 1965, which happened to be the first time the regatta was held. He was a high school kid who came up from the Bronx in a 1956 Chevy Bel Air, bunked in a dorm at Harvard Business School, paddled to the starting line, and finished second in the junior singles.
"The timing system was a 12-inch Seth Thomas clock mounted on three-quarter-inch ply,'' he recalled. "Now they use microchips.''
During the 47 years since then, Dietz has made three Olympic teams, won a world silver medal plus a junior gold, 45 national titles, and 18 Head races, has coached US entries at three Games, and has been enshrined in the National Rowing Hall of Fame. But he still makes the October pilgrimage along with the University of Massachusetts women's crews that he has been coaching for 18 years, and he takes on all comers.
"I've won enough,'' laughs Dietz, who will race alongside rowing camp partner Mark Wilson in Saturday morning's senior master doubles for the 50-plus set. "Now, all I have to do is show up.''
Except for 1984, when he was a newlywed with a balky back, the 63-year-old Dietz has competed in every edition of the world's most renowned Head race. He won the championship single a record seven times, the last six consecutively. He claimed the masters single crown twice, the senior masters once, and the veterans three years ago, as well as seven championship doubles crowns with New York Athletic clubmate Larry Klecatsky.
Since the regatta has no age limit and octogenarians win trophies, Dietz conceivably could keep taking the line until he crosses the mythical river Styx, where the elapsed-time clock stops for all.
"I never dreamt that I'd still be doing this,'' he mused.
But as any of the thousands of scullers and sweepers who will be here this weekend can testify, once the hook is in, it's in for good.
"I can't tell you how many of my roommates and teammates are getting back into it,'' said Dietz. "That's the great thing about this regatta and about our sport. It's a lifetime sport.''
Dietz took to sculling earlier than most, starting after his freshman year in high school, when he received a moist tutorial after flipping a gig, the traditional starter boat. Before long, though, he was handling himself ably in the fast lane, training alongside Don Spero, who had made the 1964 Olympic final in Tokyo, won at Henley, and claimed the world title.
"He was my role model,'' said Dietz, who followed Spero's wake all the way to the Games. "Even in high school, my vision was to go to the Olympics.''
The best way to get there, he concluded, was to come to Boston and row for Ernie Arlett, the legendary English sculling mentor who was the visionary behind the Head and who was building a program at Northeastern. When he turned up, Dietz already was the national schoolboy champion and he won the Head's championship singles in his second outing.
"It was a big deal,'' recalled Jack Grinold, Northeastern's associate athletic director emeritus and peerless rowing historian. "A lot of people were laughing that he had to row in the freshman boat.''
Dietz went on to row in the varsity eight for three seasons, but he still biked over to the Riverside Boat Club in the mornings to work on his sculling. In 1972, he made the Olympic final at 23, competed again in 1976, and qualified in the double with John Van Blom for the ill-starred 1980 team that was kept home from Moscow by Jimmy Carter. After just missing the 1984 squad for Los Angeles, he got married and decided to see what doctors could do with the bulging disks in his back. "So I could start my wedded life in bliss,'' he said.
His coaching life promptly followed: a decade at the Coast Guard Academy, then his ongoing tenure at UMass-Amherst, where he directs the overall program and has been the only women's coach in the varsity era, winning 13 Atlantic 10 titles and being named conference Coach of the Year seven times.
More than 100 candidates are on this year's roster, many of them walk-ons who'd never seen an oarlock until they turned up at the boathouse. If Dietz had his way, he would have all of them start out sculling, the better to master the intricacies of balance and blade work that are rowing's building blocks.
"If you have the wherewithal to move a single,'' he figures, "you're going to figure out how to row any other boat.''
Scull (two oars) to sweep (one oar) has been the traditional progression in Europe, which has dominated the sport at the international level for decades. Not so in America, where nearly all teenagers start out in school pulling one oar.
"I tell the women in my crews, when you see guys my age walking around looking like fiddler crabs, those are the guys who only rowed sweep,'' Dietz joked.
Dietz tries to get on the water every day during the summer, and once classes resume and things get "busy, busy, busy,'' he is out there at least every other day.
"My wife doesn't want me to come home unless I've been out,'' he said. "I'm a nicer person when I do get out.''
The Head has proven to be a convenient imperative.
"Get off the couch and on the course,'' Dietz will tell himself. "So you don't embarrass yourself in October.''
The regatta may be an autumnal reunion for many of the old oars but as long as there's a trophy and a clock involved, they'll crank it up as soon as they're off the line.
"Masters rowing used to be about the party,'' Dietz observed. "Now, people actually want to win.''
Dietz has collected enough hardware during the past half-century to stock an entire aisle at Home Depot. As always, this weekend he'll be in it to win it, but he has made practical concessions to the actuarial tables.
"Pretty much my yardstick now,'' he said, "is to be able to get down the course.''