National
Victims of sports doctor Larry Nassar's abuse draw strength from others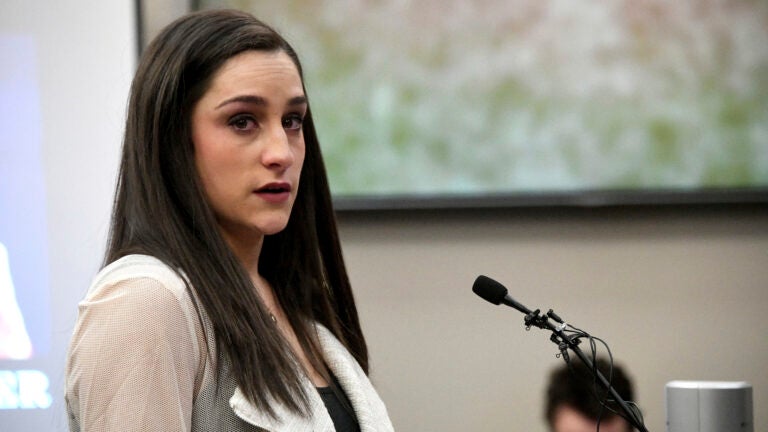 LANSING, Mich. (AP) — Clasina Syrovy would change the subject whenever someone asked if she knew former sports doctor Larry Nassar or mentioned news coverage of the unfolding scandal over his sexual abuse of young gymnasts.
She didn't want to be "another Jane Doe on the list," said Syrovy, who competed for 15 years. She certainly didn't want to reveal herself publicly as a victim.
"But as everything unfolded before my eyes like a really bad 'Lifetime' original movie based on true events, I gained some courage," Syrovy said in court Monday, confronting Nassar at his sentencing hearing. "After watching a few of my former teammates step up and say that this had happened to them also, I gained a little more."
In an extraordinary scene unfolding in a Michigan courtroom, more than 140 women and girls are coming forward — far more than originally expected — to confront the man who molested them when they were vulnerable girls told to trust the doctor who could help them achieve their dreams.
Nassar, 54, has admitted sexually assaulting athletes under the guise of medical treatment when he was employed by Michigan State University and USA Gymnastics, which as the sport's national governing organization trains Olympians. He already has been sentenced to 60 years in prison for child pornography.
Under a plea bargain, he faces a minimum of 25 to 40 years behind bars in the molestation case. The ultimate sentence imposed could be much higher.
The sentencing has taken on a #MeToo momentum, though the case predates the uproar over Hollywood producer Harvey Weinstein. It began with a 2016 Indianapolis Star investigation of how USA Gymnastics handled sexual abuse allegations against coaches. That prompted former gymnast Rachael Denhollander to alert the newspaper to Nassar's abuse.
"I knew this was the time," Denhollander said. "One anonymous, quiet voice was not going to be enough. I was 100 percent confident there were other victims speaking up and being silenced."
From there, the number of victims coming forward continued to grow, getting another jolt with the sentencing that began last week. Originally, fewer than 90 women and girls were expected to give statements.
Although they can choose to remain anonymous, many of the accusers — some of them minors — have opted to make their names public. Some have had others read statements on their behalf.
On Friday, Olympians Aly Raisman and Jordyn Wieber made a surprise appearance in court, allowing their names to be used.
"My dream is that one day, everyone will know what the words 'Me too' signify, but they will be educated and able to protect themselves from predators like Larry," Raisman, 23, said.
On Monday, physical therapist and former gymnast Marta Stern said she originally wanted to remain anonymous "out of fear of how it would affect my life, my loved ones and my career."
"However, I will no longer let you have control over me. I will not let you win," she told Nassar.
Ingham County Circuit Judge Rosemarie Aquilina addresses each victim after she speaks, serving almost as a therapist. She calls the group of victims an "army," and the courtroom often breaks into applause.
"You're sister survivors and you are going through incomprehensible lengths, emotions and soul-searching to put your words together … to make people listen," the judge told Syrovy. "He's the one that needs to be ashamed. Release the shame, embarrassment, guilt that you said you have here and now."
The case has triggered calls for the resignation of Michigan State University President Lou Anna Simon, while the state's attorney general has agreed to review how the university handled complaints against Nassar. And three key members of the board that oversees USA Gymnastics resigned Monday, 10 months after former President Steve Penny quit after critics said the organization failed to protect gymnasts from abusive coaches and Nassar. USA Gymnastics also announced the suspension of former women's national team coach John Geddert, the owner of a gymnastics club where Nassar sexually abused girls near Lansing, Michigan.
Longtime Detroit defense attorney David Steingold, who isn't involved in the case, supports the judge's decision to let so many victims testify, even if the crimes for which he is being sentenced involve only seven.
"It's the least we can do for these women," said Steingold, noting that women often are afraid of being made to feel responsible for allowing abuse to happen.
Harvard psychiatry professor Dr. Judith Lewis Herman said she has never seen so many victims of one perpetrator come forward, and the #MeToo movement almost certainly played a role.
"When powerful celebrities come forward years later and admit how intimidated and shamed they were for so many years, I think that has been enormously empowering to other survivors," she said, adding that the experience of knowing they're being heard is "enormously healing."
Even so, victims will pay a price for coming forward, said victim Marion Siebert.
"Every time someone Googles them, for the rest of their lives, they will see the sickening things we're talking about here today," she said. "When they apply for a job, when they go on a first date, they won't be able to be the ones to fully make the choice on when to talk about what happened. This terrible part of their past is exposed to all."
Syrovy said that speaking up will allow her to move forward.
"After today, I will not cry anymore," she told Nassar. "I am done. … You are a disaster."