NBA
Dwyane Wade leaving Heat for Bulls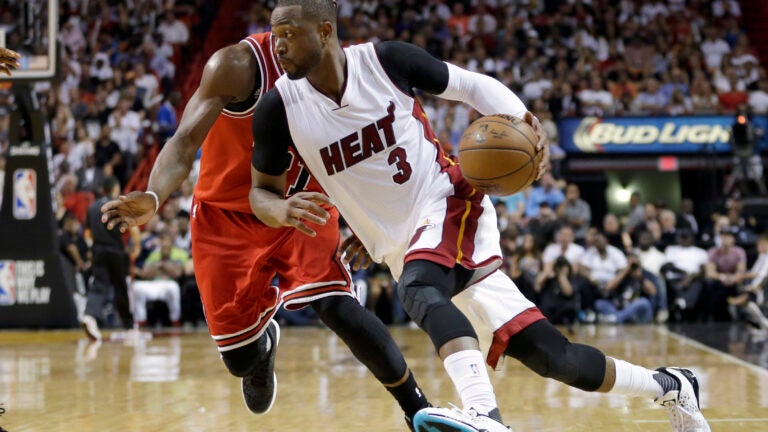 MIAMI (AP) — Dwyane Wade is going home, making what he called ''an extremely emotional and tough decision'' on Wednesday night to leave the Miami Heat after 13 seasons and sign with the Chicago Bulls.
Wade will sign a two-year deal with the Bulls, one that will pay him about $47 million. Miami offered $40 million over two years for Wade to stay in the uniform that he's worn his entire career, the one in which he was an All-Star 12 times, a champion three times and the NBA Finals MVP in 2006 when his rise to superstardom was just truly beginning.
And he's taken that uniform off now for the final time.
''This was not an easy decision, but I feel I have made the right choice for myself and my family,'' Wade wrote in a letter to Miami, released to The Associated Press.
It ends a second consecutive summer of will-he-or-won't-he talk and worry in Miami, which was able to keep him last summer after contentious negotiations led to a $20 million, one-year deal. The Heat spoke with him on Wednesday in New York in an effort to keep him, the same day that Wade also took meetings with the Milwaukee Bucks and the Denver Nuggets.
Whether Chicago ever got into the same room with Wade was unclear on Wednesday night. What was clear was that whatever the Bulls said, and however they said it, was enough to get him out of Miami this time, after they missed on him twice before.
And even more clear was that the lure of home — just as it was for Wade's close friend LeBron James two years ago, when he left Miami to go back to northeast Ohio and rejoin the Cleveland Cavaliers — was too strong this time to ignore.
''Watching the Bulls growing up inspired me at an early age to pursue my dream of becoming a basketball player,'' Wade wrote in the letter. ''My most treasured memories were watching my dad play basketball on the courts of Fermi Elementary School and developing my game at the Blue Island Recreation Center. I have never forgotten where I came from and I am thankful to have an opportunity to play for the team that first fueled my love of the game.''
He was beloved in South Florida, where the county was even once renamed ''Miami-Wade County'' instead of Miami-Dade for a time in 2010 during the summer when Wade managed to convince Chris Bosh and James to join him and build a team that would go to the NBA Finals four consecutive times. His jersey has been one of the NBA's biggest sellers for years, even though he never changed cities or numbers. It was always Heat on the front, 3 on the back.
That is, until now.
Wade — who averaged 19 points last season — felt he was not getting the respect he deserved last summer when he opened talks with the Heat. And then this offseason, the Heat prioritized talks with Hassan Whiteside (who has agreed to a $98 million, four-year deal) and went on an ultimately futile pursuit of Kevin Durant (who has been critical of Wade in the past, sparking a conflict that played out on social media).
The 34-year-old Wade joins a Bulls team that has a new point guard in Rajon Rondo — who Wade has had some on-court heated moments with in the past — and All-Star shooting guard Jimmy Butler. The Bulls have plenty of time to figure out how to make it work, and were going through some logistics on Wednesday night to clear the cap space that will be necessary to sign Wade when the NBA's offseason moratorium on player movement ends Thursday.
The Heat surely had a Plan B in case Wade left, but clearly won't be the same team.
Bosh still faces a most uncertain future because of the blood clots that ended his season at the All-Star break in each of the past two years. Udonis Haslem, Wade's teammate and co-captain in Miami for all 13 of their pro seasons, may move elsewhere as well. Of the 14 players who appeared in the 2014 NBA Finals for Miami, only Bosh is under contract with the Heat for next season.
It's a new day for Wade, which he obviously wanted.
It's a new era for the Heat, one they surely weren't ready to see start quite yet.
''Never thought I'd see the day DWade wasn't in Miami. Crazy,'' Brooklyn Nets guard Shane Larkin, who played his college basketball at the University of Miami, wrote on Twitter.
Wade is Miami's career leader in games, minutes, field goals, field goal attempts, free throws, free throw attempts, assists, steals and points. He's even second in blocked shots, perhaps the most impressive stat of all considering Wade is listed at 6-foot-4 — which is generous.
He did a popular Gatorade ad in 2007 built around a poem he wrote to the game. ''From Robbins, Illinois,'' is how Wade began that ode, referring to the Chicago suburb where he endured a difficult upbringing and used basketball as his hope for a better life.
Wade found himself writing again Wednesday, this time to say farewell.
''I started my NBA career with the Miami Heat in 2003 and it has been an honor to have played with them and help build a winning franchise with three NBA championships,'' Wade wrote in the letter released Wednesday. ''I look back with pride and amazement at all we have accomplished together. I want to express my gratitude to the Arison family, Pat Riley, Coach Erik Spoelstra, the coaching staff, and the entire Miami Heat organization.
''From the bottom of my heart, I want to thank the Miami community.''
Arison thanked Wade on Twitter for a great 13 years.
''You've had a tremendous impact on our community and our organization,'' Arison wrote. ''We wish you all the best.''