NBA
Enraged Doc Rivers ejected after technical for crossing midcourt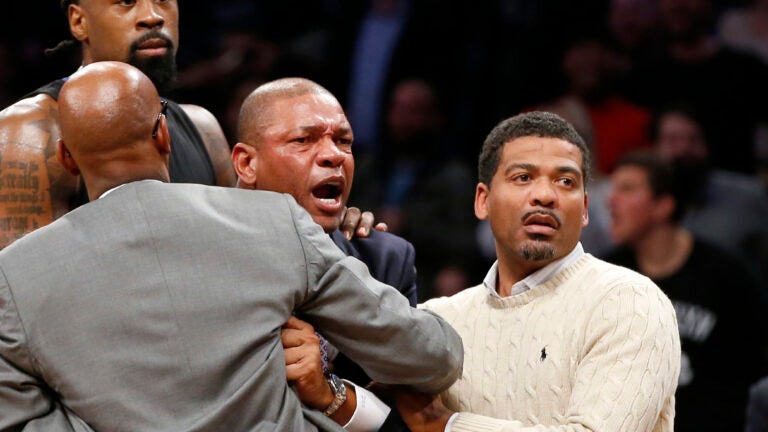 NEW YORK (AP) — Doc Rivers had something to say and wanted to make sure he was close enough to be heard.
Too close, according to NBA rules.
Rivers was given a technical foul for crossing over midcourt, then another and ejected for his tirade that followed in the Los Angeles Clippers' 127-122 loss in double overtime to the Brooklyn Nets on Tuesday night.
The Clippers trailed by two late in the first OT and fouled Nets rookie Isaiah Whitehead in the backcourt after he received the inbounds pass. Rivers appeared to think Whitehead swung his elbows and should have been called for the foul, and walked nearly to the Nets' bench to say something to referee Lauren Holtkamp.
Rivers said they weren't even arguing, and that Holtkamp had agreed with what Rivers said. But Mauer, who was standing on the Clippers' side of the court, called what Rivers said was an "awful" tech.
"It was the damndest tech to give at that time," Rivers said. "What the league is going to fall back on, 'He crossed the halfcourt.' You'll see tomorrow that's what they're going to say and we're all going to know that that's not the real reason."
But Mauer said it was.
"Technically, the first technical was for crossing the midcourt. That's automatic," Mauer told a pool reporter.
Rivers — a member of the league's competition committee that recommended a rule approved this year to extend the coach's box — then became enraged and began yelling at Mauer, who cited Rivers' behavior and language in issuing the second technical and automatic ejection. Rivers had to be held back by players and assistants from getting closer to Mauer.
"I don't think that an official that has nothing to do with the play should be giving someone a tech. That's my thing. That's why I got upset," Rivers said. "He didn't know what we were talking about. It wasn't even an argument."
___
Follow Brian Mahoney on Twitter: http://www.twitter.com/Briancmahoney