NBA
Pat Riley says Magic Johnson will win with the Lakers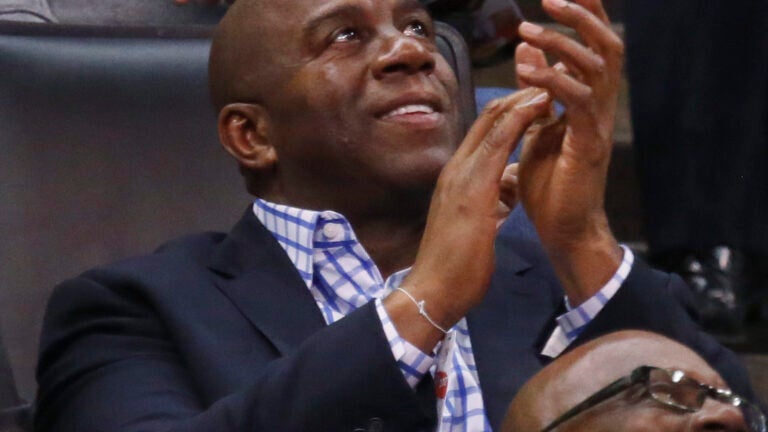 MIAMI (AP) — Pat Riley has never doubted Magic Johnson, and isn't about to start now.
Riley believes Johnson will succeed in what looks like a daunting task of getting the Los Angeles Lakers back to prominence. After the Lakers cleaned house this past week, Johnson and Riley are contemporaries — Riley as president of the Miami Heat, Johnson in the same role out in L.A., where they won four titles together in the 1980s.
Trade talks, he cautioned, will be dangerous for both sides.
"He's going to try to rifle my pockets and I'm going to try to rifle his," Riley said. "But I'm happy for him, and I'm also happy for the Lakers."
The news took Riley back to 1991, when Johnson delivered the shocking word that he was HIV-positive and had to retire from basketball. Riley was gone from Los Angeles by that point, and was then coach of the New York Knicks. But it resonated deeply within Riley, who has maintained a very close relationship with Johnson.
Hearing Johnson speak about taking over the Lakers this past week moved Riley as well, albeit in an obviously different fashion.
"Back then, all of us and I think everybody in the country not knowing exactly what HIV was all about, we all sort of looked at that as a very difficult time and possibly a death sentence for the kid," Riley said. "Now 25 years later, he stands at the press conference saying that he's president of the team. Deja vu, you know?"
Riley said Johnson didn't seek his counsel on what life is like as a team president before taking the Lakers job. Riley said Johnson already knew the answer to anything he would ask, simply from being around his former coach so many times in recent years.
The news wasn't entirely easy for Riley to digest, since he also holds now-former general manager Mitch Kupchak in high regard. Kupchak, who played for Riley, was let go as part of the front-office sweepout by the Lakers this past week.
But he sounded completely confident in what Johnson will accomplish.
"There couldn't be a better person and worker, I think, to be the sort of face and also to spearhead," Riley said. "He'll get the job done out there."