NBA
Bill Walton loves life, the Celtics, Joe Kennedy III, and pretty much everything Boston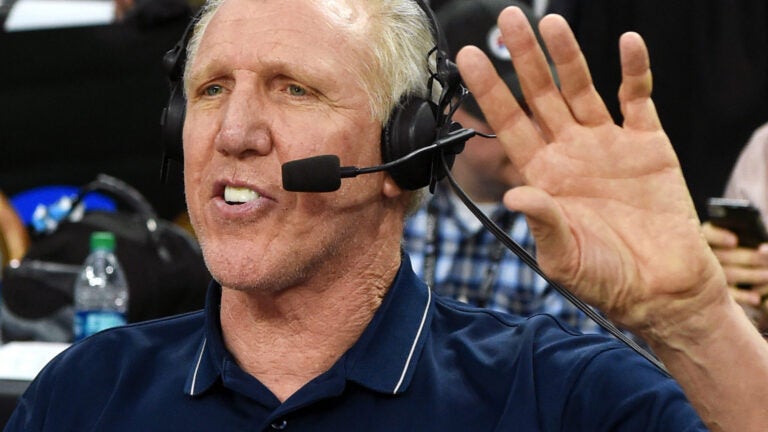 Bill Walton is as uncontainable over the phone as he was on the hardwood of UCLA's Pauley Pavilion.
In a recent interview ostensibly arranged to discuss Walton's involvement with Meals on Wheels — and perhaps a few Boston-centric topics — the basketball legend somehow ties in all the prepared subjects within the first question.
Despite growing up in San Diego, where he now lives, Walton says he grew up a Celtics fan. So it was a dream come true when former coach-turned-team president Red Auerbach orchestrated a trade to bring the former UCLA star and 1977 NBA Finals MVP to Boston in 1985.
"Bill Russell was my favorite player ever, on and off the court," Walton said. "What Red Auerbach did in terms of building a team and the community, that shaped my life."
The Celtics would go on to win the 1986 Finals with Walton as their sixth man. Walton says his recent volunteer work with Meals on Wheels, the home-delivery food assistance program, is motivated by the same sense of "duty" and selflessness embodied by that Celtics team.
"The nicest thing that anybody ever said about me as a basketball player was that I helped my teammates play better," he continued, before abruptly segueing into a different topic. "And that phrase epitomizes Joe Kennedy's commitment to the world. Joe is one of those special, unique human beings, who could do anything he wants in the world, yet he has chosen to give up his life … to make the world a better place. That's what Meals on Wheel is about. That's what the Boston Celtics are about, with Steve Pagliuca and Wyc Grousbeck and Danny Ainge. That's what Joe Kennedy III, Joe Kennedy II, that has been their entire life. And it's been such an inspiration for me to be able to be a small part of it."
Walton is effusive with praise for the 36-year-old Newton Democrat, who he remembers as a child. During the Walton family's stint living in Cambridge, Bill and his wife, Lori, became close friends with Rep. Joe Kennedy II and his wife, Beth. "Joe the third," as Walton calls him, and his twin brother, Matt, were close in age with Walton's four sons.
Kennedy recently described Walton as a "dear family friend" with whom he has consistently stayed in touch through college and into adulthood.
"I haven't seen his game recently," Walton said of the now third-term congressman, "but he was an excellent prospect growing up as a basketball player — very quick afoot and an incredible tenacity."
Walton — whose superlative adulation for Kennedy is interwoven with basketball metaphors — says the congressman shows many of the same skills that are valuable on the court in his political career.
"The elements of leadership that come into play here are pull the team together, do what others can't and won't do, and the ability of Joe Kennedy with this platform, as a U.S. congressman, to be able to stand tall, proud, firm against the forces of greed, selfishness, anger, hatred, exclusion," Walton said. "These are a lot of battles that we thought we had already won, but now we're back. And Joe Kennedy III is leading the charge."
Once a high-profile member of the political left himself, Walton compliments everything from the congressman's life balance to his intelligence to his empathy.
"He has the empathy to understand what it's like for someone who's on the verge of losing their insurance, on the verge losing their home, on the verge of not knowing when that next meal is coming," he said, "One of the great things about what the Kennedys have always stood for is the same thing that the Boston Celtics and Red Auerbach and Bill Russell always stood for: What can we do to make a positive difference for everyone along every step of the journey?"
Walton even praises Kennedy's hair.
"I'm super jealous of his red hair," he said. "I used to have red hair. I used to have hair."
In May, Walton attended a fundraiser dinner for Kennedy in San Diego and, without getting into policy specifics, praises the politically ascendant Bay Stater for his positions on the economy, environment, and education.
"You never want race a young person through his life," Walton adds, pausing. "I look forward to the day that Joe Kennedy III is president of our country."
Joe Kennedy III is a powerful, impactful leader with a true purpose & mission, I am with Joe Kennedy forever. pic.twitter.com/AKTtT51pGA

— Bill Walton (@BillWalton) April 20, 2017
If there's anything or anyone for which Walton has as much unconditional praise, it's for the people of Boston and that 1986 Celtics team.
"They didn't give me my career back; they gave me my life back," he said, later adding that he spent "half my adult life in the hospital."
Walton's Hall of Fame career was considerably shortened due to chronic foot and ankle injuries. Health issues — specifically back problems — continued to plague Walton's post-career, at times sending him into a deep depression. By his own account, he has undergone more than three dozen orthopedic surgeries. Finally, in 2009, Walton underwent an intensive, life-changing spinal-fusion surgery.
Now, he says he hasn't felt better since he was a kid, and likens the psychic benefits of volunteering with Meals on Wheels as "the ultimate medicine on the planet."
"It makes me feel better, and that's what medicine does," he said.
His short time with the Celtics is also something Walton intangibly attributes to his current well-being.
"I had no idea how special it was, but they gave me everything," he said. "Because of that, my life is better than it's ever been. I've never been busier, I've never been happier, and I haven't been this healthy since I was 13 years old."
Walton also credits the team's culture with instilling positive values upon that up-and-coming generation of people who spent their formative years in Boston at the time — whether they're fighting on Capitol Hill or coaching the Los Angeles Lakers.
"There's nothing like the pride of a dad," he said. "We have four children who spent a couple years of their lives in Boston."
Walton goes on to namedrop nearly the entire 1986 roster.
"The impact that the Celtics, the impact that New England, the impact that Red [Auerbach] and Larry [Bird] and Kevin [McHale] and the Chief [Robert Parrish], and DJ [Dennis Johnson] and Danny [Ainge] and Scotty [Wedman] and Jerry [Sicting] and Rick [Carlisle] had on all of our children," he said, "and to see the way that this next generation is coming up, is absolutely awe-inspiring. What they are doing and what they're charged with is the ultimate task."
Walton pauses again.
"We are asking them to save us from ourselves."
According to Walton's unified theory of Meals of Wheels, Joe Kennedy III, and the 1986 Celtics, it's that selfless spirit that binds them all.
"It's super easy to say, 'That's not my problem. It's too hard,'" he said. "But imagine what the history of basketball would be if Bill Russell or Red Auerbach or Sam Jones or K.C. Jones or Bob Cousy or Bill Sharman said, 'You know what, this is just too hard. It's not worth it.' I'm living proof that it is worth it."