NBA
Go West, young man: NBA stars cluster in Western Conference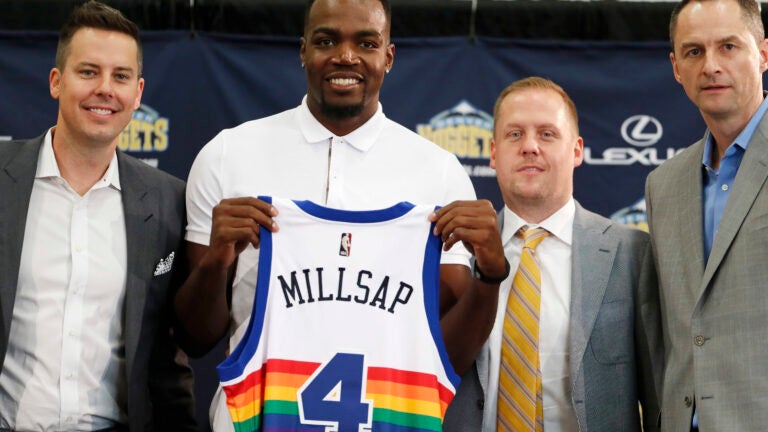 LAS VEGAS (AP) — As star after star headed West this summer either in free agency or via trade, Los Angeles Clippers coach Doc Rivers became more and more bewildered.
"I think Gordon Hayward's the smartest one. He got out of town," Rivers said, referring to the All-Star's move from Utah to Boston. "He went to the East. I really don't understand the logic of this. It is what it is. It's just going to be a harder conference, if that's possible."
Paul George, Jimmy Butler and Paul Millsap were all All-Stars in the Eastern Conference last season who will play in the West next season. Chris Paul chose to leave the Clippers, but stayed in the West to join James Harden in Houston and important role players like Jeff Teague, P.J. Tucker and Patrick Patterson all left teams in the East to come West for a run at the Golden State Warriors.
Rather than running from the Warriors, who burned down the league last season and seemed poised to dominate for the near future with four All-Stars all in their prime, most teams in the West are running right into the fire.
"The other way, that's a defeatist attitude," Nuggets coach Michael Malone said. "How long can you wait? I don't know if Kevin Durant, Steph Curry, Klay and those guys are going anywhere for a while. You just can't go into hibernation, wake up and say, 'OK, it's our time.' We compete."
One of the most common measurements of a single player's impact on a team's overall success is win shares — an analytic that estimates the number of wins a player produces for his team. Using that as a guide, calculated by the research site basketball-reference.com, the Western Conference has added 174.5 win shares to its roster this summer. That number takes into account free agent signings, like Millsap leaving Atlanta for Denver, the major trades of George from Indiana to Oklahoma City and Butler to Minnesota, and the re-signings of players including Stephen Curry and Kevin Durant with Golden State.
The Eastern Conference, by contrast, added 127.6 win shares by Friday afternoon. Hayward was the lone bankable star to move from the West to the East, while Kyle Lowry re-signed with Toronto and Otto Porter stayed with Washington on a new four-year, $110 million deal.
For more than two decades the Western Conference has lorded over the East in terms of talent disparity. Next year figures to be a bigger gap than ever before.
"You would think with all the picks that the East has had over the last 15 years, but they draft a great guy and he comes West," Rivers said. "So I don't know what's going on. Growing up it was the exact opposite. It was the East and the Lakers when I was a kid. Now it's the West and a couple of teams. It's just a period we're going through I guess. I hope it stops."
Two years ago, the league explored the idea of changing the playoff format to seed teams 1-16 regardless of conference. But concerns about excessive travel and the fact that the team records were often skewed by the level of competition they most often faced in the regular season led the NBA to stick with the status quo.
On Wednesday, NBA commissioner Adam Silver did not rule out revisiting the issue again down the road.
"I think many of us felt a 1-16 playoff made more sense," Silver said, referring to the committee discussions two years ago. "And maybe there's also the potential, it's in some ways a separate issue, should you reseed after every round as some leagues do? I think those are the things we'll continue to look at, but it's not at the top of the agenda right now."
Rockets GM Daryl Morey joked on Twitter that his front office full of deep thinkers were combing the Collective Bargaining Agreement for a clause that would allow them to relocate to the Eastern Conference. But rather than lament their geography, the Rockets, Timberwolves, Nuggets and Thunder all made major moves to try to catch the Warriors.
"It's a weapons race in the NBA and you're either in the weapons race or on the sidelines," Morey said in June after acquiring Paul from the Clippers.
Rivers and GM Lawrence Frank could have shifted into rebuilding mode after losing Paul in hopes of resurfacing when the Warriors started to decline.
Instead, they landed versatile forward Danilo Gallinari from Denver, re-signed Blake Griffin and turned Paul's decision to join the Rockets into an opportunity for a sign-and-trade with Houston that netted them Patrick Beverley, Lou Williams, Montrezl Harrell and Sam Dekker. They also signed flashy European point guard Milos Teodosic to try to prevent bottoming out.
J.J. Redick surveyed the landscape before making his decision to move from the Clippers to the emerging Philadelphia 76ers. And while he said he did not want to make any knee-jerk reactions to what he called "a drastic change in the talent pool of each conference," seeing an easier path to the playoffs out East did play a small role in taking a one-year, $23 million deal.
"When Paul went to OKC, right there before free agency started, that's when it started to creep into the back of my head," Redick said. "It was in the back of my mind for sure. But I think even prior to that, I thought there was a chance Philly could be a playoff team."
The East is not barren, of course. The best player in the world still resides in Cleveland. Hayward joins a talented Celtics team that made the Eastern Conference finals last season and also added No. 3 overall pick Jayson Tatum in the draft, Toronto returns its proud core for another run, Washington has one of the best backcourts in the league with John Wall and Bradley Beal and Milwaukee's Giannis Antetokounmpo gets better every season.
"The East has definitely changed a lot since the end of the season," Sixers president of basketball operations Bryan Colangelo said. "I think what's on the horizon is a lot of unknowns right now. There's still come player movement that needs to happen. But things are wide open."
___
More AP NBA: https://apnews.com/tag/NBAbasketball