NBA
It's halftime in the NBA: Team power rankings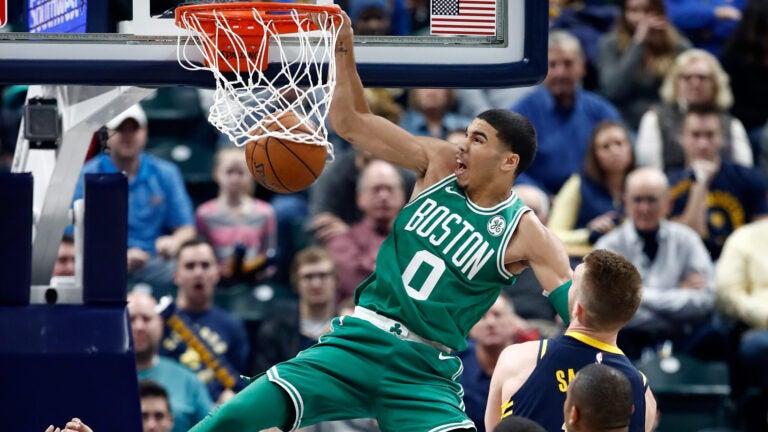 The 34-point hammering absorbed by the Cleveland Cavaliers in Toronto on Thursday night occurred in the 615th game of 1,230 dates on the 2017-18 NBA schedule.
The exact midpoint, in other words, of the regular season.
So as the up-and-down Cavaliers prepare to host their old friends from Golden State on Martin Luther King's Birthday, it's an ideal time to revive an old tradition of mine and reconvene the trusty Committee (of one) for a team-by-team progress report in the form of NBA Power Rankings.
The Committee, as it has for more than 15 years, determines the 1-to-30 order by weighing what's happening in the present alongside each team's big-picture outlook — with sprinkles of subjectivity and whimsy thrown in.
The goal is to provide a more up-to-date and detailed take on the league landscape than the standings can.
(Records and statistics are through Saturday's games.)
1. Golden State Warriors (35-9)
Some within the organization believed the Warriors would actually be stronger in the long run after losing Stephen Curry to an early-December ankle injury — as long as Curry did not suffer lingering issues. Despite six home losses and health woes beyond Curry's, Golden State indeed looks deeper and more dangerous than a year ago at this time, with the bonus that Kevin Durant has become one of the NBA's most menacing two-way players.
2. Boston Celtics (34-10)
When you consider the Celtics' early 16-game winning streak; their current seven-game win streak, featuring wins over Houston, Cleveland and Minnesota; and their top ranking in defensive efficiency, it's hard to place them any lower than No. 2. But we have to ask: Resilient as the Celtics have been in the wake of Gordon Hayward's gruesome injury, do you truly believe they can topple Cleveland in the Eastern Conference if Hayward doesn't make it back for the playoffs?
3. Toronto Raptors (29-12)
The Raptors generated little excitement entering the season, but that's largely because few envisioned the transformation in DeMar DeRozan's game, which features more 3-pointers and a greater commitment to the pass, or the formation of a younger, better bench, which has helped fuel a 58-win pace. Although no one is picking the Raptors to win the Eastern Conference just yet, this looks like the best team in Toronto's history.
4. Houston Rockets (30-11)
A spate of recent injuries has stunted James Harden's Most Valuable Player Award campaign and, of greater consequence, made it a bit harder to justify a top-five spot for the Rockets even after their 25-4 start. But the additions of the defensive aces Luc Mbah a Moute and P.J. Tucker, in support of the All-Star newcomer Chris Paul, make Houston perhaps the biggest threat to Golden State in either conference — provided everyone gets healthy.
5. Cleveland Cavaliers (26-16)
The Cavaliers are an abysmal 29th in defensive efficiency. They have played the NBA's second-easiest schedule thus far. And only recently has the key figure acquired in the Kyrie Irving trade, Isaiah Thomas, come back from injury. Yet such is the leaguewide respect for LeBron James, in his 15th season, that Cleveland remains a huge favorite to reach a fourth successive NBA finals — even when so much statistical evidence suggests we shouldn't treat the creaky Cavs as such a shoo-in.
6. Minnesota Timberwolves (28-16)
It's only a matter of time before the longest playoff drought in NBA history, now spanning 13 seasons, is officially over. Jimmy Butler's MVP-worthy impact at both ends has been so instant and dramatic that the Wolves, who didn't even reach the postseason in Kevin Garnett's last three seasons in Minnesota, are on a 52-win pace — despite the inevitable news media fixation on how much coach Tom Thibodeau relies on his starters.
7. Oklahoma City Thunder (23-20)
It took longer than the Thunder hoped, but Russell Westbrook, Paul George and Carmelo Anthony are figuring it out, looking more and more like a group built for the postseason. Despite a worrisome 8-12 start, Oklahoma City is up to fourth in the league in defensive efficiency and 12th in offensive efficiency. Only two teams at present — Golden State and Toronto — rank in the top 10 of both categories, which is typically a trusty measure of elite status.
8. San Antonio Spurs (29-15)
A partial tear in Kawhi Leonard's left shoulder — not long after a lingering quadriceps ailment cost him the season's first 27 games — sounds ominous and caused this uncharacteristic plummet to the back of the top 10. But you know the rules by now: Never write off or assume anything with the Gregg Popovich-coached Spurs. Especially when Manu Ginobili remains a crunchtime wizard at age 40 and when the long-quiet Leonard is the star of a new (and fun) "I was hacked" Foot Locker commercial.
9. Washington Wizards (25-18)
The Committee came into the season firmly believing that the inevitable focus on Cleveland and Boston would benefit the Wizards as much as the Raptors. Things haven't worked out as planned; Washington's 13-10 mark against sub-.500 teams is the second-worst among the East's top eight. The reality, though, is that a top-four seeding remains up for grabs and John Wall (only 39th in player efficiency rating) has another gear to rediscover in the second half.
10. Milwaukee Bucks (22-19)
It's an open secret that the Bucks, after acquiring Eric Bledsoe from Phoenix to pair Bledsoe's athleticism with the frontcourt sensation Giannis Antetokounmpo, are trying to pull off a trade for DeAndre Jordan to address a need for more rim protection. But Jabari Parker will soon be back from injury, which almost guarantees a needed boost to Milwaukee's meek second unit.
11. Miami Heat (24-17)
Old-school thinkers will tell you that the Heat's 9-2 record in games decided by 3 or fewer points is tied to Erik Spoelstra's coaching acumen. New-schoolers attribute the outcome of close games to randomness as much as anything. On whichever side you fall, Miami is once again among the most fascinating teams in the league, having surged to seven games over .500 despite a negative per-game point differential (-1.0).
12. Denver Nuggets (22-21)
Signing Paul Millsap was a triumph for a franchise not known for its offseason splashes. But the Nuggets' passable 13-14 record since losing Millsap to a wrist injury is also a coup of sorts, given that they're hanging in the West playoff hunt even with Nikola Jokic going through a rough patch as opposed to taking the widely anticipated next step. Millsap's absence has also created an opportunity for Trey Lyles, whose promise as a versatile modern forward suggests Denver actually did get something out of the Donovan Mitchell trade on draft night.
13. Portland Trail Blazers (22-20)
The West features only four teams on a 50-win pace entering the second half, which gives the Blazers a real shot to finish as high as fifth despite the fact that, as constructed, they appear to have a limited ceiling. Portland continues to lack a dependable third scoring option in support of Damian Lillard and C.J. McCollum and still has holes in the frontcourt after the initial success Jusuf Nurkic found when he joined the Blazers.
14. Indiana Pacers (22-20)
No. 8 in the East? No. 8 in offensive efficiency? A record of 22-15 when Victor Oladipo is in uniform? If you claim to have predicted any of that … stop fibbing. The Pacers enter the season's second half as the undisputed No. 1 team in the Biggest Surprise of the Season rankings, hushing Indiana's many critics of the Paul George trade, which brought back the former Indiana University star Oladipo, Domantas Sabonis and no future draft picks.
15. Detroit Pistons (22-19)
The Pistons are openly pursuing roster upgrades via trade, preferring to focus on the promise they see in their highs to date — wins over the West's top teams (Golden State, Houston and Minnesota twice) — as opposed to their various lows (Reggie Jackson's ankle injury, an 0-7 start to the month of December and a recent 3-10 funk on the road). Which isn't surprising when the coach (Stan Van Gundy) runs the front office, too.
16. New Orleans Pelicans (21-20)
The big men Anthony Davis and DeMarcus Cousins have proven their compatibility. Consistency, though, remains an issue for New Orleans, which has stumbled every time it seems poised to go on a run that could lift it out of the lower reaches of the West's playoff chase. Of course, if the Pelicans stay where they are, we could see Golden State versus New Orleans in the first round of the playoffs, which would be a fascinating contrast in styles.
17. Philadelphia 76ers (19-20)
The Committee can think of no better ambassador to have dispatched to London for the league's annual regular-season game there than Joel Embiid — Philadelphia's one-man party. The Sixers are still young and inconsistent, and might pay for their 1-5 record in games decided by 3 or fewer points when it comes to making the playoffs, but few tandems in circulation are as must-see as Embiid and his sidekick Ben Simmons, who ranks as the current rookie of the year favorite.
18. Los Angeles Clippers (21-21)
The Clippers have had too many injuries in the wake of Chris Paul's departure to come down hard on coach Doc Rivers for the team's struggles to stay in the West's top eight. But the club's deep-pocketed owner, Steve Ballmer, wants to win so badly that Rivers' future remains a subject of great curiosity — in addition to DeAndre Jordan's and that of the veteran guard Lou Williams amid Williams' unexpectedly potent season.
19. New York Knicks (19-23)
The Knicks took considerable grief for signing Tim Hardaway Jr. to a four-year, $71 million contract, but how much did they miss the injured Hardaway over the past 20 games? Kristaps Porzingis' recent admission about being "so tired" should tell you all you need to know. Enes Kanter and Michael Beasley have been pleasant surprises, but we're about to find out whether a Knicks star can freely admit fatigue to the New York tabloids and survive.
20. Chicago Bulls (16-27)
Nikola Mirotic went from practice-floor fight casualty to prized trade commodity. Kris Dunn is looking increasingly worthy of the No. 5 pick in the draft. And Zach LaVine is back on the floor well ahead of schedule. But the most promising development in Chicago, after a 3-20 start, just might be Dirk Nowitzki's claim that the rookie big man Lauri Markkanen is "going to be great for a long time" and has "the same upside as" Porzingis.
21. Utah Jazz (17-25)
The good: The rookie guard Donovan Mitchell, last June's 13th overall pick, has shown real steal-of-the-draft potential in trying to fill the void created by Gordon Hayward's departure. The bad: A lack of consistent scoring apart from Mitchell and multiple injuries to the team's defensive anchor, Rudy Gobert, have led to a 4-18 mark on the road. Is a trade for Chicago's Mirotic enough to put Utah back on a playoff path? Debatable.
22. Brooklyn Nets (16-27)
The Nets elicit virtually the same reaction from every coach or executive the Committee encounters: "They play so annoyingly hard." Brooklyn has developed Caris LeVert and Spencer Dinwiddie nicely, acquired the former No. 3 overall pick Jahlil Okafor in an opportunistic trade and appears determined to drain as much value as it can out of its first-round pick — which, remember, now belongs to Cleveland as part of the Kyrie Irving trade.
23. Dallas Mavericks (15-29)
As excited as the Mavericks are about the rookie guard Dennis Smith Jr., they need another top draft pick in June (and some long-awaited success in free agency in July) to return to the usual standards of playoff contention they've known throughout Dirk Nowitzki's career. Nowitzki still has his moments as a shooter (and screener) in Year 20, and the plucky J.J. Barea has been more efficient than ever at age 33, but Smith has to get a lot more serious about defense to become the impact player Dallas envisions.
24. Los Angeles Lakers (15-27)
Pulling LaVar Ball aside and privately threatening to trade his son if he keeps squawking is unlikely to have much impact when everyone knows the list of teams willing to trade for Lonzo Ball and inherit the circus surrounding him is nonexistent. While Kyle Kuzma has looked like a draft steal to rival Donovan Mitchell, and Brandon Ingram quietly continues to make real strides, it's hard to notice anything else in Lakerland when the daily Ball soap opera is so suffocating. (To his credit, though, Lonzo Ball has been a steadying force through the latest controversy and a subsequent four-game winning streak.)
25. Charlotte Hornets (16-25)
The Michael Jordan-owned Hornets are going nowhere. Yet we advise you to track them at least through the Feb. 8 trade deadline because Charlotte will probably be forced to consider dealing Kemba Walker. If Walker stays, Jordan risks losing his best player without compensation in the summer of 2019 — or, perhaps worse, paying big bucks to hang on to him instead of starting an overdue tear-down of a pricey but mediocre roster.
26. Phoenix Suns (16-27)
Although the standings remain unpleasant reading, Jay Triano does appear to have made a difference in terms of accountability and structure since taking over as coach for Earl Watson four games into the season. But the Suns' future hinges on Marquese Chriss, Josh Jackson and Dragan Bender either improving to a level closer to Devin Booker's or becoming attractive enough for the Suns to package in a trade for an established star.
27. Memphis Grizzlies (13-28)
Harsh as it sounds, Memphis is going to have a hard time getting anyone beyond city limits to tune in when 1) Mike Conley is out injured and 2) management continues to treat Marc Gasol as untouchable while the trade deadline nears. As emotional as it would be for the locals to see Gasol follow his fellow grit-and-grind founding fathers Zach Randolph and Tony Allen out of town, where is this team going if it keeps the Spaniard?
28. Sacramento Kings (13-28)
Vivek Ranadive, the Kings' owner, yearns to host playoff games in his new Golden 1 Center, but that's well out of reach for the moment. This season has to be about development for the Kings' recent marquee draft picks, most notably Buddy Hield, Skal Labissiere and the rookie De'Aaron Fox. The big question for the second half is how long before coach Dave Joerger goes all-in with the kids ahead of Zach Randolph, George Hill and Vince Carter.
29. Atlanta Hawks (11-31)
Perhaps no team in the league is more focused on the future than the Hawks, who (unlike Orlando) planned to be this bad and have entrusted their new general manager, Travis Schlenk, with reshaping the roster completely after a run of 10 seasons in the playoffs — but only one trip to the conference finals in that span. Don't be surprised if Atlanta remains in overhaul mode next season as well.
30. Orlando Magic (12-31)
It might go down as one of the great unsolved mysteries of our time: How did this Magic team start 8-4? Orlando has since gone a ghastly 4-27, which will most likely lead to a fire sale at next month's trade deadline. Rival executives expect Jeff Weltman, Orlando's new team president, to aggressively hunt for new homes for the likes of Evan Fournier, Elfrid Payton and Mario Hezonja, given that Nikola Vucevic's broken finger is likely to preclude dealing the center.