NBA
Isaiah Thomas says no 'bad blood' between him and Kevin Love
"We go back to fifth and sixth grade. I asked him a question where he was and it was never clarified. And that's all it was."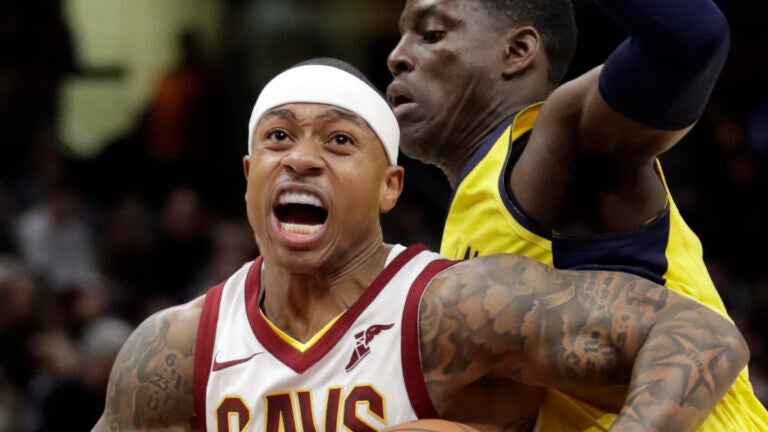 CLEVELAND (AP) — Cavaliers guard Isaiah Thomas denied a rift with Kevin Love, insisting there is no "bad blood" between the teammates.
Following days of drama with the never-a-dull-moment Cavs, Thomas spoke Saturday to reporters for the first time since the struggling team — Cleveland is 4-7 in January — held a heated meeting that came after Love went home during a lopsided loss to San Antonio last Saturday because the All-Star was sick and then missed practice the following day.
At Monday's pre-practice meeting, Thomas was among the players who challenged Love's absences.
But Thomas said any belief that he specifically targeted Love is inaccurate.
"I didn't call him out," said Thomas, who has struggled in his return from a hip injury. "I asked him why wasn't he at the game, supporting his teammates. And then after the game, I didn't ask him because he wasn't there. So I was seeing where he was. So I didn't call him out any. So those reports that whoever is saying that, there's no bad blood between me and him.
"We go back to fifth and sixth grade. I asked him a question where he was and it was never clarified. And that's all it was."
Thomas also dismissed a play in Friday's game when Love grabbed a rebound and bent over at the waist to hand the ball to the 5-foot-9 point guard like an adult reaching out to a child.
"There's nothing between me and Kevin Love — at all," he said. "I approached him about his situation and it went out of house like it shouldn't have been, but it was not nothing bigger than what the world was trying to make it, like some type of beef between me and him. It's never been that and I've never been that guy to do that. So, to clear all that false whatever. Whatever everybody is writing up. That's not cool at all."
It's been quite a week already for the Cavs. A day after the team meeting, LeBron James became the seventh player in NBA history to reach 30,000 points in a loss at San Antonio, coach Tyronn Lue tweaked his starting lineup, James selected Love to play on his All-Star team, Dwyane Wade was excused to handle a personal matter and the Cavs beat Indiana.
And if that wasn't enough, the Cavs are working on some potential trades before the Feb. 8 deadline while trying to fix on-court issues that have dropped them behind Boston and Toronto in the Eastern Conference.
While Thomas played on some high-profile Celtics teams, he's never experienced the kind of spotlight that trails the Cavs.
"That meeting or whatever we had was blown out of proportion of what it was," Thomas said. "But being on this team, you see anything that happens, it's a little blown up and it's a little more than what it really is. That's just, I guess being on a team with LeBron James, that's what happens. Every day is a new day and I think for the most part, we've been as positive as we can be with all the extra noise from the outside."
Thomas heard some boos at home in Friday's win over Indiana. He scored 12 points on 5 of 13 shooting and five turnovers in 29 minutes. Thomas is still trying to get his rhythm after missing seven months with a torn right hip labrum, and he's still adjusting to playing with James, Love and others.
Until his shots start falling more consistently, Thomas, who averaged nearly 29 points per game last season, knows there will be those who doubt whether he can help the Cavs get back to their fourth straight Finals.
"It's going to take time," he said. "I'm in a whole new situation. I'm used to having the ball every play. I'm used to making most of the plays. So I got to figure out and this team has to figure out how we can use each other's strengths and use that as a positive. And it's going to work out. It just takes some time. And I'm not back to who I am.
"And, I mean, I'm not panicking. I don't think anybody in this locker room is panicking, but the people outside this locker room, which is fine. They're entitled to their own opinion. But one thing about me, I'm going to keep pushing. I'm going to keep grinding. And it will work."
___
More AP NBA: https://apnews.com/tag/NBAbasketball