NBA
Wizards All-Star guard John Wall to have left knee surgery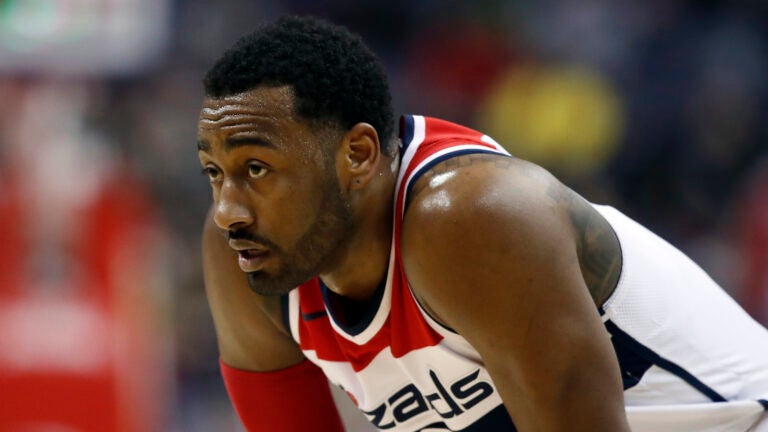 WASHINGTON (AP) — Washington Wizards point guard John Wall will have arthroscopic surgery on his left knee on Wednesday and could miss much of the rest of the regular season.
The Wizards announced Tuesday that Wall would have the operation in Cleveland and that a timeline for his return would be determined afterward.
A person with direct knowledge of the injury said Wall could miss six to eight weeks. That person spoke to The Associated Press on condition of anonymity because the team did not release any estimate of the length of Wall's absence. Washington's last regular-season game is on April 11.
"It just proves that he wasn't the John that we know," backup guard Tomas Satoransky said. "His knee was bothering him all season long."
This is the latest knee problem for the No. 1 overall pick in the 2010 NBA draft out of Kentucky. Wall had surgery on both of his knees before last season.
Coach Scott Brooks delivered Tuesday's news to other players at a shootaround.
"The message is we just need guys to step up and take their game up a level. It's going to be tough without our best player," forward Markieff Morris said.
"By the time he comes back, we'll be in the playoff push," Morris said, "or just getting ready for the playoffs."
Wall is second on the Wizards in scoring this season, averaging 19.4 points, and is second in the league with 9.3 assists per game. In July, he agreed to a $170 million, four-year contract extension that starts with next season.
He was selected last week to participate in his fifth NBA All-Star game but now is expected to miss that event in Los Angeles next month.
The timing of the surgery gives Wizards President Ernie Grunfeld a chance to find a new point guard before the NBA trading deadline, which is Feb. 8.
In the meantime, reserves Satoransky and Tim Frazier figure to get additional playing time.
"We cannot panic about it," Satoransky said about the prospect of losing Wall for a lengthy absence.
"John is the main guy, so it's always tough to cover your main guy when he goes down," said Satoransky, who is averaging five points and 2.6 assists this season. "It's very challenging. Obviously, I like challenges, but it will (mean) a lot of responsibility."
The Washington Post first reported that Wall would be having a procedure on his knee.
He sat out Washington's most recent game, at the Atlanta Hawks on Saturday, because of a recurrence of soreness and swelling in his left knee. Earlier issues with the knee led him to sit out nine games in November and December, and he got platelet-rich plasma injections to try to cut down on the inflammation.
The Wizards entered Tuesday, when they were scheduled to host Russell Westbrook and the Oklahoma City Thunder at night, tied for fifth in the Eastern Conference with a 27-22 record.
Led by its backcourt of Wall and Bradley Beal, a first-time All-Star pick this season, Washington lost in the Eastern Conference semifinals each of the past two years.
___
AP Sports Writer Tom Withers in Cleveland and freelance writer Ben Standig in Washington contributed to this report.