NBA
Kevin Love's broken hand a pain for Cavs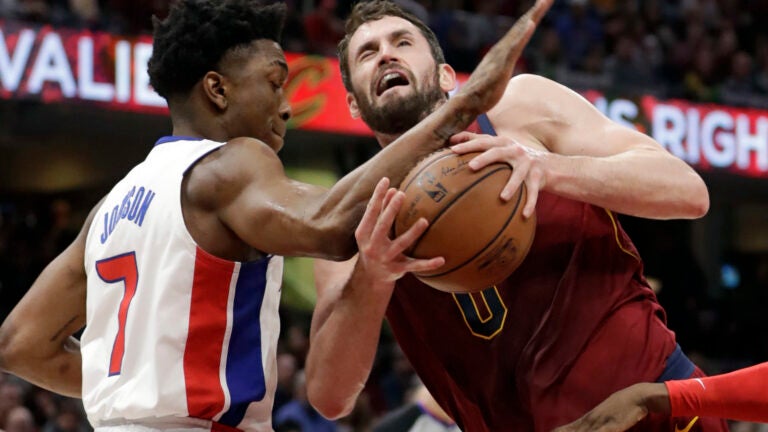 CLEVELAND (AP) — Kevin Love's broken left hand has caused further damage to the crumbling Cavaliers.
The All-Star forward Kevin Love is consulting with surgical specialists in New York about fixing his hand, an injury which has rocked the Cavs, a team plagued by as much malfunction as dysfunction.
Love fractured his fifth metacarpal during the first quarter of Tuesday's ugly loss in Detroit. The team's medical staff is reviewing treatment of the injury with specialists at the Hospital for Special Surgery in New York. There is still no timetable on when Love will return.
This much is certain: The Cavs will miss him.
"He won a championship here and he's been in three straight Finals," coach Tyronn Lue said before the Cavs hosted Miami. "He's been a big part of what we do, being an All-Star, being able to stretch the floor, being able to post guys and then just rebound the basketball, he's been great for us. … I respect him a lot and I know a lot of his teammates do and we're going to miss him.
"He's valuable to what we do on this team and it's going to be tough, but we just gotta pull together and get through it."
Early indications are that Love could miss as much as two months. Love's absence complicates things for the Cavs, who are 5-8 in January and in third place in the Eastern Conference — just ahead of Miami.
With Love out, Lue is re-inserting Jae Crowder back into Cleveland's starting lineup. Crowder returned to a reserve role last week when Lue tweaked his lineup, putting Tristan Thompson at center and moving Love back to power forward.
Lue went with a smaller lineup against the Heat, and said his lineup going forward will be predicated on matchups.
Love, who previously had surgery on the hand in 2009 when he was with Minnesota, is the third All-Star to suffer a significant injury in the past few days. New Orleans big man DeMarcus Cousins tore his Achilles last week and is done for the season, and Washington guard John Wall will miss 6-to-8 weeks following a knee procedure.
Love's injury comes on the heels of a drama-filled week for the Cavs. During a heated team meeting on Jan. 22, Love was questioned by teammates for leaving a loss against Oklahoma City and then missing a practice the next day because he was sick. After some details of the meeting were leaked, there appeared to be lingering tension between Love and some other Cavaliers players.
Point guard Isaiah Thomas came forward to deny there was any "bad blood" between him and Love, but it was clear the turmoil hadn't totally subsided.
Beyond the bickering, the basketball hasn't been good and Love's loss will make things much tougher on the floor for Lue, who has spent the season juggling lineups and rotations because of injuries and ineffectiveness.
Love's injury continues the trend.
"We should be used to it by now," he said. "I think going through it all season, it's just been ups and downs as far as injuries and being in and out. But it's part of the game, we're not the only team going through that, so we just gotta like I said pull together, next man up, gotta be ready to play."
If there's a positive with Love's injury it's that it could help Thomas, still finding his way back after missing seven months with a hip injury. Following the loss in Detroit, Thomas said he's still at only "75, 80 percent."
There's another wrinkle to Love's injury. Cavs general manager Koby Altman was already considering trades ahead of the Feb. 8 deadline and he may be forced to make a major move to improve this underachieving team.
Cleveland's best asset may be the first-round pick it obtained last summer in the deal that sent star guard Isaiah Thomas to Boston. But the Cavs have been reluctant to part with it because it provides protection in case James bolts as a free agent this summer.
Love's name has been linked to potential trades for years, but any move involving him now seems unlikely.