NBA
The Cavs wished Isaiah Thomas a happy birthday. Their fans weren't feeling so generous.
The former Celtics star has struggled to fit in on his new team.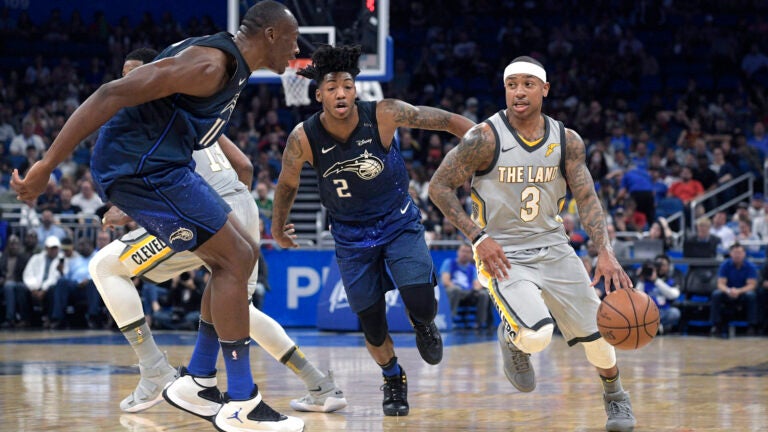 Things aren't great in Cleveland at the moment, either on the court or off it.
The skidding Cavaliers are 6-12 since Christmas, and the addition of former Celtics guard Isaiah Thomas is not going smoothly. Thomas, who has contributed to Cleveland's defensive woes and struggled on offense since returning from injury early last month, has also repeatedly criticized teammates and questioned his place on the team.
So when the Cavaliers wished the 29-year-old guard a happy birthday on social media Wednesday, not all of the team's fans were particularly eager to chime in. Well, at least not with well wishes.
Happy birthday, @isaiahthomas! ?

I.T. ?: https://t.co/13cVEUXUhZ pic.twitter.com/B4HGwITTDH

— Cleveland Cavaliers (@cavs) February 7, 2018
"Nah we good," replied one Twitter user. Another suggested Thomas' birthday present should be a ticket to Charlotte or "anywhere but Cleveland," as the trade deadline approaches. Several simply wrote "Trade him." Others, as one does on social media, responded with memes.
— Jonny Wood (@JonnyWood17) February 7, 2018
— NBA 24/7 (@henrymray) February 7, 2018
— Gerard Basalla (@GerardBasalla) February 7, 2018
— ℝ?????? ??? ??'???? ????? ✊? (@DAMNlookatHIM) February 7, 2018
— ㅤ? (@ab24nn) February 7, 2018
And then there were of course the many replies unfit for print. The Cavs even went so far as to disable comments on their corresponding Instagram post.
At least it went better than when Thomas attempted a Twitter Q&A last week. Well, maybe.