NBA
How to build a 'Woj bomb', from the man himself
Reporter Adrian Wojnarowski explains how he became the NBA's preeminent news breaker.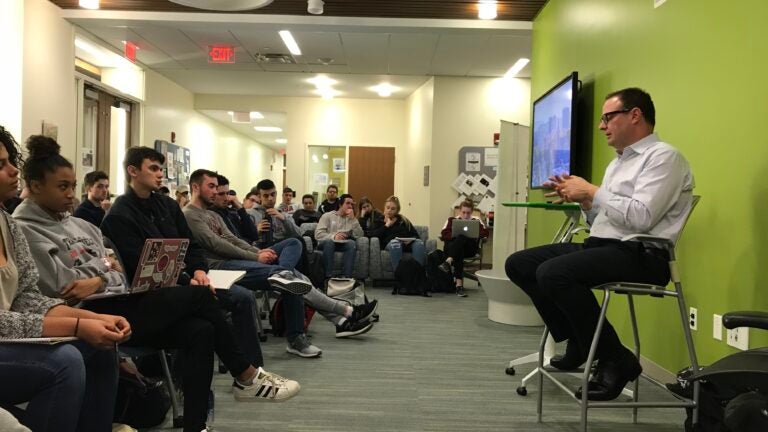 Adrian Wojnarowski was worried he'd been scooped. The NBA's preeminent breaking-news reporter had a story the rest of the world didn't, or so he hoped. His rivals in the race to publication weren't the usual suspects, Marc Stein or Shams Charania, but a group of college students at UMass Amherst.
"Nobody put up the Shabazz stuff, right?" Wojnarowski asked.
Heads shook. It was near the end of Wojnarowski's speech to journalism students at the university, a speech the ESPN senior NBA insider had paused twice so he could answer his phone. After one of the breaks, one brave soul had asked for a sneak peak at the scoop-in-progress before the reporter let fly.
The man they call Woj gave the crowd a hint, but couldn't say for sure until the story was confirmed. Minutes after he finished speaking and went back to working the phones, the bomb (bite-sized by Wojnarowski's standards) dropped.
Shabazz Muhammad has agreed to a contract buyout with Minnesota in hopes of signing with a playoff contender, league sources tell ESPN.

— Adrian Wojnarowski (@wojespn) March 2, 2018
Wojnarowski has accumulated over two million Twitter followers and a near-mythical stature in the NBA world with nuggets of information like that. Some are juicier than others, and the biggest ones, like his January report that the Houston Rockets stormed the LA Clippers' locker room, set the basketball world alight.
The high-profile destination was anything but assured during the Bristol, Conn. native's career, a road that started at a backwater broadsheet and threaded through Yahoo Sports before landing him back home in Bristol at ESPN headquarters.
"I still do the job like someone's going to replace me tomorrow," Wojnarowski said. "I still have the nightmare that I get sent back to Waterbury—that I screw up, that I wreck this whole thing, and they send me back to work at the Waterbury Republican."
His ability to cultivate and maintain sources is the reason he's living the dream instead. Wojnarowski said that for every one conversation he has with a source that leads to a story, there's 20 others where he's just checking in. He keeps in touch year-round with the players and coaches, agents and executives that make up his beat. The constant conversation pays dividends on trade deadline day.
Cleveland is sending Isaiah Thomas and Channing Frye to the Lakers for Clarkson and Nance, league source tells ESPN.

— Adrian Wojnarowski (@wojespn) February 8, 2018
"There's 50 people trying to hit them for information," Wojnarowski said. "I like my chances of getting the information if I've been on the phone or been at lunch with them—spent time with them all year long."
The bombs are built over the course of thousands of phone calls, text messages, and emails. Wojnarowski estimated that he talks to 20 to 25 people on an average day, with that number spiking around the draft or the free agent deadline. He makes a point to reach out when people lose their jobs. When they find themselves back in the league, they'll usually remember the only person who called when they were out of work with no scoops to offer.
"People will know you're sincere," he said. "They'll know whether you're just angling them. You have to genuinely care. I don't think you can fake it."
One of the only people who can match Wojnarowski tweet for tweet is his co-worker Adam Schefter. The first time the two reporters had dinner together, Schefter got a call from a "very prominent" NBA player, as Wojnarowski described it. The basketball star wanted Schefter's help with his fantasy football team.
"I remember thinking the whole dinner, 'Should I feel bad about this?'" Wojnarowski said.
Joining Schefter at ESPN in 2017 was an adjustment for the St. Bonaventure University grad. The Worldwide Leader demands television appearances, even when Wojnarowski would rather be at his desk making calls. He might not want to get beat on a story, but he won't follow Schefter's lead and answer his phone on-air just yet.
"I'm not there because I look like Brian Williams," Wojnarowski said of his time on-screen. "I'm there because I have information that, in many cases, other people don't have."
His agent told him it would be OK if he went bald or put on weight, as long as the information kept coming. Wojnarowski, who's as competitive as the athletes he covers, has no intention of stopping the flow of scoops.
"You can have a better day than me, you might have a better week than me," he said. "But I always feel that over a month, over three months, over six months, I will beat you."