NBA
Kevin Love overwhelmed by reaction since revealing panic attack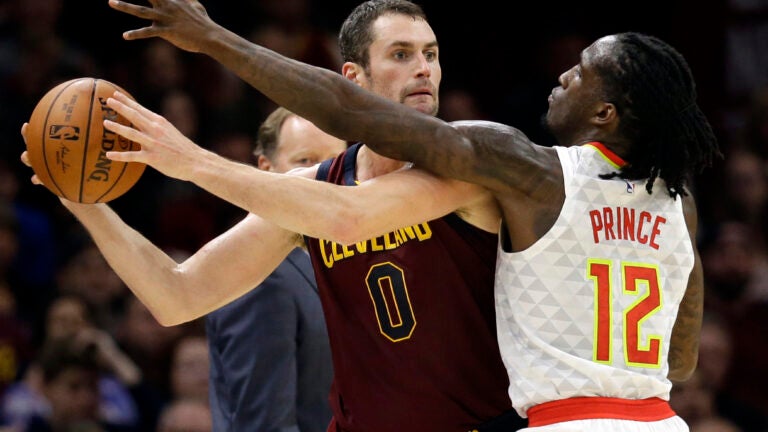 DENVER (AP) — Kevin Love has received more than 4,000 messages since opening up about his struggles with mental health issues.
"Overwhelming is a good word to use," the Cleveland Cavaliers forward said Wednesday after the morning shootaround before a game against the Nuggets. "I'm trying to read through all the emails and all the texts and respond to everybody in the right way."
Love considered it therapeutic to write his essay for The Player's Tribune in which he addressed such things as his panic attack during a game this season and how he's spent most of his life afraid to accept there was something wrong with him.
Although, it was daunting to release his story to the world.
"It did take me a while (to write). I didn't know if I was going to address it potentially in the summer, but I'm glad I did it now," said Love, a five-time All-Star who's currently sidelined by a broken hand. "Everybody is going through something. Everybody has things that you can't see, you can't touch, that they're walking with every day. … We need to beat down that stigma about mental health and be able to come out and talk things out."
Love thanked Toronto All-Star DeMar DeRozan for recently acknowledging his bouts of depression. It gave Love the courage to tell his tale.
"I want to continue to push that message," Love said. "There's a lot of work to be done. I'm glad this is out there and glad I can help."
He's got the support of teammate LeBron James.
"When people that are dealing with the same situation, that's in the same situation as Kev, it helps them out more than anybody — to not feel like they're alone, because they're not," James said. "We, as athletes, are put on this pedestal, but we go through some of the same problems. We're all human beings. All of us. I think it's very enlightening for him to know that, and to see that, and to know he can help others by doing that."
James knows it's not easy to come forward on such topics as mental issues.
"Because we live in a sport or a world where our whole lives, we always talk about, 'Figure it out on your own,' and 'Be as strong as you can' and 'Don't show anybody any weakness,'" James said. "So, that's how we've been built. We've been built like that our whole lives, ever since we picked up a basketball or picked up a football, or whatever the case may be.
"I think that sometimes can become a problem. Obviously, when you're able to see that, sometimes that's not the way to deal with it, and it actually makes you even more strong in the respective sport that you are in."
In his essay, Love said he was hit hard by anxiety Nov. 5 during a home game against the Atlanta Hawks. Love added that he had been under family stress and hadn't been sleeping well. After briefly being winded while playing 15 minutes in the first half, he felt his heart racing and couldn't catch his breath during a timeout in the third quarter.
Love was taken to the Cleveland Clinic, but tests didn't reveal anything abnormal. He returned to playing at a high level, but was perplexed by what happened and burdened about people finding out.
And while he did not mention it in his essay, titled "Everyone Is Going Through Something," Love left a Jan. 20 game against Oklahoma City under similar circumstances.
He said Wednesday that had nothing to do with a panic attack.
"That was me being sick," Love said. "I wasn't aware how many people knew (about the panic attack). I kind of buried it and put it off to the side. That kind of started a big push in the back to why I wanted to write this article."
Cavs coach Tyronn Lue said he hasn't read Love's essay yet, but that the team is there for Love.
"Whatever he needs," Lue said. "We're going to support him 100 percent."