NBA
Rajon Rondo says he hates his playoff nickname
"'Playoff Rondo', I think, is a myth. But I do love the big moments."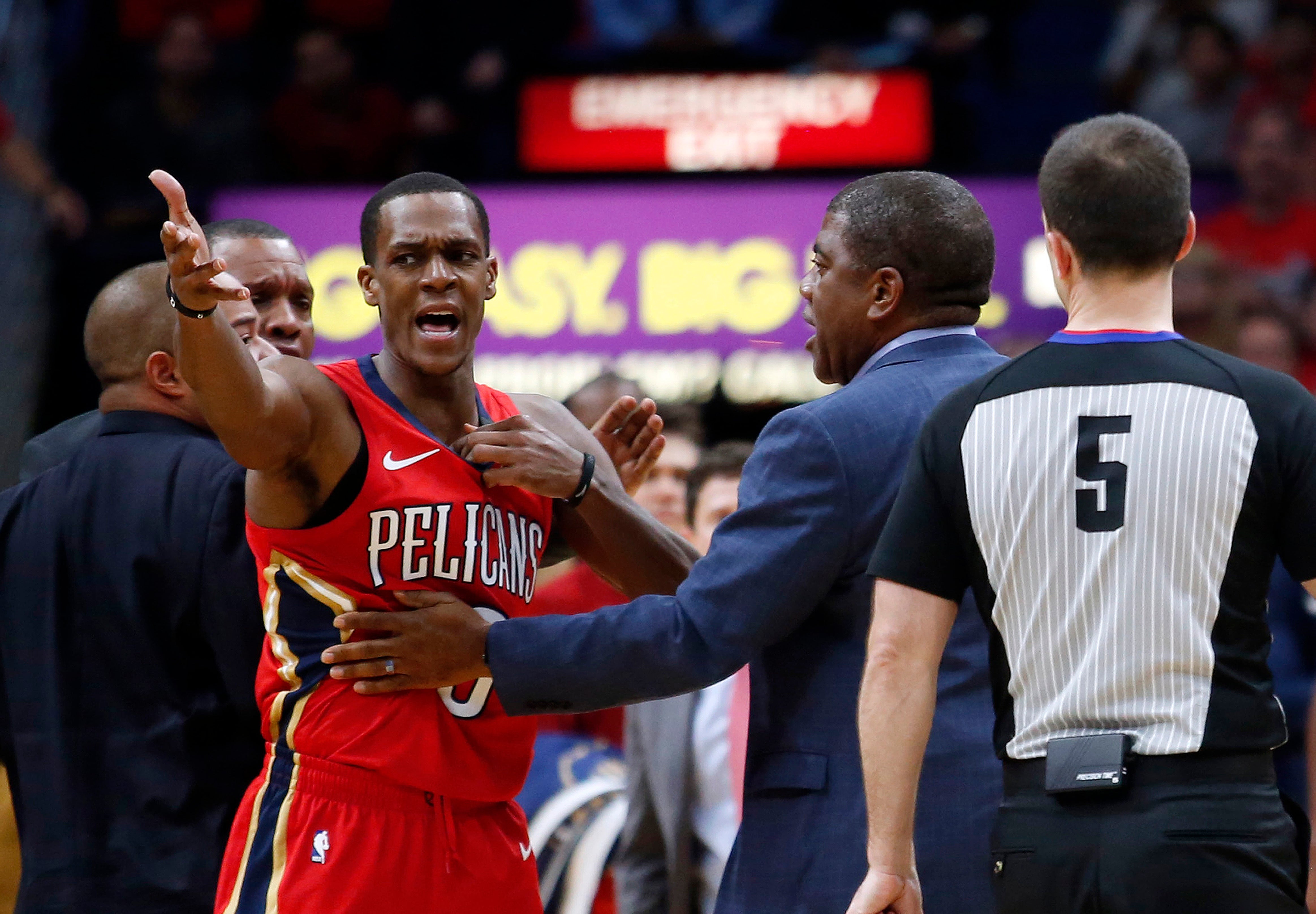 NEW ORLEANS — Rajon Rondo of the Pelicans has a few words to say about a nickname that is generally meant to be complimentary. More than a few words, actually, when it comes to "Playoff Rondo."
"I hate it," Rondo said.
The veteran point guard helped inspire the Pelicans' stunning four-game sweep of the higher-seeded Portland Trail Blazers in the first round of the NBA playoffs, enjoying some of his best production in years: 11.3 points, 13.3 assists and 7.5 rebounds per game against the vaunted Portland backcourt duo of Damian Lillard and C.J. McCollum.
The performance resurrected an oft-cited legend — backed up by his career stats — which asserts that Rondo's interest and intensity, and thus his numbers, will inevitably spike once the regular season ends.
"There's no such thing as 'Playoff Rondo,'" Rondo insisted at the Pelicans' practice facility this week during his first extended interview of the postseason.
The rest of the NBA, of course, continues to believe otherwise. Three years removed from a messy divorce from the Dallas Mavericks in the middle of the first round of the playoffs, Rondo is suddenly a spotless 6-0 in the last six postseason games he's played. Two came with Chicago last season, and four of the six wins have been on the road.
Revered by his new team for the quality of shots he creates for others as well as his long-standing defensive prowess, Rondo joins Anthony Davis and Jrue Holiday in leading the visiting underdogs from New Orleans into Saturday night's Game 1 of the Western Conference semifinals against the mighty Golden State Warriors.
"I've done what I've done in the past," Rondo said. "I let my game speak for itself. I feel like, when I get a certain amount of minutes and when the coaches allow me to be me on the court, I'm Rondo. There's no 'Playoff Rondo.'"
He added: "Ask any player. You're only as good as your coach allows you to be."
Fortunately for Rondo, in his fifth NBA stop, at age 32, New Orleans is where the polarizing floor leader has found the coach who sees it almost completely his way. Alvin Gentry has afforded him the sort of leeway that he had previously extended to just one point guard in his five stints as a head coach: two-time Most Valuable Player Award-winner Steve Nash.
Rondo has nowhere near the perimeter potency as a shooter that Gentry helped build an entire offense around in Phoenix en route to the Western Conference finals in 2010, which would figure to be a problem at a time that the 3-point shot has been emphasized in the NBA more than ever.
But Gentry believed, even before the Pelicans began courting Rondo last summer, that the point guard's ability to "make decisions on basketball instinct" could offset his shortcomings as a shooter and make him the perfect backcourt complement to Holiday. New Orleans thought it would unlock more from Holiday's two-way game to take him off the ball.
On a recruiting trip to Louisville, Kentucky, last July, Gentry and New Orleans general manager Dell Demps got their chance to convince Rondo that he would be granted uncommon freedom to voice his opinion — despite the fact he was only being offered a one-year contract worth $3.3 million.
"We talked," Gentry said. "We really talked. I told him I wanted him to run the team, and I even used Steve Nash as an example.
"With Rondo, to me, you have to be totally honest with him, even if it's something you think he doesn't want to hear. And he's got to feel like you have confidence in him."
Nearly 10 months later, confidence doesn't quite describe the level of backing Rondo inspires from both the coaching staff and his teammates. His obsession with watching game film (and even practice film) has been well-documented, but Rondo is frequently consulted by Gentry and assistant coaches Darren Erman (defense) and Chris Finch (offense) when game plans are being drawn up.
He has also been granted permission to conduct the occasional Pelicans film session or morning walk-through instead of his coaches. He likewise has the license, according to Gentry, to "Omaha" play calls from the bench — referring to former NFL quarterback Peyton Manning's famed penchant for shouting "Omaha" at the line of scrimmage whenever he wanted to change a play.
"When you have a point guard this smart," Gentry said, "you should let him run the team."
Earlier this week, after the Pelicans clinched their spot in the second round, it was Rondo who announced to the players on the practice floor — after most of the coaches had dispersed — that they needed to play a shirts-versus-skins scrimmage to shake off rust.
And when a group of Pelicans staffers met to decide what day the team should fly out to the Bay Area to begin preparations for the Warriors — Wednesday or Thursday — Gentry briefly left the room to seek Rondo's input. (Partly at Rondo's suggestion, they chose Thursday.)
Reason being: Rondo has the pulse of this team like no other. Long regarded by various teams he's played for as a headstrong handful, and by some members of the news media as chilly (or worse), Rondo has been a popular teammate almost everywhere he's played, reminiscent of media-averse former All-Star forward Rasheed Wallace.
In New Orleans, though, Rondo is flat-out beloved by his teammates.
"Sometimes they don't agree, coaches and him, because he likes to do what he thinks is best for the team," said Nikola Mirotic, the sharpshooting New Orleans forward. "But I always say, with Pau Gasol, he's the best teammate I ever had."
Said Gentry: "You can't go in that locker room and talk to one guy that doesn't believe in him."
Despite Rondo's reputation for being, at the very least, relentlessly contrarian and challenging to coach, Gentry compares him to Nash often. He said that Rondo's former coach in Boston, Doc Rivers, dismissed his own ups and downs with a younger Rondo and strongly assured Gentry that their partnership would be prosperous.
Even after everything that happened with the Mavericks, Rondo's former coach in Dallas, Rick Carlisle, insists he's not surprised by the success Rondo has found in New Orleans given "the assortment of shooters and finishers they have on that roster."
"If you put the right pieces around Rondo, he is a proven champion," Carlisle said. "We didn't have the right personnel around him for things to work well in Dallas. The truth is that we were probably a worse fit for him than he was for us. He helps make New Orleans a very scary second-round opponent."
Gentry, meanwhile, does acknowledge at least some creative tension, pointing to the practice floor from his office and saying, "Every day in there is not a picnic, now.
"But I'd coach him again and again and again," Gentry said. "He does respect coaching, I know that."
Gentry, in fact, believes that Rondo is a lock to be a head coach in this league someday.
"I want to be a general manager, and I want to be a head coach," Rondo said. "Definitely both."
That's hard to picture, perhaps, when so few would have predicted this Rondo renaissance after the reputation hits he took in the wake of his Mavericks exit. He continues to be consistently booed whenever he plays in Dallas and endured no shortage of unflattering headlines last season in Chicago — until Rondo led the Bulls to two playoff road wins in Boston.
But after averaging 11.5 points, 10.0 assists, 8.5 rebounds and 3.5 steals in those victories, Rondo suffered a season-ending thumb injury leading into Game 3 that was followed by four successive losses to the Celtics. One year later, without injured All-Star center DeMarcus Cousins, New Orleans is the surprise of the Western Conference playoffs.
Cousins pushed as hard as anyone in town for Rondo to join this team. Retaining Rondo in free agency this summer now ranks as the Pelicans' biggest offseason priority next to how they handle Cousins' complicated free agency.
But that's a discussion for July.
Rondo has collected video clips from the Warriors' last 10 games to study and is hunting for any advantage he can share with Davis, Holiday or Mirotic, with whom he also played in Chicago.
What use is all that film study, Rondo is asked, if the Warriors' Stephen Curry makes his expected return to the lineup from a knee sprain that has sidelined Curry since March 24?
"The reason we get paid this type of money is because we're able to make adjustments," he said, sounding much more like "Coach Rondo" than "Playoff Rondo."
"I haven't had the best public perception my entire career," Rondo said. "But at the end of the day you can't deny that I'm a winner. If you look at my history, I don't think you can be a four-time All-Star just from the playoffs. I must have done something in the regular season.
"'Playoff Rondo', I think, is a myth. But I do love the big moments."