NBA
What Ray Allen had to say about LeBron James and the NBA playoffs
"He's doing what he's been doing most of his career."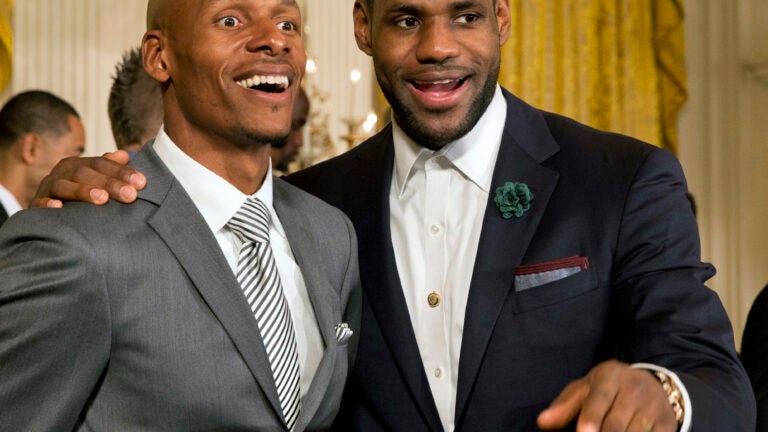 COLUMBIA, S.C. (AP) — Ray Allen has enjoyed watching former teammate LeBron James lead Cleveland through the NBA playoffs. And it's not much different than what Allen saw almost daily when the two were part of the Miami Heat's run to a NBA title in 2013.
"He's the main cog of what the Cavaliers are doing," Allen said Monday. "I don't see him doing anything outside of his spectrum. He's doing what he's been doing most of his career. When we start talking playoff basketball and about the players who are good, we expect them to do their jobs when it's time to do their jobs."
For the two-time NBA champion in Allen, there's no higher compliment.
Allen spent his stellar, 19-year career well prepared for whatever moment there was. He was a 10-time NBA all-star who helped a trophy-starved Boston to a championship in 2008, then joined James, Dwyane Wade and Chris Bosh with the Heat to capture the 2013 crown.
Allen, the son of an Air Force veteran, starred for Hillcrest High School in Dalzell, South Carolina, about an hour east of Columbia. He returned to the Palmetto State this week to be part of the newest group of inductees into the South Carolina Athletic Hall of Fame.
"This is my first induction into any hall of fame," Allen said, smiling.
Allen, 42, left the game after the 2014 season as the NBA leader in career 3-pointers made — more than 400 more than Reggie Miller in second place. Allen's also known for several big moments on the court, including his seven 3-pointers in the sixth and final game of the 2008 title series to defeat the Los Angeles Lakers to help the Celtics win their first championship since 1986.
It was Allen's 3-pointer from the right corner for the Heat in game six of the 2013 series with San Antonio that tied things at 95-all, a game Miami would go on to win in overtime before closing out the title run a game later.
Allen, who also played for Milwaukee and Seattle, prefers remembering the smaller moments, ones fans don't see where teammates practice together and commit to let their talent and effort loose in games.
"The moments when the guys counted on me to come through for them," he said. "Just being accountable."
That's what Allen sees from James as much in a first-quarter blocked shot or box out as in a last-second banker to defeat Toronto in the Eastern Conference semifinals.
"It's being a good teammate," he said. "The people see the big shots, but what we see is, 'Man, he was a great teammate. He was always there.'"
As far as the all-time debate, Allen gives the edge to Michael Jordan over James. Playing against both of them, Allen said Jordan "didn't have any weaknesses. There was just no way that you could stop him."
Allen is certain James, especially with more playoff showings like this season, will make a stronger case for the top spot.
Allen missed Boston's opening game conference finals win over Cleveland and James on Sunday as he had just returned from China where he was promoting the NBA. It's a country hungry for more of the game, Allen said. He said he met one fan there who had his signature sneakers from his early days in Milwaukee.
He's not pulling for the Celtics or Cavaliers, just more compelling playoff basketball.
And there should be plenty of that Tuesday night when Golden State plays at Houston, and when there should be plenty of 3-pointers being tossed up.
Allen, though one of the all-time great long-range shooters in the NBA, doesn't enjoy talking about the role he played in the evolution of game, where 3-pointers are being shot in record numbers. Allen attempted 500 or more 3s just three times in 19 seasons. Steph Curry and Klay Thompson have each done that for the Warriors the past six seasons.
"I just believe I did what I was supposed to do when I had my time," Allen said. "I try never to play those woulda, coulda, shouldas."
Allen credited his time in South Carolina for learning to overcome adversity on being a military child mixing with civilian students who knew little about life on an air base.
"This is a place that grew me up as a young person," Allen said. "It's where I got my start."