NBA
Warriors cover Steve Kerr's bet in Game 1 victory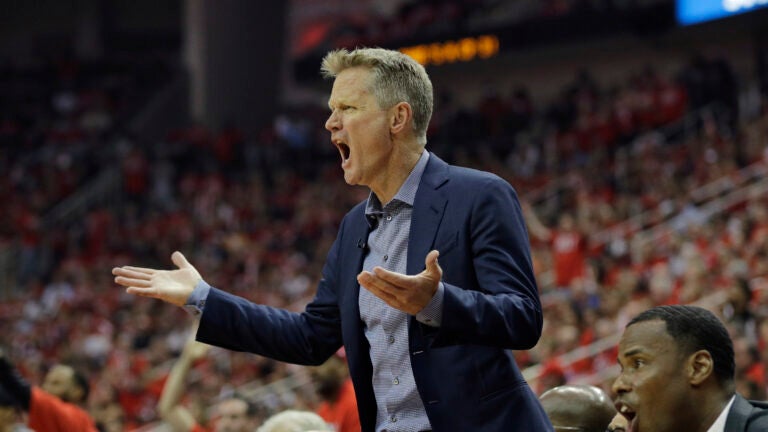 For the first time in the Steve Kerr era, the Golden State Warriors on Monday opened a playoff series on the road. They handled the rare adversity just fine, with Kevin Durant's 37 points leading the way in a 119-106 victory over the top-seeded Houston Rockets in Game 1 of the Western Conference finals.
Golden State's decrying a lack of respect has become something of an inside joke over the last four seasons, with the team's players constantly convincing themselves that the world has doubted them despite two championships in the past three seasons. But the Warriors came into Game 1 as a legitimate underdog, which Kerr joked about in his pregame news conference.
"I'm taking the Warriors at +1 1/2," he deadpanned.
Kerr, who referenced the myriad stories Monday about the U.S. Supreme Court's decision that appears to have opened the door for states to legalize gambling, continued by saying, "I guess now I'm allowed to announce my picks for the week. Stay away from Boston tomorrow, you've got to be careful on those Game 2s."
It looked like Kerr's confidence might have been a little misplaced early in the game. Houston's James Harden hit a wide-open 3-pointer on the Rockets' first possession, and Clint Capela followed that on the other end of the court with a volleyball-like spike of a shot attempt by Durant. Draymond Green picked up a technical foul for shoving Harden just 1 minute, 7 seconds into the first quarter, and Andre Iguodala headed to the bench with two fouls after just over four minutes of work. At that point Golden State was already down, 12-4.
But as they have done so often in the past, the Warriors fought back with offensive efficiency from Klay Thompson and Durant, and defensive tenacity by the entire lineup — save Stephen Curry who was repeatedly picked on by Houston's offense.
With the score tied at halftime, Golden State was in a somewhat precarious position, especially with three fouls each for Green and Iguodala and Green being under constant threat of ejection because of his technical. But Golden State snatched control, outscoring Houston 31-24 third quarter en route to a comfortable win that effectively stole home court advantage for the series.
The second-half surge was fueled by Durant, who proved to be a mismatch on the offensive end regardless of who was guarding him. He was finding his way to the hoop with ease and shooting over anyone who tried to get between him and the basket, even when it was Clint Capela, Houston's rising star. Durant shot 14 for 27 from the field and exceeded 30 points in a playoff game for the 52nd time in his career despite not attempting a free-throw until the final minute of the third quarter. He had just six attempts from the line all game (he hit all six).
Rockets coach Mike D'Antoni was asked after the game if his team's switch-heavy defense had come back to bite them since Durant was repeatedly able to find open looks. He agreed it had, but only to a certain extent.
"If you don't switch it's going to bite you with Curry and everybody else," he said. "They've got a lot of biting."
Thompson, who had struggled some in Golden State's conference semifinal series against New Orleans, finished with 28 points, and Curry had 18 points and eight assists. Green, who calmed down considerably in the second half, had just 5 points to go with nine rebounds and nine assists. Though in a nod to Green's influence on the defensive end, he was the best among the Warriors in plus/minus, with Golden State outscoring Houston by 17 points when he was on the court.
Harden had stretches of brilliance, and led Houston with 41 points, but he was unable to will his team to keep up with the Warriors once they got rolling. Houston's Chris Paul had 23 points, 11 rebounds and three assists, and Capela had 12 points and six rebounds.
While Kerr had joked about the concept of taking the Warriors as underdogs before the game, D'Antoni had brushed off the idea that his team was the favorite during his pregame news conference.
"With the right amount of fear and the right amount of confidence, obviously we're the underdog," he said.
"When you go against the champ, you've got to knock them out," he continued. "But I do like who we are and what we've done and where we can go."
The Rockets will try to get things back on track by going for that knockout in Game 2 in Houston on Wednesday.