NBA
Morning sports update: Why Isaiah Thomas faces a 'far different reality' as a free agent compared to when he was a Celtic
"Is it going to be the Isaiah of Boston — 50-point games in the playoffs? I'm not sure anybody believes that anymore."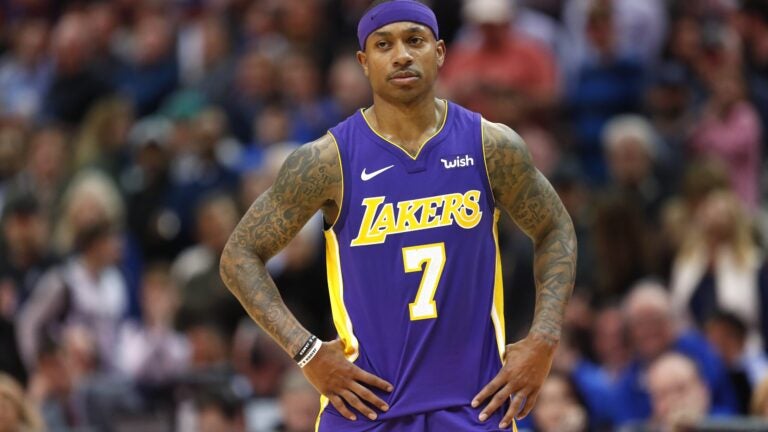 Red Sox ace Chris Sale faces Jason Hammel on Friday in Kansas City. At the World Cup, France meets Uruguay and Brazil takes on Belgium in two quarterfinal matchups.
Why Isaiah Thomas faces a 'far different reality' as a free agent compared to when he was a Celtic
The Brinks truck will not be brought out.
Isaiah Thomas once believed he'd command a contract that would require armored transport, but now the point guard faces an uncertain market in free agency. Thomas finished last season with the Los Angeles Lakers, two trades and a hip surgery removed from his glittering days in Boston.
"Well, it's a far different reality now for Isaiah Thomas than he had in Boston before the Kyrie Irving trade," ESPN's Adrian Wojnarowski reports. "Like DeMarcus Cousins, the injury changes the market for him."
Thomas was limited to 32 games this past season. The hip injury that cut short his 2017 postseason kept him out of action until January, and his campaign concluded with another season-ending hip surgery in March. According to Wojnarowski, the organizations that have evaluated his medical information this summer are encouraged by what they found and believe he will be back on the court.
"Is it going to be the Isaiah of Boston — 50-point games in the playoffs? I'm not sure anybody believes that anymore," the NBA analyst said. "But he doesn't have to be that to be a really productive player and a player that's garnering a lot of interest."
The Isaiah of Boston was an MVP candidate who averaged 28.9 points per game to lead the Celtics to the Eastern Conference finals. Now, Wojnarowski said teams are interested in bring Thomas on board as a backup guard on what will "almost assuredly" be a one-year deal.
Thomas isn't alone in his predicament. Cousins also expected suitors to line up for the right to acquire his services this offseason. However, the mercurial center ultimately signed a $5.3 million mid-level exception with the Golden State Warriors that will allow him to rehab his Achilles injury — then help four other All-Stars defend their championship.
"[Thomas] needs, like Cousins in some ways, a one-year deal to show he's healthy again and to get back out on the market next year," Wojnarowski said. "But there is great interest in him, and there is encouragement from teams that he will be healthy."
LaVar Ball says Rajon Rondo will provide 'a little backup' for Lonzo on the Lakers
When the Lakers agreed to a one-year deal with Rajon Rondo on Monday, many expected the move to spell the end of Lonzo Ball's tenure in Los Angeles. Ball's bombastic father drew a different conclusion from the signing.
"That don't mean nothing. They just got another teammate," LaVar Ball told CNN's Chris Cuomo. "A little backup, that's good. I never worry about competition because I know my boys are better than that."
Lakers president of basketball operations Magic Johnson appears to be assembling a backcourt crowded with ball-dominant players. Rondo, a veteran guard who won a championship in Boston and just had a fine playoffs for the New Orleans Pelicans, will want the ball in his hands. So might Lonzo, after finishing second in assists among rookies. Of course, both of their wishes will go out the window any time LeBron James asks for possession.
However, LaVar doesn't see a problem with the Los Angeles lineup. He predicted multiple championships for the new-look Lakers — and a future triumvirate of Ball brothers on the team.
"Everything lines up for me. It's so lucky that my son gets to play with his favorite player," he said. "Wait till my other boys get to coming that way. You don't want LeBron and the Ball boys linked up to play against Golden State, 'cause I'll tell you what — my boys are going to play at a different level. Speed, baby, speed kills."
What makes Marcus Smart so special, according to Celtics assistant coach Jay Larranaga: Smart is a self-described "junkyard dog" whose impact on the Celtics goes well beyond the box score. The Celtics have extended a qualifying offer to the restricted free agent, but, regardless of where he plays next season, Larranaga has confidence in Smart's future.
"When you watch the things he does — whether you're on the court or you're on the bench or you're coaching or you're playing — it makes you want to be a part of it," he said. (Boston.com)
Former Red Sox bat boy Thad Ward is living the dream: Ward, who once met "Ortiz, Manny, Varitek, Lowell, Coco, Youkilis" as a bat boy in Fort Myers, was selected by the Red Sox in the fifth-round of the 2018 MLB Draft. The 21-year-old knows he'll receive a warm welcome at spring training, nearly a decade and a half removed from his earlier Sox cameo. (Boston.com)
England's John Stones calls Colombia 'dirtiest team' he's faced: England won a penalty shootout Tuesday at the World Cup after a physical round-of-16 match saw eight yellow cards handed out by the referee — six of them to Colombia.
"I've never seen a game like this before and how they behaved," Stones said. (Boston.com)
Daily highlight:
https://twitter.com/SportsCenter/status/1015058022157242370