NBA
The Spurs have reportedly agreed to trade Kawhi Leonard to the Raptors
San Antonio will reportedly receive DeMar DeRozan and other assets in return.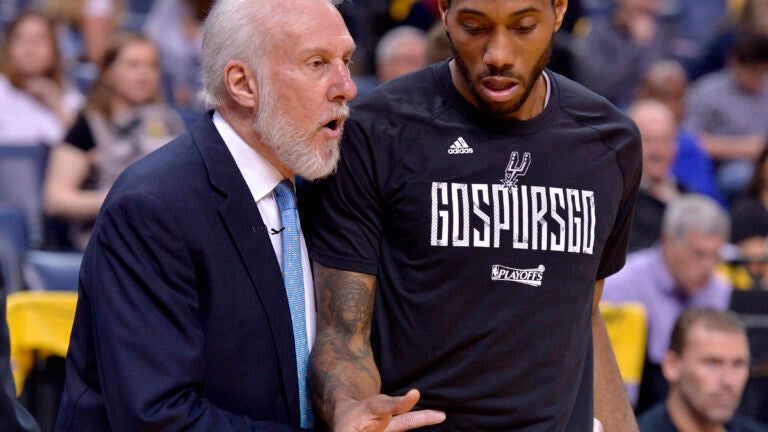 Spurs forward Kawhi Leonard will not be playing for the Boston Celtics next season — a scenario that had become increasingly unlikely over the past couple of weeks.
According to ESPN's Adrian Wojnarowski, San Antonio and the Toronto Raptors have agreed to a four-player trade. In exchange for Leonard and forward Danny Green, the Spurs will reportedly receive shooting guard DeMar DeRozan, center Jakob Poeltl, and a protected 2019 first-round draft pick. The pick is protected 1-20 and will become two second-round picks after one year, according to Wojnarowski.
Wojnarowski and ESPN's Chris Haynes reported early Wednesday morning the two teams were close to finalizing a deal after engaging in trade talks for two weeks.
Neither player is particularly enthusiastic about the move, according to ESPN. Haynes reported Leonard has "no desire" to play in Toronto. In addition to his health, one of the major questions surrounding Leonard's status is his intention for the 2019-20 season. A few teams interested in trading for the forward fear he will be a one-year rental who will then sign with the Lakers upon becoming an unrestricted free agent at the end of the upcoming season.
Haynes and Wojnarowski's report comes on the heels of another ESPN report that revealed Leonard was "seriously considering" participating in the Team USA minicamp next week. Leonard was one of 35 players invited to participate in the camp, which will be led by Spurs coach Gregg Popovich.