NBA
Evan Turner was the first to report some Boston sports media news
ESPN's Chris Forsberg is joining NBC Sports Boston, and the former Celtics guard broke the news.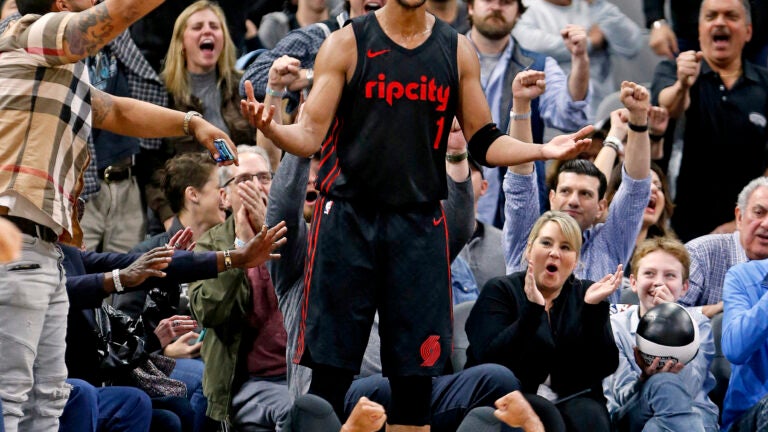 Chris Forsberg reported on Evan Turner for years at ESPN. But the former Celtics fan favorite turned the tables Monday.
Turner scooped the rest of the sports media world and dropped his own "Woj Bomb" of sorts, beating everyone to the news that the Celtics beat reporter was joining NBC Sports Boston. While Forsberg had tweeted a statement earlier Monday morning announcing that he was leaving ESPN after nine years there covering the Celtics, it wasn't until Turner's tweet at 12:22 p.m. — attributed to "Sources" — that his new job was revealed.
Sources: Former @ESPN Celtics reporter @ChrisForsberg_ has signed with @NBCSBoston

— Evan Turner (@thekidet) September 24, 2018
After cheekily acknowledging Turner's tweet, NBC Sports Boston confirmed Monday afternoon that Forsberg was joining the network to continue to report on the Celtics. Coming on the verge of Celtics media day and as The Athletic announced a major expansion of their NBA reporting team, Forsberg's move to NBC Sports Boston was in itself somewhat of a surprise.
Turner, who now plays for the Portland Trail Blazers, isn't the first player in the league — or even on his own team — to break news about an NBA reporter's new gig.
Earlier this month, Blazers guard Damian Lillard sent the NBA media world into a mini-frenzy when he reported on Twitter that ESPN's Chris Haynes was leaving for a job at Yahoo and then, just two days later, that USA Today's Sam Amick was joining The Athletic (which was only just officially announced Monday along with the subscription-based website's raft of other NBA hires).
In a piece Monday for The Athletic, Amick described his surprise earlier this month when he got a text from Lillard informing him that, "Word on the street [is] you headed to The Athletic… my sources have alerted me."
"It was just a case of putting the shoe on the other foot," Lillard told Amick in an interview.
For his part, Forsberg says he had no prior clue about — or hand in — Turner's entrance into the sports media beat.
"Evan's tweet was as much of a surprise to me as everyone else," he told Boston.com.
Forsberg says he'll be contributing this season to NBC Sports Boston, which has the Celtics' broadcast rights, on several different platforms, including writing, podcasts, and TV.
"I've followed the network's multi-platform coverage of the Celtics for a long time and I'm looking forward to joining a great group of talented people to bring Celtics fans the best coverage in the market," he said in a statement Monday.
His first day on the job was Monday. Forsberg told Boston.com he's excited to join the crew ahead of "what should be a crazy season." It's certainly gotten off to a pretty crazy start.