NBA
Noah Vonleh on Haverhill: 'It's someplace I'll always call home'
Vonleh has carved out a role for himself with the Knicks, but he still appreciates the chance to play in Boston.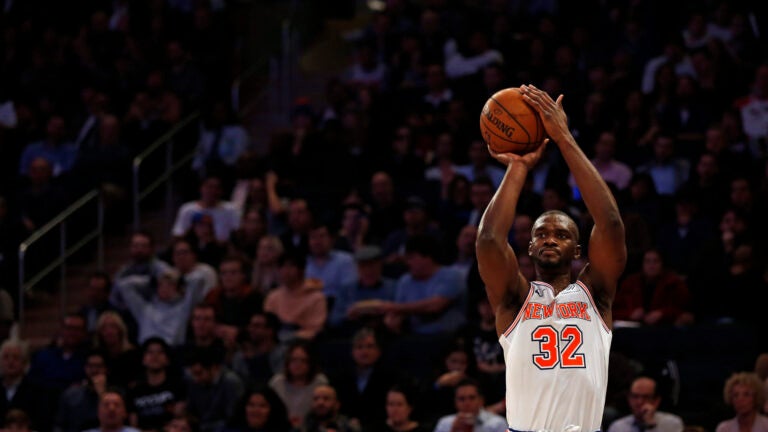 As he stands beside his locker, Knicks forward Noah Vonleh pauses to do some quick mental math.
"My rookie year, I had a good amount, like 20 or 30," Vonleh said, referring to the number of fans he had when the Celtics faced the Hornets at TD Garden in January 2015.
Vonleh, who grew up in Haverhill, had plenty of local support that night, but there was just one problem: He didn't check into the game. Less than two months later, the Hornets returned, and Vonleh stayed on the bench during another close battle.
Thursday night, after the Celtics beat the Knicks, 128-100, Vonleh took some time to reflect on how much has changed. Now he only has 10 to 12 fans at games in Boston, but those same loyal supporters get to see him start and log heavy minutes.
In fact, Vonleh posted a double-double, with 16 points and 10 rebounds, in 30 minutes when the Knicks and Celtics met in late November. In the rematch Thursday, he did the same, racking up 12 points and 10 rebounds in a team-high 34 minutes.
He's averaging career highs in points (8.4), rebounds (8.1), and minutes (25.3), and Knicks coach David Fizdale recently called him the team's most complete player. After stints with the Hornets, Trailblazers, and Bulls — all in a span of four years — Vonleh has carved out a significant role for himself in New York.
"Obviously he was highly touted coming out of high school, but I didn't realize how versatile he was," Fizdale told reporters. " … He's been a real pleasant surprise."
Even amid his best season to date, Vonleh hasn't forgotten about his past, and he said it's still special coming back to play at TD Garden all these years later.
When he moved to Haverhill at age 7, his passion for the sport reached a new level. He dreamed of one day playing in the NBA, and he quickly realized it wasn't a farfetched vision. Vonleh clarifies that he wasn't a Celtics fan growing up, but mostly because he didn't have a team in general. Instead, he gravitated toward certain players, and Paul Pierce and Antoine Walker were both high on the list.
By age 13, as he grew taller and his hands got bigger, Vonleh could dunk without much difficulty. He recalls an AAU game against New Heights Youth in Springfield, where he stole the ball, raced the other direction, and flushed it with authority.
That was his first dunk in a game, and it was just the beginning. He blossomed into a high school standout at Haverhill, and as a sophomore he dropped 34 points against Andover one night.
Vonleh liked the Haverhill community, but he wanted to sharpen his craft and win more games, so he transferred to New Hampton School in New Hampshire as a junior. That's when he really gained national attention. He became a McDonald's All-American as a senior, and the experience helped him earn a spot at Indiana University. The Hornets selected him with the ninth pick in 2014, and he had an up-and-down rookie season in Charlotte.
He knew his ceiling was higher, so he kept grinding, and now he's reached a new comfort level in New York. Teammate Ron Baker said Fizdale's philosophy jives with Vonleh's approach.
"I think he's comfortable in the situation," Baker said. "Fiz is giving all of us a lot of freedom on offense. He coaches us when we need to compete harder, but he never gets on us about shots we take. I think [Noah] fits in really well with Fiz's style of play."
Against the Celtics on Thursday, Vonleh showcased his versatility. In the first quarter, he backed down Jayson Tatum in isolation and banked in a baby hook, and on the next possession he pulled up in rhythm and buried a 3. Then in the third, he overpowered Kyrie Irving and stuffed it for two.
— NEW YORK KNICKS (@nyknicks) December 7, 2018
Later on, he flaunted his ability to guard elite athletes, stopping Gordon Hayward's penetration on one play, stripping Tatum and saving a loose ball on another, and poking the rock away from Marcus Morris late in the game.
"He's the most versatile guy we've got," said teammate Emmanuel Mudiay, crediting him for staying after practice and sharpening his shot.
Mudiay has known Vonleh since their AAU days, and he's not at all surprised by his recent ascension.
"He can do a lot of different things," Mudiay said, laughing. "He's still ugly, though."
The day-to-day rigors of the NBA don't give Vonleh much of a chance to reflect on how far he's come. But no matter where his career takes him, he knows he'll always have his roots. His dad and grandparents still live in Massachusetts, and he loves seeing them whenever he plays in Boston.
"It brings back a lot of memories for me," he said. "It's someplace I'll always call home. I love Haverhill."