NBA
Report: Pacers believe Victor Oladipo lost for year with serious knee injury
Indiana's leading scorer left the court on a stretcher.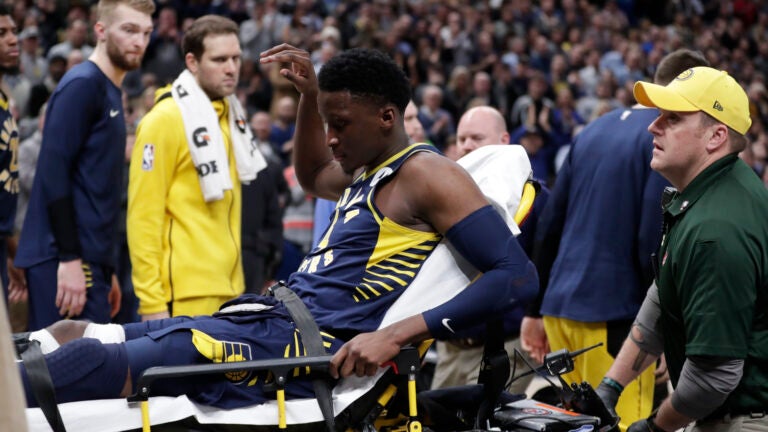 INDIANAPOLIS — The Indiana Pacers lost All-Star guard Victor Oladipo to a serious right knee injury in the second quarter of Wednesday night's 110-106 victory against Toronto.
Oladipo's leg bent awkwardly as he fell to the floor while trying to disrupt an outlet pass to the Raptors' Pascal Siakam. The team announced that Oladipo will undergo an MRI on Thursday, with ESPN's Adrian Wojnarowski reporting the team believes the injury is "season-ending" and will require surgery.
"It is a serious injury and we'll know more after the MRI," coach Nate McMillan said. "We're not going to speculate. It's a tough situation. That kid has a beautiful spirit about him. He has always been one to try and to lift us up. We've got to lift him now."
Trainers quickly put a towel over the leg, and players from both teams surrounded Oladipo. Fans gave him a standing ovation as he was carted off the floor on a stretcher.
Oladipo, with arms in the air to acknowledge the @Pacers fans, is stretchered off the court. #Pacers pic.twitter.com/F6EVsZcsId

— FOX Sports Indiana (@FSIndiana) January 24, 2019
"It's unfortunate," Darren Collison told the crowd afterward. "We've got to keep going for him."
Oladipo made his first All-Star Game last season after being acquired in the trade for Paul George. At 19.2 points per game, he is the leading scorer for Indiana, which sat third in the Eastern Conference — 2.5 games ahead of the Celtics — entering Wednesday night. He missed 11 games earlier this season with a sore right knee, and the Pacers went 7-4 in that stretch.
Reaction to the injury poured in quickly across social media.
??‼️‼️‼️‼️‼️‼️‼️ @VicOladipo

— LeBron James (@KingJames) January 24, 2019
Prayers up @VicOladipo??

— Devin Booker (@DevinBook) January 24, 2019
Prayers up Vic !! ??

— Bradley Beal (@RealDealBeal23) January 24, 2019
Back to my positive vibes.. everybody pray for @VicOladipo !

— Paul George (@Yg_Trece) January 24, 2019
While I obviously do not want to see any player get injured, it's especially painful that Oladipo, a guy who busted his ass, is finally getting his due, and seems like a genuinely good guy, suffered an injury this bad. Hoping for the best https://t.co/6dXv7sjnJ8

— John Karalis ?? (@RedsArmy_John) January 24, 2019
Thaddeus Young had 23 points and 15 rebounds to lead the Pacers on Wednesday. Collison added 16 points as Indiana won its third straight and snapped a five-game losing streak to the Raptors.
Toronto was led by Serge Ibaka with 23 points and 11 rebounds and Kyle Lowry with 20 points. The Raptors again played without Kawhi Leonard, O.G. Anunoby or Jonas Valanciunas.